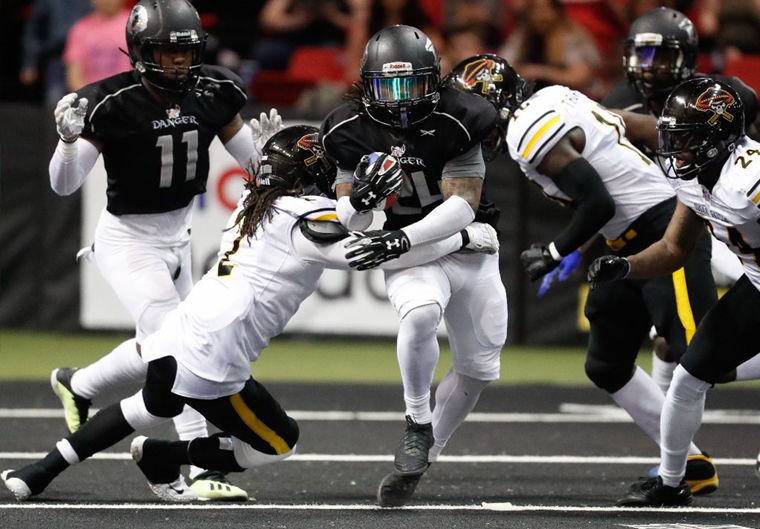 The task ahead of the Nebraska Danger is rather daunting.
After beating Green Bay in the first round of the Indoor Football League playoffs, the Danger (8-7) is on the road again to take on the Arizona Rattlers, a team that went 14-0 during the regular season, at 8 p.m. CDT Saturday at Talking Stick Arena in Phoenix.
"Phenomenal football team, top to bottom," Danger defensive lineman Chris Martin said of the Rattlers. "We have to play a solid football game for four quarters or more. Mistake-free football, tough and physical football, kind of the philosophy we try to implement every game."
The Rattlers have had some close calls. They edged Tucson 50-49 on June 8. Arizona also got past the Danger 56-46 at Talking Stick Arena on May 4.
Nebraska trailed in that game 49-46 after a Tommy Armstrong Jr. 27-yard TD run with 4:39 left in the fourth quarter. But Arizona added a touchdown and picked off an Armstrong pass with a minute left to clinch the win.
The Rattlers have a long history of success. Since their first season in 1992, the Rattlers have won 10 division titles and nine ArenaBowl championships from 1994 to 2016 before joining the IFL.
The Rattlers won the United Bowl in their first season in the league in 2017. Kevin Guy has been the head coach since 2008.
Meanwhile, Danger head coach Pig Brown is in his first year. Jameel Sewell is also an offensive coordinator for the first time.
"Our first-year coaching staff did a great job," Martin said. "The coaching staff in Arizona has been together for some time. Those are the things that you have to give testament to, but the things they're doing, we're doing here. They've just been doing it longer. They have the rings to show they've been successful doing it.
"They are kind of what you would say is the pinnacle of what you'd want to model your team after as far as professionalism and everything."
Brown said both teams will likely change some things for the rematch.
"I don't care what team you play, the next time you play them you have to be a little bit different," Brown said. "So we found some things we think will help us, some things we will do away with. Hopefully this game plan is a little better and we just want to be one point better than them."
The Danger will have to contend with Drew Powell, a former Danger quarterback who was MVP of the IFL while leading Iowa to the United Bowl title in 2018. Arizona signed Powell midway through the season. He's taken over at quarterback and the Rattlers haven't missed a beat.
"With their coaching staff they are able to take a piece with a guy like Drew Powell, who has never played with all those guys, yet he can step right in and get right into the system and now they're rolling," Martin said. "Those are the types of things you have to give them credit for because it's hard to do in indoor football."
But the Rattlers have done it, and Martin said that's why they've been so successful.
"That is what wins them games, from the front office to the coaching to the preparation of the players, how they go about things," Martin said. "Everything there you have to respect because it's gotten them a 14-0 regular season, and they're constantly competing for championships, whether it's in this league or in previous leagues."
Armstrong has put together a strong rookie season for the Danger with a franchise record 26 rushing touchdowns. He said the key for the Danger offense will be to take what the Rattlers give them. It will also help to have Sewell back on the sidelines. He missed the first Arizona game because of another commitment.
"We know exactly what they're going to do," Armstrong said. "We played them once this year. We didn't have coach Sewell. We got all of our key guys. We have our offensive coordinator. We have a healthy team. We're on a hot streak. We're going to have to go in there to a hostile environment.
"This is what we wanted to do. We wanted to prove to everybody that we're playoff contenders and we're in there now. We got to play all the way. We're looking forward to it."
The Danger is riding a modest three-game winning streak of its own. Nebraska defeated San Diego and Iowa to end the regular season before outlasting Green Bay in the playoffs a week ago.
Armstrong said it's a matter of playing for a full 60 minutes.
"Just being able to play all four quarters, it's a domino effect for our offense and our defense," Armstrong said. "We just have to play all four quarters and be able to take what the defense gives us. Just have fun. I think that's what the guys are doing and the coaches too. They're hard on us during practice, but they're getting us prepared for the game."
As the Danger players and coaches were getting ready this week, they all knew exactly what was at stake.
"We're one game away from the championship game," Armstrong said. "This is playoff football. You have to play against the best. We have one, two, three and five (seeds) in right now. We're sitting at the bottom, but at the same time we feel like we're one of the best teams and we have a chance to prove it."