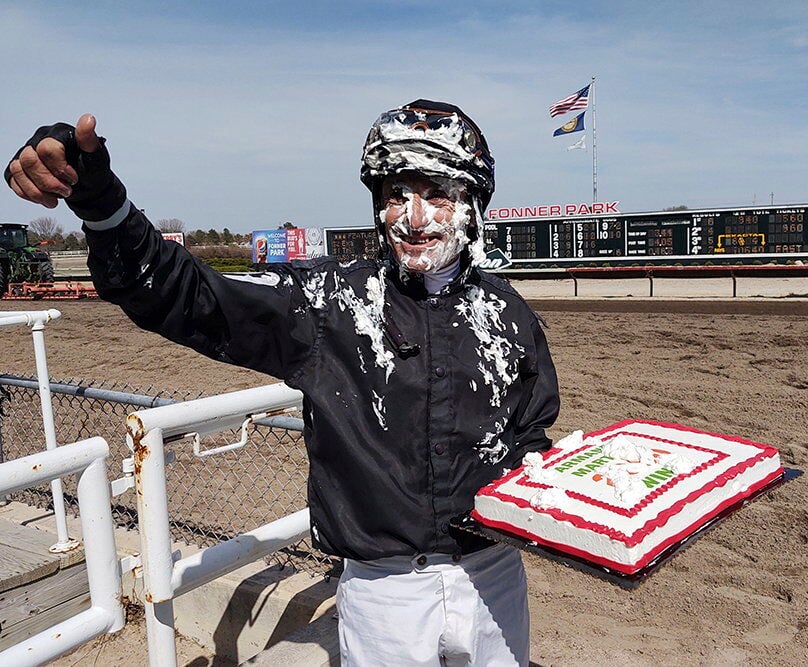 When you look up the statistics for jockey Armando Martinez, you see a nice even number recorded in the wins category.
The veteran rider stands at 2,000 wins in his career — which dates back to 1987 — after he rode Upperclassman to a win for trainer Mark Hibdon in the fifth race Saturday at Fonner Park.
Martinez said there were so many people who had a hand in his 2,000 wins, including his son Damian, who is his agent, and his wife Kelli, who stands second in the trainer standings at Fonner Park.
"Damian has been doing a good job," Armando said. "My wife and family, they supported me and believed in me. And then trainers. Every trainer on the backside, they gave me a second shot and are giving me good horses to ride."
Hibdon is one of those trainers. He said he uses Armando whenever possible.
"If I can get him, he's my main guy," Hibdon said. "I call Damian and he works it all out. I usually use Armando or Nate (Haar) for the most part."
Hibdon had another personal stake in the race. His nephew Brandon Johnson, who had been around racing for 10 years, is part owner of Upperclassman. It's his first race horse.
"It was Armando's 2,000th and Brandon's first win," Hibdon said. "I was so happy to see him do that. Everybody has been waiting on it. We were joking back at the barn, I wonder how old that cake is? We thought he might win it a couple of days ago. But I'm glad he won it on my horse."
The historic win was really 34 years in the making, dating back to that first win in 1987.
His first win came on Sept. 6 that year when Meadowlark Frankie won at MetraPark in Billings, Montana.
Armando said 2,000 wins weren't on his mind back then. He wasn't sure if he'd ever win a race.
"I never thought about it," he said. "I rode for two weeks and I couldn't even run in the top four. Finally I rode one and I won it, and it felt so good.
"I always think about the race. One thing I learned is when I win a race, I try to remember how I rode a horse. I guess it worked because he won, so I try to remember how I did it."
He has to try to forget the falls and spills that are part of being a jockey. In 34 years of riding, those add up.
He had a bad spill on June 2, 2012, at Lincoln Race Course that sidelined him until Fonner opened in February of 2013.
Armando had another in May of 2019 at Prairie Meadows in Altoona, Iowa. That one busted up his leg and put him out for six months, but it could have been much worse.
"To be honest with you, I really thought I was done," Martinez said. "My doctor in Iowa told me, 'If you do what I tell you, do it my way, you will be riding.' He said, 'If you think you can walk a little bit and you go back to riding, I don't want to waste my time.'
"So I listened to him. When he told me I could go back, I went back. He did a good job."
Listening to his doctor helped Armando return to riding. He won his first jockey's title at Fonner Park in 2020. Armando and Jake Olesiak were neck and neck through most of the Fonner season.
But in May when the Fonner meet was extended, Armando began to pull away. He won 19 times in the 11 days of racing in May to finish with 69 wins. Olesiak was second with 54.
That success has continued this year. Heading into the final 11 days of racing, he leads the jockey standings at Fonner with 29 wins while Olesiak is second with 27.
Armando credits his family for helping him achieve his success.
"They made me believe that I could still do it," Armando said.
Some long-time Fonner Park observers say Armando is riding better than he ever has. He won't go that far.
"I'm not saying I'm getting better," Armando said. "I'm trying to prove to myself I can still do it."
And as long as he can still do it and feels good, he sees no reason he would hang it up.
"If I feel this good, I'm going to keep riding," he said. "I hope nothing happens.
"As long as I can keep my weight down, I will keep going. I look back, years ago I was fighting my weight. I'm not going to do it. It feels like the older I get the easier it is for me to keep my weight down."
When the time comes to retire, Armando said he'll know.
"When it's time, I'll say, 'OK.'" Martinez said. "I can stay home and help my wife in the barn."
Hoofprints
% Nebraska's Most Ridiculous Happy Hour will be back from 5 to 6 p.m. Friday at Fonner Park. Fans can purchase two domestic beers, a piece of pizza and a $5 betting voucher for just $10.
% Saturday's 10-race card gets started at 1:30 p.m. The final seven races are all full fields, including the $15,000 Runza Stakes and the $20,000 Dowd Mile.
% With 11 racing days left, Hall of Fame trainer David C. Anderson leads the trainer's standings with 21 wins. Kelli Martinez is second with 16.