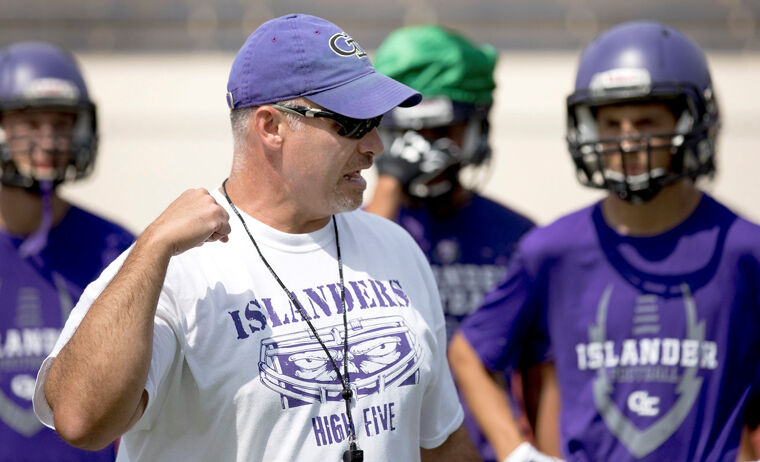 There's been a change to the start of football practice for Grand Island Senior High.
Two members of the Islander coaching staff are quarantined due to COVID-19. One has been confirmed COVID-19 positive and another is quarantined at this time following Central District Health Department and Grand Island Public Schools protocol.
Because of that, all football student-athletes and the coaching staff will quarantine through Aug. 19, returning to school Aug. 20. Students will receive their lessons online from their teachers during this time.
"We are taking the necessary caution that is needed to make sure everybody stays safe," GISH Activities Director Cindy Wells said during a Zoom meeting Sunday.
The Islanders will begin practice on Aug. 24 and they will follow the Nebraska Schools Activities Association guidelines of putting practice back together.
The season opener with Kearney on Aug. 28 at Grand Island has been postponed to a later date to be announced. The Islanders will now open the season with Lincoln Pius X Sept. 4 at Grand Island.
"That's the plan at this time," Wells said. "We are working with (Kearney AD) Ryan Hogue to find a replacement date for that game."
According to Wells, there will be new guidelines in place while working with the district and the health department. The NSAA leaves it up to the home school and home health department to make decisions.
All other sports and activities will resume as scheduled Monday. All coaches and athletes are required to wear masks at all times during practices and competitions.
Wells said they are still working on a plan for the spectators to attend games during the fall season, but when teams come to Grand Island to compete, they will also be required to wear masks in the Grand Island gyms and fields.
"By wearing masks, it helps with minimal exposure of spreading the virus," Wells said. "COVID-19 is the new normal right now and we need to do whatever we can to stay safe. That's key.
"We're working really hard to get a fall season in but we'll need everyone to continue to do their part by social distancing and wearing masks."
Be the first to know
Get local news delivered to your inbox!