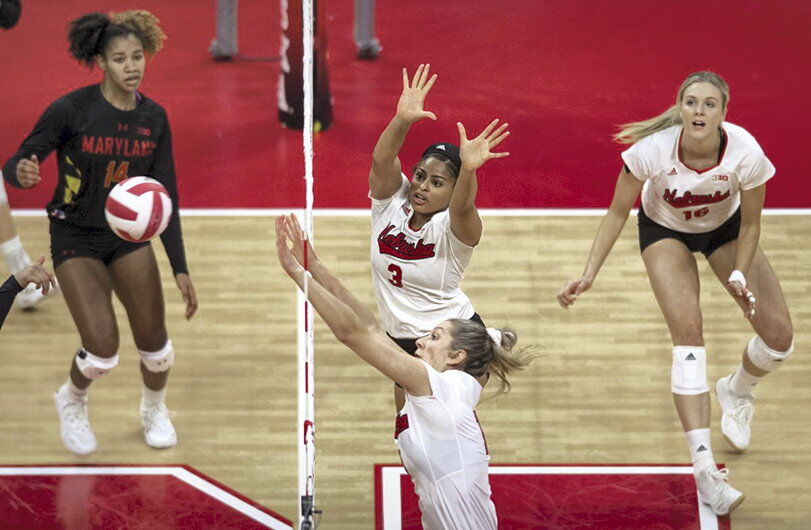 LINCOLN -- Riley Zuhn is the kind-of-new player on a Nebraska volleyball team with a lot of the same players from last season.
She played for Nebraska a little last season as a backup. But the sophomore seems to be a player fans can start getting more invested in. She had another good match on Saturday to help lead the No. 4-ranked Huskers to a 25-14, 25-21, 25-18 victory against Maryland at the Devaney Sports Center.
Nebraska improved to 4-0, while Maryland is winless through six matches.
Zuhn had career highs in both kills (11) and hitting percentage (.500) on Saturday. She also had two blocks.
For now Zuhn is holding down the right-side hitter spot where Jazz Sweet has played the past three years. Sweet has only made a few brief appearances this season, including during Saturday's third set.
Last year Zuhn appeared in 17 matches for Nebraska as a backup at both middle blocker and hitter. She had seven kills and six blocks all last season, totals she passed by in just two matches this season.
Like so many others on the team, Zuhn was a top-40 national recruit, and is from Fort Collins, Colorado.
What should those fans getting to know Zuhn know about her?
"Well, she's 6-foot-5," said Nebraska coach John Cook, and that seems like a good place to start with a front-row volleyball player. "And 6-5 is hard to deal with. She's a huge block. She can be a game-changer shutting hitters down."
On Saturday Zuhn was matched up against Maryland's Erika Pritchard, and she helped limit her to a .138 hitting percentage.
"(Zuhn) can really make hitters think over there because of her size," Cook said. "And then you got to deal with her size when you're blocking her, too. She did a really nice job tonight. She brings great energy. She's a fun player to coach and I think she's a fun player to have out there because she's really high-energy."
Why has Cook stayed with Zuhn over Sweet for most of the first four matches?
"She's been training the best, and she's putting up good numbers," Cook said. "At Indiana she was our highest-hitting outside hitter. She's earning it and done a great job in practice."
Zuhn had kills on six of her first seven attempts of the match. After hitting .000 last season, Zuhn is hitting .291 this season. She's tied for the team lead with 13 blocks.
Zuhn feels good about how she's adjusted to playing with a starting group that played a lot together last season.
"I think the girls have made it really easy," Zuhn said. "Just the energy on the court and tight huddles and eye contact make me feel really comfortable. I'm just excited to compete next to them."
Another sophomore, Madi Kubik, added 12 kills and had three ace serves for the Huskers. In the third set Kubik helped put the match away by serving an 8-0 run that include two ace serves.
passes, bad passes. She's really mixing it up and it makes us harder to defend. I just think we're scratching the surface with what we can do with that."
Nebraska needed one fewer set to finish off Maryland than Friday's match against the same team. The Huskers improved its hitting percentage from .248 on Friday to .337. Nebraska's defense held Maryland to a .000 hitting percentage in the opening set, and .169 for the match.
With the new schedule format for this season Nebraska can regroup and try to improve when playing the same team about 24 hours later.
"We go back over our game plan again and see if there are adjustments that we need to make, and if they were killing us in one area, or we were really getting them in one area," Kubik said. "Our boys (graduate managers and assistant coaches) are great because they do this in men's volleyball, they play the same team two nights in a row so they're used to this schedule and they're really good at prepping us for that."
Looking to add a little more energy to the arena that only has a few hundred spectators due to COVID-19 restrictions, Nebraska played short music clips between every point on Saturday, similar to what happens during the USA volleyball tournaments held in Nebraska some summers.