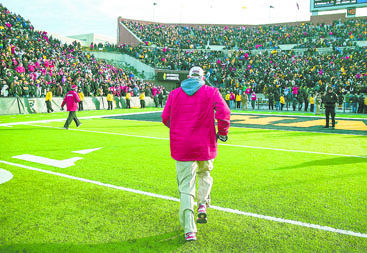 LINCOLN — Maybe Bo Pelini already knew Friday when he left the field after a 37-34 victory over Iowa in Iowa City.
If he didn't know, you have to think he suspected that the Huskers' thrilling win over the Hawkeyes would be his last as a Nebraska coach.
He didn't smile much after the game. Pelini, who was fired on Sunday, said he was as proud of his team as any he had ever coached for the guts it showed in coming back to win on the road even though five starters — yes, five — were missing going into the game.
Randy Gregory out. Corey Cooper out. Zach Sterup out. Mark Pelini out. Alonzo Moore out.
And you think of the guys who didn't make it to the start of the season.
Michael Rose and Charles Jackson were injured. Avery Moss and LeRoy Alexander were suspended before the season, and all would have been significant contributors on the defensive side.
And receiver Jamal Turner was lost early in the year as well.
Yet the Huskers gutted out another win. It was the last in many memorable victories Pelini teams have produced over the years:
I will always remember standing on the sidelines when:
% Rex Burkhead rolled into the end zone to give the Huskers a 34-27 win over Ohio State in 2011.
% The Huskers gutted out a 17-14 win at Penn State in 2011 the weekend after the Jerry Sandusky case broke.
% A 30-27 comeback win over Wisconsin in 2012.
% A 29-28 comeback victory at Northwestern that same year when Taylor Martinez went wild in the fourth quarter.
% A thrilling 28-24 win at Michigan State in 2012 when Turner snatched the winning pass from Martinez in the final minute.
% A 13-7 win at Iowa two years ago. You thought it was cold this past Friday? It was not even close to as cold as two years ago.
% A 27-24 win over Northwestern last year on the Hail Mary from Ron Kellogg III to Jordan Westerkamp on the last play of the game.
% A 17-13 win at Michigan last year with Tommy Armstrong Jr. leading the winning drive. It wasn't a great Michigan team, but it was a tough place to win.
% A 23-20 overtime win at Penn State a year ago.
% A 31-24 victory over McNeese State this year on Ameer Abdullah's 58-yard catch and run. Some will say the Huskers shouldn't have been in that position, but it was definitely a great play from a great player.
% That win just a few days ago in Iowa City.
Speaking of Iowa City, Omaha World-Herald columnist Tom Shatel wrote about his encounter with a fan after that overtime victory. The fan said he had a question for Shatel to ask Pelini: Why are you 9-16 against ranked teams?
Shatel's reaction, and mine too, was really? Your team just won an exciting overtime game and you want that question answered?
Why not ask about Armstrong's guts or De'Mornay Pierson-El's punt returns or Kenny Bell's touchdown catches?
No, this fan wanted to ask about Pelini's record against ranked teams.
That's sad. Really sad. I actually feel bad for a fan who can't enjoy an exciting win for a few hours and instead wants to go straight to the negative stuff.
That's a fan that will never be happy with anything.
Not that there haven't been things to be unhappy about during the Pelini era:
% A 62-28 loss at Oklahoma and a 52-17 loss to Missouri in 2008.
% A 48-17 loss at Wisconsin in 2011, and a 45-17 loss at Michigan that same year.
% A 63-38 loss at Ohio State in 2012, followed by a 70-31 loss to Wisconsin in the Big Ten championship game.
And that's what cost Pelini his job. The Huskers didn't play well enough against the championship teams.
Pelini knew there were problems this year too, even when the Huskers were 8-1.
% After a win over Rutgers on Oct. 25: "I thought we were sloppy, inconsistent and we didn't play at the standard we needed to. I'll take the win. Anytime you win a football game, it's never easy to win. But I have higher standards than what I watched out there today."
% After a win over Purdue the next week: "We had opportunities we didn't take advantage of. Missed field goal, getting stopped on the goal line because of a fumbled exchange. Things that are inexcusable. Things that didn't hurt us today but will hurt us down the line. We need to get them fixed and cleaned up."
% After a loss to Minnesota on Nov. 22: "I said it about three weeks ago. I said some of the things that are plaguing us haven't hurt us up to this point. These last two weeks it hurt us. I mean it's as simple as that. We're not executing at a high enough of a level. Sometimes you can get away with it, sometimes you can't. We almost got away with it today."
Pelini and the staff knew what the problems were, yet were unable to fix them. That's an important part of coaching.
So Pelini leaves the program with a 66-27 record. Are the Huskers better off than when he took over?
Can the new coach get the Husker program to where athletic director Shawn Eichorst wants it?
Bob Hamar is sports editor for the Independent.