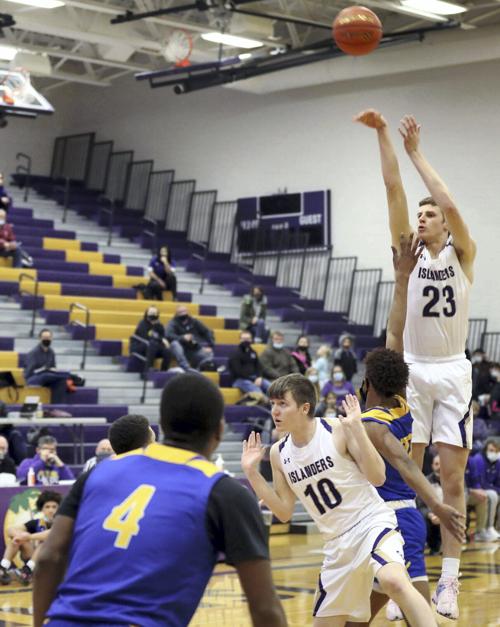 Isaac Traudt may have given his phone a more exhausting workout than he'll give defenders attempting to slow him down this winter for Grand Island Senior High.
After Traudt announced Saturday morning that he was going to attend Virginia, his phone underwent the equivalent of a 48-hour marathon.
"Saturday my phone was kind of blowing up, so that was pretty cool," Traudt said. "A lot of people were reaching out and everything, so I appreciated that.
"Even (Sunday) there was still quite a bit. It kind of died down (Monday), so that's been nice."
It's no surprise that Traudt's announcement drew a big reaction. The 6-foot-10, 215-pound versatile power forward is a four-star recruit who had offers from numerous major programs, including Creighton, Georgetown, Gonzaga, Michigan State, Nebraska and North Carolina.
Traudt felt the timing was right after finding a comfortable fit with the Cavaliers. That it came early in his senior year at Grand Island Senior High proves to be a bonus.
"It's a great opportunity for me at Virginia, but being able to just focus on my high school senior year and senior season was really important to me because you only get that one senior year," Traudt said. "I'm trying to make the most of that and have my focus directed toward that. This will really help me."
Traudt put up 25.3 points and 9.4 rebounds per game last year for the Islanders. This year he will look to lead an experienced team to a state tournament appearance, something the program hasn't experienced since 2010.
Several factors made Virginia the right choice for Traudt.
"There were a lot of things that went into it," he said. "Some of the things for me were building a relationship with coach (Tony) Bennett and the staff and the incoming players I'll be coming in with — Isaac McKneely and Leon Bond. I've already gotten close to them, and I just think I fit well with their style of play and the culture too.
"Those are the main things for me, but there's a lot more."
Traudt took an official visit to Virginia — one of four that he made.
"I wasn't ever certain on where I would be going after a visit, but after that (Virginia) visit we were so enamored with it that I felt that it could definitely come down to Virginia," he said. "I would say that (visit) opened our eyes to that."
Now that the decision is final, Traudt will focus on continuing to improve this year to prepare to play at the highest level of college basketball.
"I have to do a lot of things to prepare in a lot of areas," he said. "I'd say the main things are work on my strength and explosiveness. I think offensively I have the skills and tools to contribute at that level. Obviously I could keep improving them, but I've got to keep working on the physical stuff and defense as well."
Traudt will return to Charlottesville, Virginia, this weekend for another official visit.
"Just being with the staff and players a couple more days will definitely help," he said. "Getting a second look at the campus and facilities will get me even more excited about it."
McKneely and Bond will also visit, giving the Cavaliers' recruiting class of 2022 a chance to continue to develop their off-the-court chemistry.
Traudt and McKneely already are the recipients of their own hashtag among UVa fans — #isaacsquared.
"I like it," Traudt said. "It was going around quite a bit (over the weekend)."
Traudt said his ceremony Saturday morning at Senior High to announce his decision proved to be a special moment that he'll never forget.
"That was a really cool experience for me," he said. "Seeing all the support from the community really meant a lot. Everyone was there for me and everyone coming to celebrate showed me that I have a lot of support, which is cool.
"They all gave me a standing ovation after the video said I was going to Virginia, so that was kind of cool, too."