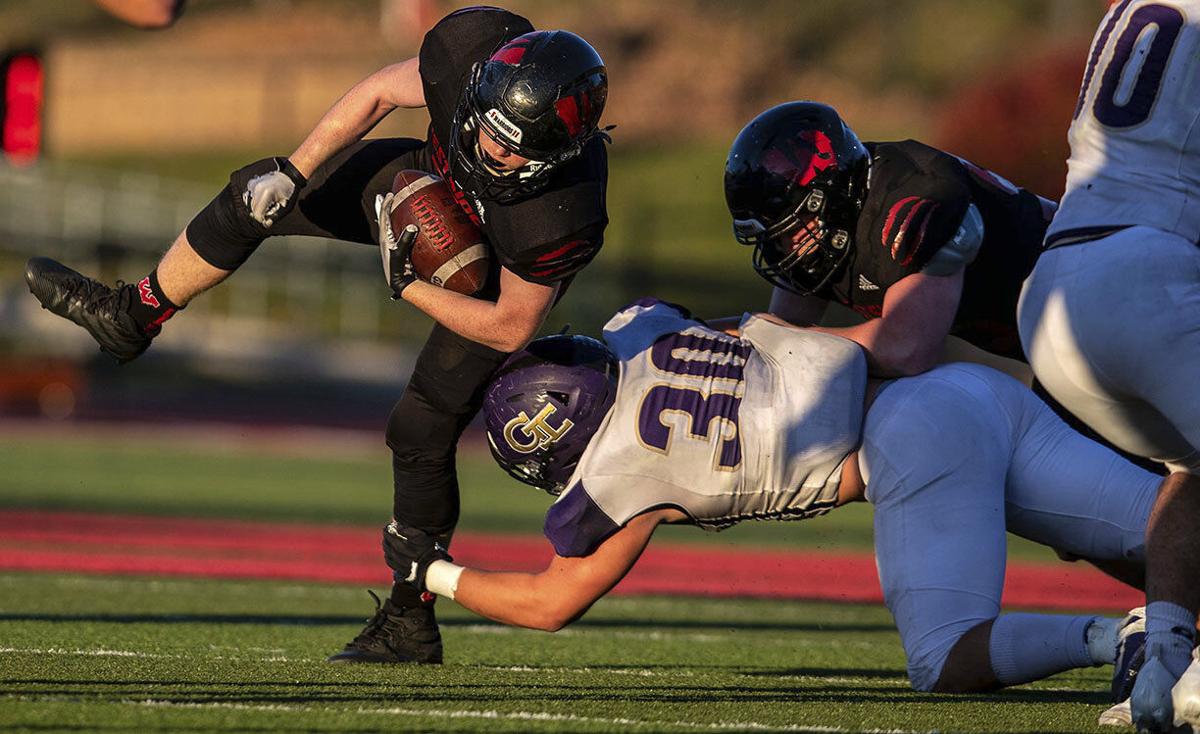 When your high school football coach calls you on a Sunday morning during the season, you know something is going on.
Daylon Keolavone remembers that type of call from Grand Island Senior High head coach Jeff Tomlin well, one that changed his final two seasons for the Islanders and reshaped the team's defense — for the better.
That call came a few games into the 2019 season when Keolavone was a junior
"I got a call from Coach T on Sunday morning, and he asked if I would move to nose guard," said Keolavone, who was up to that point a middle linebacker. "I'd never played it before, but I told him I would do it."
At first glance, Keolavone stands out in the middle of the defensive line, especially in Class A.
You don't see many nose guards who are wearing No. 30.
And at 5-foot-11 and 210 pounds, Keolavone usually is at a significant size disadvantage when he goes up against the middle of the offensive lines.
Then, at second glance, Keolavone really stands out.
Not too many nose guards can chase down ballcarriers from sideline to sideline and become one of his team's leading tacklers.
For his performance this year — on a broken foot, no less — Keolavone has been selected as the Independent's All-Heartland 11-Man Super Squad honorary defensive captain.
Tomlin said Keolavone's versatility and unselfishness played a big part in his success as well as the success of the Islanders' defense as a whole over the past two seasons.
"He started out as a linebacker in his junior year," Tomlin said. "After game three, our defense was not jelling the way that it should be. We had thought about moving him to the nose position before that season, and we decided that was something we needed to do.
"He jumped at the opportunity and was really what was missing from our defense."
Keolavone said the change in positions was a fairly smooth one.
"I didn't feel very uncomfortable," he said. "I used what I had learned at linebacker to get off blocks and get full extension. I was able to use the same techniques to help me with my D-line techniques."
Keolavone was second on the team in tackles last year.
He was third this season with 60 total stops, which is even more remarkable when you consider the injury he was playing on all year.
Keolavone broke his foot during the district wrestling meet earlier this year and broke it again over the summer.
"I couldn't move like I wanted to," Keolavone said. "Putting pressure on my foot early in the season was pretty hard. But I got used to the pain. I wanted to play football, and I wasn't going to let my teammates or coaches down."
Keolavone, who also rushed for 336 yards and three touchdowns as a two-way player, had his top performance by getting in on 15 tackles in a narrow 27-26 win at Papillion-LaVista.
Tomlin said it was impressive to see Keolavone keep playing with the injury and still be as productive as he was on Friday nights.
"The last few weeks of the season he was in a (walking) boot all week and couldn't even practice," Tomlin said. "But then he'd suit up and play on Friday night."
That dedication shows why Keolavone was elected to be team captain this year.
That was a role he didn't take lightly.
"Last year we were a really, really good team with great players like Caleb (Francl), Carson (Cahoy), Broc (Douglass) and A-Rod (Alex Rodriguez) leading us," Keolavone said. "I really came into my senior year of high school wanting to have our best season that we could. I think things went well, especially with COVID."
Keolavone said he took that responsibility of being a senior leader seriously and always tried to help out younger players. Along the way, he said he developed some great new friendships.
Tomlin, who said Keolavone is one of the best players he's coached with the Islanders, felt that the captain provided the team great leadership.
"He was the leader, and everyone knew it," Tomlin said. "As a leader, he got his teammates energized and he was very supportive. His teammates saw that he was such a good person that they wanted to follow his example."
The future is uncertain for now for Keolavone. He is still undecided about whether to pursue football or wrestling in college, and just focusing on his education is also a possibility.
Giving up football would be a tough decision.
"I really like both sports, but there's something about hitting people in football," he said. "I also like that you're out there with your teammates and not trying to do something just by yourself."
Spoken like a true teammate who took a Sunday morning call and said "yes" for the good of the Islanders.