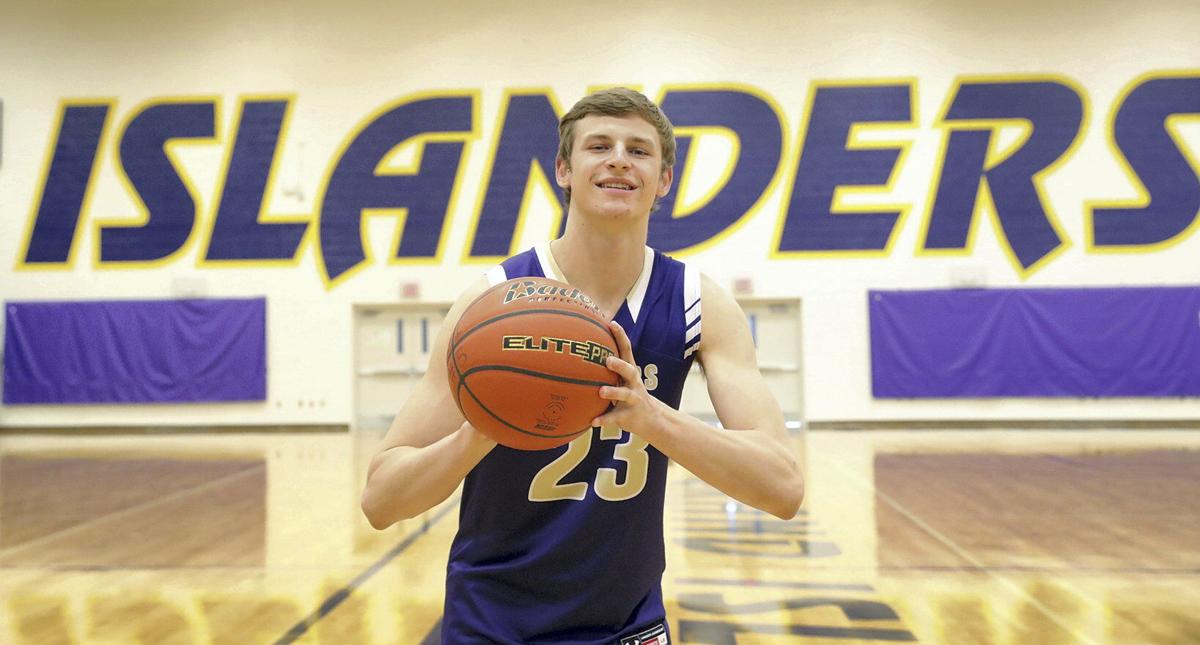 You might think coaching a player like Isaac Traudt would be easy.
Yes, the Grand Island Senior High junior is 6-foot-9 but can still run an offense as a point guard just as easily as he can post up inside.
He can shoot from just about anywhere — 58% on 2-pointers, 37% on 3-pointers and 79% on free throws.
It would take a couple of minutes to reel off the ever-increasing list of NCAA Division I colleges that have made offers to Traudt.
But ask Jeremiah Slough how much of a challenge it is — to keep Traudt off the practice court.
"I'll pull him out of a drill and tell him to take a break," the Islanders head coach said. "I'll turn around and he'll be back in there two reps later when he doesn't need to be."
Traudt lived up to the high expectations for his junior season. He averaged 25.3 points as the lone returning varsity contributor on a team that put up 50.7 ppg.
For his performance, Traudt was selected as the Independent's All-Heartland Super Squad captain.
He is joined on the Super Squad by Grand Island Central Catholic's Dei Jengmer and Russ Martinez, Adams Central's Tyler Slechta and St. Paul's Tommy Wroblewski.
Slough said Traudt handled everything thrown at him during this season.
"He had a really good year," he said. "We talked about how he'd face a lot of pressure because of his talent and it was going to be an adjustment from his sophomore to junior year. He was going to be the focus of every defense we faced, and he changed his body to get in shape to be able to handle that."
Despite being surrounded by new teammates, Traudt helped Grand Island post winning seasons in back-to-back years by going 12-11.
"I feel the season was pretty solid," said Traudt, who put on 35 pounds from his sophomore year. "I think we did a good job with so many new starters, and I'm really looking forward to next year. We faced a lot of adversity with COVID, but I thought we handled it well.
"I'm sure we surprised a lot of people. Some people thought we'd win five games all year. With Class A being as tough as it has been in probably a long time, we played a lot of good teams. We gained a lot of experience and the guys battled."
The question each game was what new ways would the Islanders see an opponent try to defend Traudt?
Over the course of the season, Traudt faced every imaginable possibility of junk defenses, double teams and even triple teams. The true surprises were the few teams that attempted to defend Traudt straight up – and that usually didn't end up well for those opponents.
"We saw so many different things," Slough said. "Some things bothered us and some things didn't bother us. Honestly, I'm glad this happened during his junior year and not his senior. Now we know how to attack things because I think we've already seen everything possible."
Traudt knew what was coming this season.
"I definitely expected some of it, but I didn't really expect triple teams," he said.
Slough said Traudt become good at anticipating the double or triple team.
He felt his best performance against that was in the final game of the season, a district loss to Gretna that saw Traudt score 34 points on just 12 attempts from the floor. He was 8-for-12 overall, 5-for-9 on 3-pointers and 13-for-13 from the line – not a surprise for someone who went 166-for-210 from the charity stripe for the season.
What makes Traudt truly a joy to coach for Slough in addition to his work ethic and talent is his unselfishness.
Ask one of the nation's top 60 recruits in his class what he hopes to improve on for his senior year, and his answer might surprise many.
"I want to become more dynamic off the bounce," he said. "As a point guard, I need to create better for my teammates.
"I also want to become a better shooter from all over so I'm not just a threat to score from certain areas."