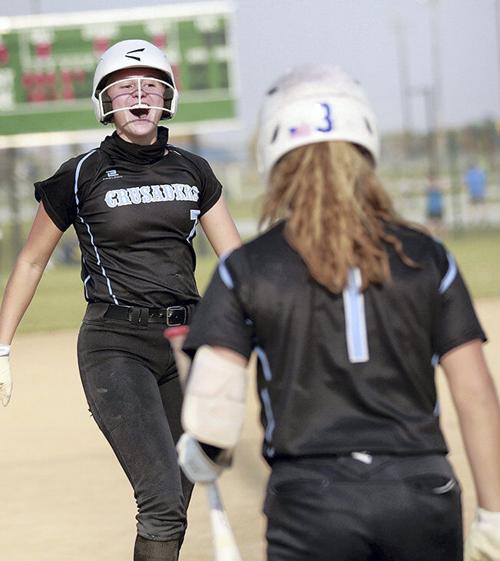 A moment 10 years in the making takes place Wednesday at 2 p.m. at the Smith Softball Complex in Hastings.
Grand Island Central Catholic makes its state tournament debut in the program's 10th season. The sixth-seeded Crusaders (23-9) open play in the double-elimination Class B tournament against third-seeded Norris (26-4).
The Titans are returning for a second straight season, but GICC coach Brock Culler isn't too worried about nerves affecting his team in its first trip to the big show.
"We've got seven seniors who have played a lot of softball in their lives," he said. "I don't think they'll be nervous. They'll be ready, I know that for a fact. We're looking forward to the opportunity."
The Crusaders — a co-op between GICC, Heartland Lutheran, Doniphan-Trumbull and Wood River — had several things in their favor to be able to break through and win a district title this year.
"Our coaches do an outstanding job of preparing, getting information and getting our team ready for every game," Culler said. "We also have a team that can find a way to fight back if it gets down. We did that in subdistricts and districts and kept battling back."
Central Catholic scored five runs in the bottom of the seventh to beat Wayne in the first game of Friday's best-of-3 district final series, then carried that momentum forward to roll to a 15-2 victory in game two.
At the plate, the Crusaders have been led by senior second baseman Alexis Mudloff. She has a .452 average with 10 home runs, 40 RBIs and 36 runs.
Seniors Kiernan Paulk (.365, 33 runs, 29 RBIs), Boston Boucher (.337, 26 runs, 27 RBIs) and Jessica Zehendner (.451, 31 runs, 22 RBIs) are also part of a balanced lineup.
In the circle, senior Alicyn O'Neill is 11-3 with a 2.70 ERA while junior Andrea Palma is 9-2 with a 3.04 ERA.
Norris has only lost to top-seeded Omaha Skutt, second-seeded Hastings, eight-seeded Elkhorn and Class A state qualifier North Platte.
"Norris is an outstanding softball team," Culler said. "They have a Division I pitcher (Creighton recruit Alexis Wiggins) and they have great hitters one through nine. They put the bat on the ball, so every out is important."
Wiggins is 21-3 with a 3.01 ERA. At the plate, she is hitting .404 with 32 RBIs.
Senior leftfielder Taylor McMurray has a .329 average with 37 RBIs, 25 runs and 10 home runs.
Culler said the Crusaders are well-prepared for what they will face at the state tournament.
"There are eight teams in the thing, and we played four of them multiple times," he said. "These kids are used to this level of softball."
Hastings (29-3)
Hastings is making its sixth straight appearance in the state tournament, the longest active streak in Class B.
Now the Tigers are hoping to break through and make a deep run.
Hastings has gone 4-10 during this state tourney streak with two of those wins coming in 2015. But the Tigers appear as prepared as ever to make an extended stay in their home facility after a regular season that included a win over top-seeded Omaha Skutt. Their only loss against Class B competition came to fourth-seeded Northwest, a team they went 3-1 against.
An offense that scored 10 or more runs in 19 out of 32 games can pack a punch. Junior third baseman Kaelan Schultz is hitting .495 with 12 home runs, 39 RBIs and 39 runs. Sophomore outfielder Samantha Schmidt has a blistering .525 average with 51 RBIs and 47 runs.
Faith Molina (17-2, 3.09 ERA) and Peytin Hudson (12-1, 3.32 ERA) handle the pitching duties as juniors.
Hastings opens Wednesday at 2 p.m. against seventh-seeded Crete (21-10). The Tigers face either Norris or GICC in the next round.
Be the first to know
Get local news delivered to your inbox!