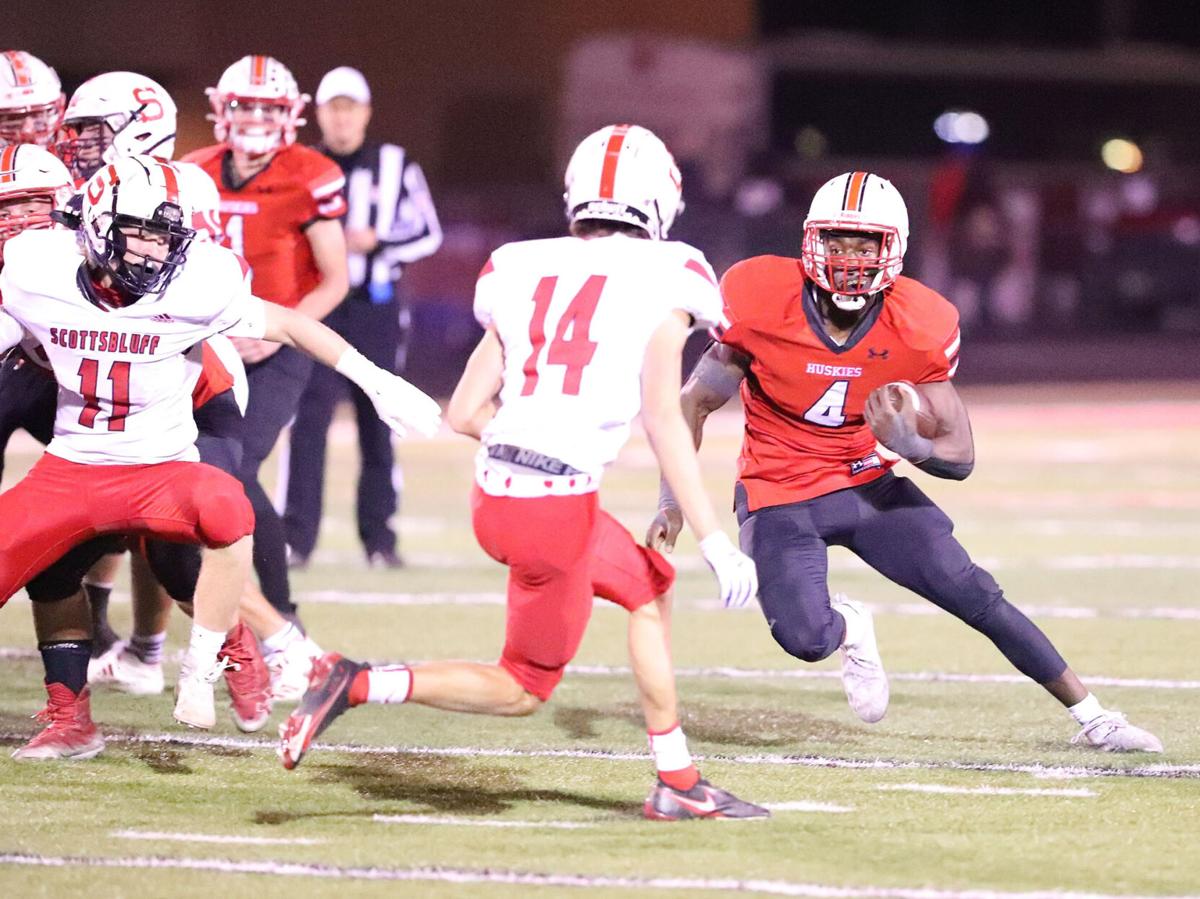 After an 0-2 start, Aurora slowly discovered its identity and went on a roll for the rest of the season.
Now all that's left to find out is if the Huskies' identity will be as the Class B state champion.
Aurora travels to Elkhorn Friday for a 6 p.m. showdown to find out who will be the last team standing in a class that saw a wild, wide-open postseason take place.
The Huskies (9-3) did all the small things right during their playoff run, coach Kyle Peterson said.
"Except for turning the ball over four times (in a 21-12 semifinal win over Plattsmouth), we've done a good job in the playoffs," he said. "On offense, we've created big plays. And our defense created five turnovers (against Plattsmouth)."
Doing all the right things is nothing new for Aurora, which has gone 9-1 since that 0-2 start.
"Our team has kept getting better and better each and every week," Peterson said. "The offseason was so different this year. There were no team camps or 7-on-7 leagues. We didn't have an identity when we started.
"We started to develop one in week three and things really started to come together on our trip to McCook. We gained confidence and knew that we could play with anybody. We're a confident team right now. Outside of the Northwest game (a 36-29 loss on Oct. 16) where we had some self-inflicted wounds, we've played really good football."
That identity includes relying on workhorse running back Mack Owens and dual-threat quarterback Ethan Shaw on offense.
Owens took over as the primary ballcarrier in midseason and has collected 1,104 yards. Shaw has passed for 1,850 yards and ran for 1,033.
Elkhorn (10-2) has also been on a roll, going 10-1 since a season-opening loss to Norris, the team that Aurora eliminated in the quarterfinals.
Running back Aiden Young, a Nebraska walk-on, owns 1,376 rushing yards. Grant Gutschow has passed for 1,715 yards and 15 touchdowns.
Peterson said the Antlers' receivers like 6-foot-5 Gannon Gragert and 6-4 Drew Christo will be a challenge to defend.
"Their length of receivers is a real match-up challenge for our kids," he said. "It's not like we can grow overnight. We can not give up explosive plays. That's what Elkhorn has been known for."
Last year Elkhorn was in Class A while Aurora was wrapping up a short stint in Class C-1. That might lead to the conclusion that depth would work against the Huskies, but Peterson said it isn't a big concern.
"Looking at film, they do play a lot of kids on both sides of the ball, which is a little surprising," he said. "I don't know if depth will come into play. I think it looks like a pretty even game."
Get in the game with our Prep Sports Newsletter
Sent weekly directly to your inbox!