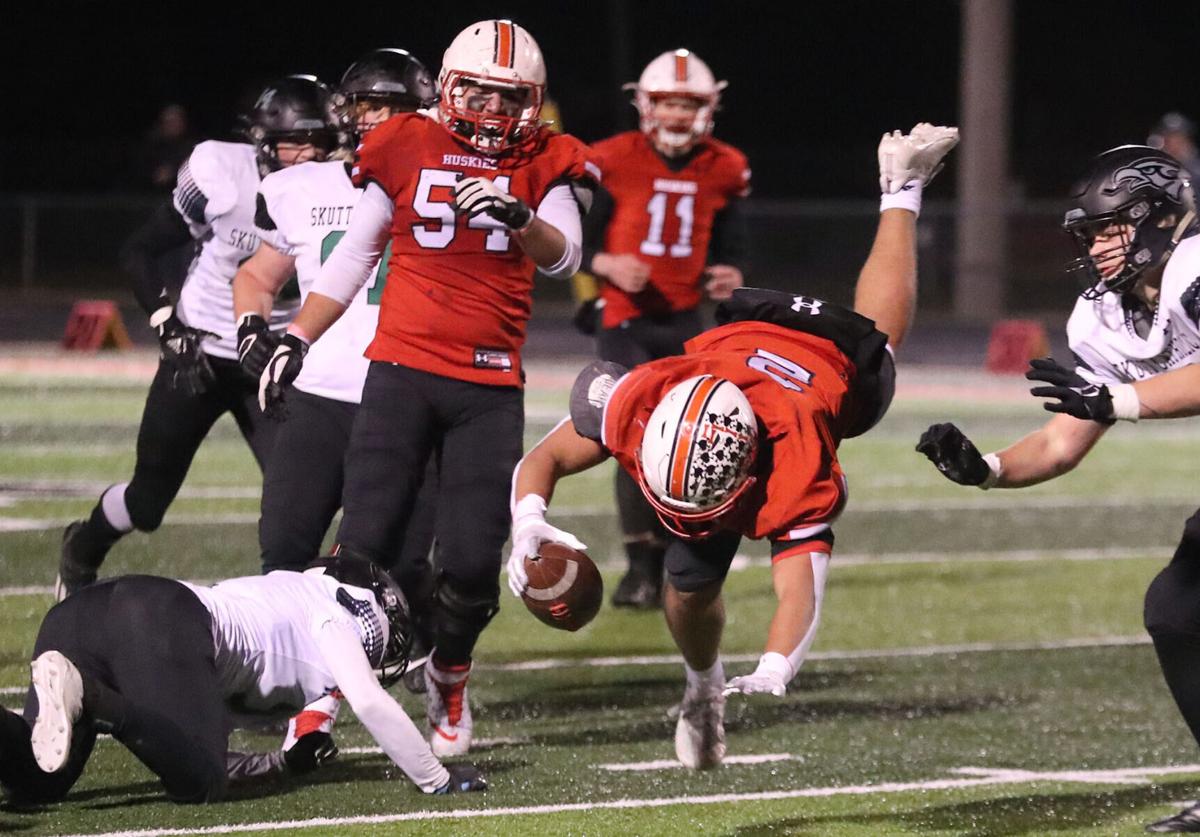 A return to the Class B state championship game for a second consecutive season brings an extra reward for Aurora.
Last year the Huskies played for the title in a road game at Elkhorn after the title contests were moved to home sites due to a surge of COVID-19 cases hitting the state.
This year the championships return to Memorial Stadium in Lincoln, and Aurora is thrilled that will be the site of Monday's 7:15 p.m. showdown against No. 1-rated and undefeated Bennington.
"It's really great for our seniors," Aurora coach Kyle Peterson said. "So many of them played on last year's team and didn't get to play in Lincoln. Now to have that opportunity, I'm really happy for them because this is the place they've dreamed of playing since they were in first-grade flag football.
"To reach that pinnacle and receive that opportunity is pretty neat for them."
The teams are no strangers to each other. The Badgers (12-0) defeated the No. 3 Huskies (10-2) in the second week of the season 55-44. Bennington was part of two straight 0-2 starts to seasons by Aurora that ended with state finals appearances.
Peterson said the rematch aspect is diminished some by the first game having taken place almost three months ago.
"We're different. They're different — probably not in as many ways as us," he said. "But we know what the physical matchup is like. We know what the line of scrimmage potentially looks like. We know what the speed and matchups on the edge look like. But they do, too.
"I think it probably gives both teams an opportunity to reevaluate, especially how we defended each other the first time and then come up with a little different game plan from an X's and O's standpoint. But when you know how things are going to match up physically, it gives you the idea of some keys of how to defend them a second time."
The first meeting was the closest win of the season for Bennington.
The Badgers have simply dominated against a majority of their schedule, winning by an average score of 45-16 and outgaining their opponents 483 yards to 276.
They are led by Dylan Mostek, who has 2,872 yards and 34 touchdowns and is 137 yards away from breaking the state's 11-man single-season rushing record set by Omaha North's Calvin Strong in 2013.
"They're just talented at every level offensively," Peterson said. "They are really good at the line of scrimmage, so they give their quarterback time to throw the ball when they want to do that. They run it at will against almost anybody. They're as talented at tailback as I can remember playing against a kid. We've played against some great backs here in 20-plus years, and he's as good if not better than any of them.
"They're really explosive on the edge. They have a lot of skill players that they can get involved. They're deep. I think all of those factors on the offensive side make them a really tough matchup for everybody."
The Huskies had their opportunities to stop Mostek in the first meeting and must take advantage of those chances this time around.
"We had so many chances to make tackles for no gain in the first meeting, and we weren't able to finish those tackles," Peterson said. "Being able to tackle and tackle in space is a real key for us. Can we do that against a real dynamic kid?
"We have to play fast defensively. We have to be able to trust our eyes, trust the reads that we're getting and then fly to the football off of those reads. If we play fast, we're going to get a lot of guys to the ball and have a better chance at tackling a dynamic kid."
Aurora features its own strong ground game led by junior Carlos Collazo, who has 1,749 yards and 26 touchdowns.
"We have to control the line of scrimmage offensively," Peterson said. "We have to be able to run the ball and not give them a whole lot of offensive opportunities ultimately and especially in the first half. Hopefully we can make it a heck of a game there and stress them a little bit.
"If we can put them under stress, no one's really done that this year. Our kids have held up pretty well the last couple of weeks, so we'll see if that isn't enough to turn it."
If Bennington can take an early lead, that plays into its defense's hands.
"On the defensive side they get out to such big leads, they play fast and confidently," Peterson said. "No one maybe outside of us in the first game has really stressed them at all this year. When they're able to play with a lead and play confidently, they're really good defensively as well."
Bennington is making only its second finals appearance with the last coming during a Class C-1 championship season in 1989.
Aurora has the advantage in that category, appearing in the finals for the ninth time and third time in four years.
"This group of seniors suited up for a (Class C-1) state championship at Memorial Stadium in 2018, made the quarterfinals in 2019 and finals in '20 and finals in '21," Peterson said. "This is their 14th playoff game, and that's a whole other season.
"I call them the super seniors because they are fifth-year seniors plus. They've gotten a lot of extra practice and a lot of scout team reps and a lot of individual reps that other teams around the state haven't benefited from. That's kind of the point I've been making to our freshmen and sophomores who are practicing with us right now. Think about all the extra reps that you've gotten that other teams haven't. If you can take that and apply it to next year, that can make you better."