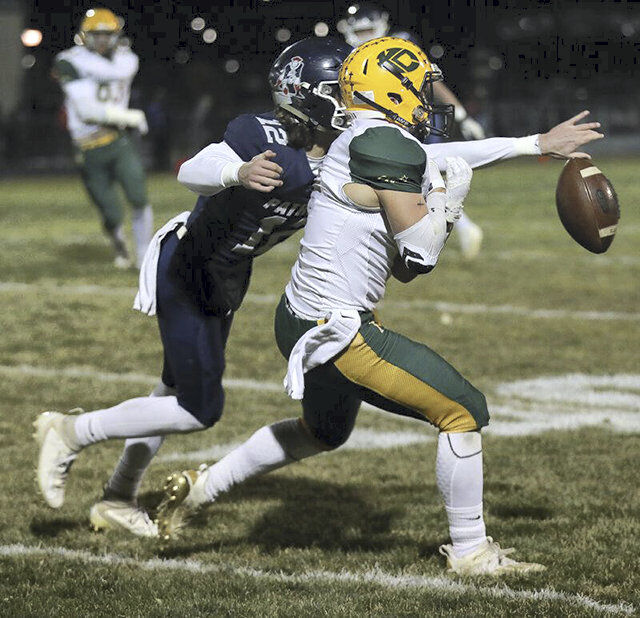 Adams Central finally got over the hump.
Since the Patriots made their lone championship appearance while finishing as the Class B runner-up in 1993, the program advanced to the playoff semifinals of its class five times.
Each time Adams Central fell short.
But that all changed last Friday when the Patriots avenged a regular-season loss to Kearney Catholic to earn a trip to the Class C-1 title tilt. That game will be held this Friday at Pierce at 5:30 p.m.
Coach Shawn Mulligan said he isn't 100% sure why this group was able to break through when other very talented teams didn't.
"In my four previous semifinals, we had teams that were very capable of playing in the championship game and it didn't happen," he said. "In the playoffs you have to be good, healthy and lucky, and we were all three this year.
"We had a difficult draw against three high-quality teams, but we matched up well with all three and we were able to match our strengths against their strengths."
A turning point for Adams Central (10-2) came after back-to-back losses to Kearney Catholic and St. Paul late in the regular season.
"We were frustrated," Mulligan said. "We knew we had a good football team. We led Kearney Catholic with about four minutes left and lost. We had our opportunities to win against St. Paul but lost in overtime. We knew those were two very good teams, but it was a frustrating time for us to lose both games.
"We refocused. The week of the Fillmore Central game was the best week of practice that we've had. We changed our mindset."
Now Adams Central hopes to change a result. Its most recent semifinal loss came last year in a 54-14 home-field defeat to Pierce.
The Bluejays (12-0) haven't shown any signs of a drop-off after having some heavy graduation losses from that runner-up team. They defeated St. Paul for the second time this season in the semifinals.
"It's a new group of guys, but they're just as impressive as before," Mulligan said. "They are always one of the better coached teams each year. They have a lot of talent, especially on the line, even though they graduated a lot of kids."
That talent on the lines led to Pierce dominating last year's playoff meeting between the teams. Now the Patriots have a better idea of what to expect.
"The guys who played know the physicality that Pierce brings in a game," Mulligan said. "It's different. Now we can refocus and not be afraid of the unknown.
"Last year they broke us mentally between the ears. When that happened, the physical part followed."
A team that feeds off good starts, the Patriots would love to have some success early on against the Bluejays.
An inability to establish a running game or converting on some short passes last year also proved to be costly for the Patriots. Sustaining drives and keeping Pierce's physical offensive line from doing its thing would be beneficial.
Mulligan said that Adams Central's players probably share the same emotions as the other 11 teams that won't be playing a final as scheduled at Memorial Stadium — disappointed but still excited to play.
And the Patriots feel as prepared as possible for this type of opportunity.
"After Friday, we'll have played 13 games, and nine of the 13 were against rated teams," Mulligan said. "We've played at a high level, and as coaches and players, we have the mindset that we can be competitive and play with everybody."
Get in the game with our Prep Sports Newsletter
Sent weekly directly to your inbox!