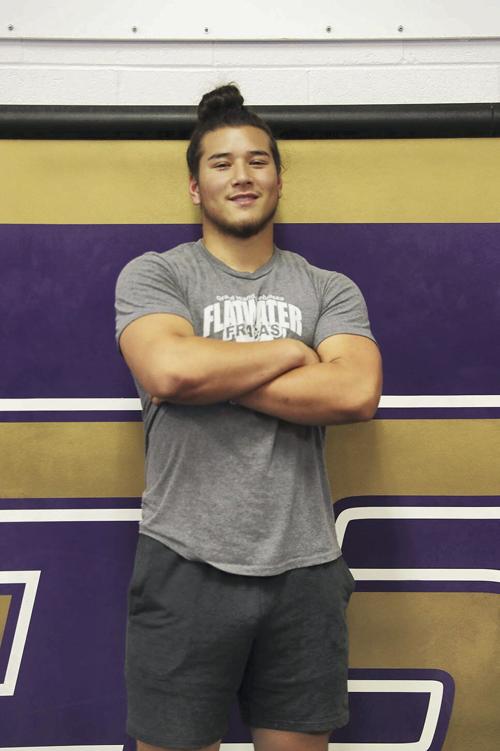 Daylon Keolavone had quite the athletic year for Grand Island Senior High.
The Islander recorded 60 tackles while playing nose tackle for the football team, helping him earn the Independent's All-Heartland 11-man Super Squad honorary defensive captain honors. He helped Grand Island make the state playoffs.
Then during the winter, he finished as the Class A 220-pound runner-up, helping Grand Island's wrestling squad finish third in the Class A team standings.
Grand Island wrestling coach Joey Morrison said Keolavone was one of those athletes who enjoyed competing during the big moments.
"He was a gamer. When the lights are on, he's at his best, whether it was on the football field or on the wrestling mat," Morrison said. "He always seemed to perform really big during those moments."
And he did all that while competing on a broken foot.
Keolavone said it was challenging but he didn't let the foot bother him when he went out and competed.
"It was tough competing on it. But I still went to practice like a normal practice and played in a game like a normal game," Keolavone said. "I would try to block it out as best as I could."
For those reasons, Keolavone is the winner of the sixth annual Paul Beranek Courage Award. The award is named after the long-time boys basketball coach at Ravenna who passed away in 2015 after a long battle with cancer. The award honors someone who has overcome great obstacles in order to just participate in athletics.
The injury happened during the middle of the wrestling season at the Rollin Dyer Tournament his junior year. Keolavone said he knew something was wrong right when it happened.
"I felt something pop and I knew something wasn't right when it happened," he said.
Keolavone had an MRI on the foot a few days after the tournament and found out he had broken his foot. He had surgery a short time later to put a screw into his foot. That forced him to miss the rest of the wrestling season, including districts and state.
He would break it again during the summer.
"I would always end up rolling my ankle all the time, and that was because there were some certain spots where I would set my foot down and it would give out and then it broke again," he said.
Keolavone said playing with the injury was pretty challenging as there were times during the later portion of the season where he was walking in a boot and couldn't practice but still managed to suit up and play on Friday nights. He said those weeks were challenging but he wanted to give it a go.
"There were a couple of weeks where I had to practice mentally and watch," Keolavone said. "There were a few times where I would go up to the weight room and ride the bike and do other exercises to help strengthen it, just to try to stay in shape as well as having ice baths for my foot.
"But later I would get used to the pain as I wanted to play football, and I wasn't going to let my teammates or coaches down."
While making plays for the defense where he was third on the team with the 60 tackles, he also rushed for 336 yards and three touchdowns for the Islander offense. His top performance during the 2020 season was getting 15 tackles during a 27-26 win at Papillion-La Vista.
Grand Island football coach Jeff Tomlin said it was impressive to see Keolavone have the type of season that he did and he enjoyed coaching him.
"The last few weeks of the season he was in a (walking) boot all week and couldn't even practice," Tomlin said. "But then he'd suit up and play on Friday night.
"He's been one of the best leaders and also most dynamic players. He has excellent hands and was a playmaker on both sides of the ball. He took on double-teams and be a difference marker at the nose position on the defensive line. He really made plays from sideline to sideline."
Then came the wrestling season where he would compete at 195 and 220 pounds. He missed the first part of the season trying to get his foot healed.
Keolavone came back during the Flatwater Fracas. He went 1-2 during the tournament, where he admitted he wasn't in the best shape.
"We wanted to get that foot healed and get down to weight, which wasn't helping either," Keolavone said. "That wasn't fun just because I was in no shape whatsoever, but it was a good experience for me. I pushed myself to still compete the best I could."
Morrison said Keolavone had a lot of the same problems that he had in football when it came to practice time.
"We wanted to make sure he was getting the reps but not overworking him in the process to where he might injure it again," Morrison said. "It was touch and go to where he might not even see the mat at all his senior year. And that would have been too bad because we wanted him to finish his athletic career strong.
"The mental side for him was hard because he would look good in practice then 10 minutes later, it would aggravate him and he would have to do something different."
During those tough moments, Keolavone went on to finish the regular season with a 17-3 record. He earned himself the No. 4 seed at 220 pounds in the Class A, District 2 Tournament, which the Islanders hosted. He finished second to Omaha North's Tyler Stewart on a last-second takedown. Despite that, he was one of 13 state qualifiers for Grand Island, which won the district tournament with 215 points.
During the first day of the state tournament, he earned his first state medal after he upset previously unbeaten and top-ranked Noah Spieck of Lincoln Southwest 5-1 in the quarterfinals.
"That was one of the better matches he had wrestled in his career," Morrison said.
Keolavone said that was a fun moment for him.
"That felt good after I defeated him. I had some good battles with Noah over the years," Keolavone said.
Keolavone went on to defeat Fremont's Garret Moser 9-5 in the semifinals to earn himself a spot in the finals. He met up with Stewart again for the state championship, but unfortunately, lost to the North wrestler again, this time by a 3-1 score. Stewart scored the lone takedown with three seconds left of the second period.
"There was a couple of setbacks in that match that I couldn't recover from him," he said. "But I can't complain with a second-place finish even though I wanted to win."
Morrison said he enjoyed coaching Keolavone. When he was a junior, the Islanders went up to the Clash XIII National High School Duals and he went 6-0 during the two-day tournament.
"He was a kid who didn't have much wrestling experience growing up," Morrison said. "He's just really explosive and a naturally strong kid who has great balance and great speed. He was able to pick up on technique really quick and used it well on the mat. It was fun having him in the wrestling room. He'll be missed for sure."
Keolavone got one last opportunity to compete in football as he and Islander teammate Michael Maxon got to participate in the 63rd Shrine Bowl at UNK over the summer.
They were part of the North's 10-3 win over the South. Keolavone said even though his foot wasn't completely healed, he didn't feel as much pain as he normally did during the practices and during the game.
"My foot felt as good as it ever did," he said. "It was moving good. There are still times where it will get sore in that exact spot. But that was the best I've moved in quite a while. It was great to not have pain in my foot."
While battling with a broken foot was challenging, there was a bigger challenge for not only him but for everyone involved in sports. The Islanders were hit with COVID-19 before the start of the football season. That forced Grand Island to quarantine and miss a few practices, as well as missing their home opener.
Keolavone said that was a challenging time as well but was glad the Islanders still got the opportunity to play.
"We were all scared during the early part of the season, but we ended up playing which was great," Keolavone said. "Our coaches kept preaching to us to not take anything for granted, even during the start of the football season. Our coaches gave us home workouts to do and making sure everybody was accountable. I wished we could have more time to bond as a team but at least we were still able to do some of that. We made the best of it."