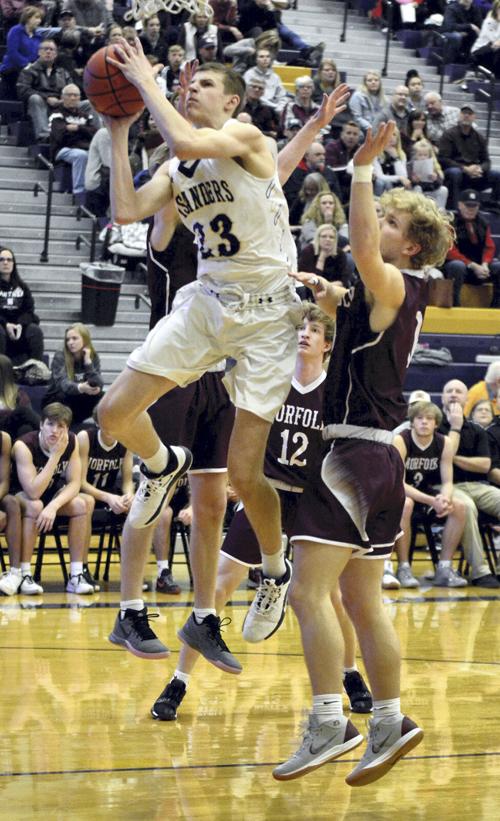 The Grand Island Senior High boys basketball team returns one starter from last season's 17-8 squad that fell just five points away from the program's first state tournament berth since 2010.
But when that lone starter is ranked as the No. 58 recruit for the class of 2022, that's a pretty good starting point.
After a breakout sophomore season that established him on the national scene, Isaac Traudt now takes on a bigger role as the clear leader for the Islanders as they enter Thursday's season opener at Omaha Creighton Prep.
Grand Island coach Jeremiah Slough said it is a different Traudt from the one who went from a freshman who averaged fewer than two points a game to an 18 point per contest sophomore.
"He worked to change his body, which comes with maturity and age," Slough said. "He dedicated himself in the weight room and worked to make sure that he was ready to perform at a high level.
"With what summer he had, he worked to develop and improve his skill set. He's not close to the same player that he was last March. I'm excited to see what he can do, but he also understands that he's a piece of the puzzle and everyone else is equally as important to our team's success."
The now 6-foot-10 junior said he knew he needed to get bigger to prepare for this season.
"I put on 30 to 35 pounds," Traudt said. "I made the weight room a priority. I wanted to get bigger to be able to play better defense, and it'll help me get to the rim."
Last year at this time there was talk about how much Traudt had improved and that he was poised to have a good season for the Islanders.
Now he enters his junior year with 26 NCAA Division I offers, including ones from current top 25 programs Iowa, Wisconsin, Creighton, Oregon and Ohio State. Other offers have also come from Nebraska, Louisville, Georgetown, Notre Dame, Oklahoma and Oklahoma State.
It's been a whirlwind 366 days.
"It's been everything I've dreams of," Traudt said. "I want to play at a high level, and it's amazing to talk to all of these coaches."
It's also a time-consuming process.
"I'll have three phone calls a night, which are 45 minutes long," he said. "Then I try to watch every game that I can on TV of the schools that I'm interested in playing at. It takes quite a bit of time, but it'll come down to what is the best fit for me."
For now, Traudt is trying to make sure that the Islanders put together their best season possible.
"It feels great to even have an opportunity to play games again," he said. "It was such a strange offseason, so we're excited to get started.
"We're figuring out everybody's role right now, but we have really good chemistry. I think we have a good shot of being (Heartland Athletic) Conference champions again and we'd love to get to the state tournament. I don't know how long it has been since Senior High has made it to state."
Traudt will take on a leadership role this year that wasn't needed last year with a strong senior class. He'll also have to adjust to being the focus of every defense that the Islanders face.
"Once people began to figure out what he could do towards the end of last year, we were able to take advantage of that and use him as a decoy," Slough said. "Sometimes we'd put him in the corner and our point guard got to go 1-on-1 against his man.
"We'll need to develop that with our other players this year. Now we're going to depend on getting the ball in Isaac's hands one time, two times, three times a possession."
Slough said the Islanders will probably go nine players deep to start the season before paring things to a seven- or eight-player rotation once roles are settled.
One blow the team suffered was when senior guard and leader Caleb Coslor suffered a torn ACL on the first day of practice and was lost for the season.
Other returning letterwinners who will step into much large roles are junior guard Kytan Fyfe, senior guard Aiden Klemme, junior forward Dylan Sextro and senior guard Aidan Keyes.
Juniors Jacob Nesvara and Tyler Fay also will be in the mix.
"We have a lot of new faces," Slough said. "We have a lot of pieces to the puzzle to figure out since we don't have much experience."
Grand Island gets an immediate test with a trip to Omaha Creighton Prep. The teams battled to a split in a pair of classics in Omaha last year with the Islanders handing the Junior Jays a rare home loss on a 35-foot buzzer beater by Traudt in the regular season.
Prep got past the Islanders 64-60 in overtime in the district final.
"Looking at the scouting report, they are the same team as last year except for the Schomers kid (Steve, who averaged a team-high 12.1 ppg)," Slough said. "If you look at our scouting report, we're an entirely different team except for Isaac. It'll be a good test for us to go on the road against a top five team in the state.
"I told our team that we might not be good enough to win this basketball game right now, but it is going to help us see our deficiencies. That will be good for us in the long run, and whenever you play Prep, you know that they will exploit your weaknesses."
That game is part of the I-80 Shootout. The Islanders will then host either Elkhorn South or Papillion-La Vista Saturday at 2:45 p.m. to conclude play in the pod.