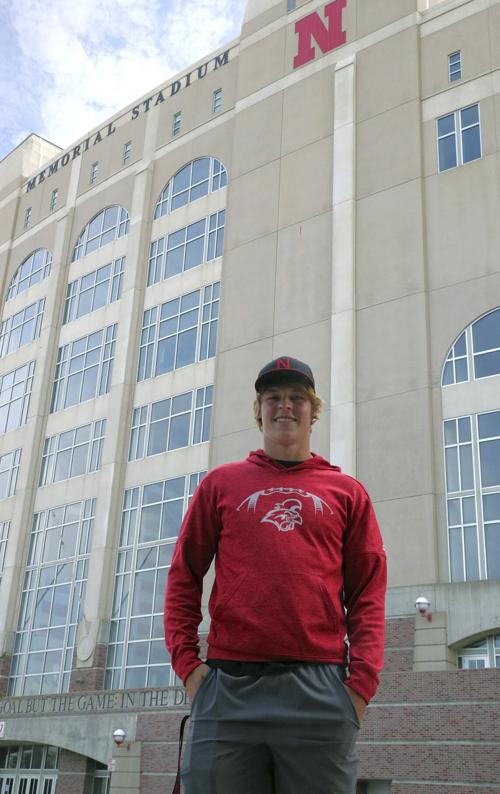 Maybe 50 years from now, the talk at some social gathering in Ord will turn to stories about that first football championship team from way back in 2020.
Those discussions will certainly include talk about that team's kicker, the boy with the powerful and accurate leg that you wouldn't believe unless you saw it.
Those stories must be greatly embellished over time, just like most high school sports tales are over the decades. Just play a soundtrack combining Bruce Springsteen's "Glory Days" and one of Al Bundy's "four touchdowns against Polk High" speeches in the background.
But, in this rare case, those stories are not embellished even one little hair past the truth.
If there are any doubts in the future, here is the truth, the whole truth and nothing but the truth about Ord's too-good-to-be-true three-sport standout Kelen Meyer — the Independent's 2020-21 boys athlete of the year.
"I heard he tied the record for the longest field goal after he was barely able to walk!"
Meyer certainly received plenty of publicity after tying the Class C-2 record with a 58-yard field goal at Central City. But here's the rest of the story...
"The amazing part is he came off the field two plays before that kick cramping up in his right leg, the one that he kicks with," Ord football head coach Nate Wells said. "Then we walk him out there and he just booms that sucker."
Meyer shrugs off that fact months after the kick.
"I was playing corner and I started to cramp up," he said. "We just got the ball back and I came off. I was cramping up, and so we put someone else in there at wide receiver for a couple plays.
"We went three-and-out, and our trainer was finally done stretching my leg out. Coach gave me the chance to go kick it, and I did. That was awesome. I'd never hit one that far in a game before, and I was glad I was able to do it."
"I heard that he could kick a field goal six yards longer than the NFL record in high school!"
Hitting an actual 70-yard in a game simulation in practice seems incredible. But there is the video to prove it.
"We kick every day in practice going through that (field goal) situation, and he just never missed," Wells said. "We'd back it up, and he could just kick it.
"I have a video on my phone of him kicking a 70-yarder in practice with a hold and a team on the other side. It was just incredible — and I don't think there was any wind that day."
Always interesting in sports, it was around fifth or sixth grade that the kicking aspect of football intrigued Meyer.
"I watched TV and kind of saw people doing it," he said. "It got me interesting and I kind of started doing it. I really liked it."
He quickly got the attention of Wells, even at that young age.
"It was fifth or sixth grade," the coach said. "He would go down there (to the field) and kick by himself. He's have a tee and he'd have the little kicking stick to hold the ball, and he'd be kicking. In junior high he was making 35-, 40-yard field goals. You just don't see that very often."
That Meyer developed into a football standout as well as a top-level competitor in his class in both wrestling and golf didn't shock Wells or the other Chanticleer coaches.
"There are so many adjectives to describe him," Wells said. "He's just so skilled, and then on top of that he's very clutch. Watching him grow up playing in baseball games or football games, wrestling — you know, he was a really good basketball player too. So he kind of had a decision to make. I think he thought he was going to wrestle the whole time, but he was good enough that he would have been one of the better players on our basketball team.
"When he was a kid, I saw him outside his yard or at the park or at the football field playing sports almost 24 hours a day. All of us coaches just knew he was going to be a special athlete when he got to high special."
"His leg was so strong it even impressed the referees!"
Let Wells explain this one...
"He just has an incredible leg," he said. "There was one situation against Centura where we tried to get him a state record, and he just mishit the ball a little bit. He had a wind behind him, and I think it was a 64-yarder.
"We actually false started with one of our linemen, but the referees didn't call it because I think they wanted to see him get a record. The guy just flinched a little bit. But (Meyer) got underneath it just a little too much, so it just didn't quite get there. But it was close."
"I heard he was as much a threat to score on defense as he was while kicking!"
Meyer's kicking skills — including regularly booting kickoffs well into the end zone and averaging 40.2 yards per punt — got him plenty of attention.
And that may have led to his other contributions to Ord's 12-0 Class C-2 state championship run being overlooked.
He had four touchdowns as a receiver while on defense he recorded eight interceptions and recovered two fumbles.
"He had the best ball skills out of anybody on our team," Wells said. "He also had eight interceptions on the year. When the ball's in the air, he can just go up at a high point and get it whenever he wants.
"Offensively, when we needed to throw the ball down the field, we could just throw it up to him and we just knew every time he was going to go up and get it. He just has incredible skills. That's him playing with a football his whole life."
Meyer said Ord's coaching staff helped set him up for his success.
"The drills we do in practice really help," he said. "Our defensive coordinator, Tyke Kozeal, was really great at making us do a lot of defensive coverages and making us do a lot of footwork and drills to help read what the quarterback was doing.
"That helped us be able to pick out early what (the quarterback) was going to do."
"Everyone forgets how silly it would have sounded to talk about an Ord football state championship before that group!"
The Chanticleers reached new heights under Wells, making their first finals appearance in a C-1 loss to Aurora in 2018 before taking that final big step last November.
Meyer and his senior classmates played in over half of Ord's playoff wins in school history — eight out of 15 came over the past three years.
"We all had the same goal in mind," Meyer said. "We all knew what needed to be done, and we went and did it."
To cap off that dream senior season with a 28-7 championship game win at Archbishop Bergan was the perfect ending.
"It meant everything," Meyer said. "After losing sophomore year in the state championship, we knew we had the talent to be there. Then after junior year losing to Pierce in the quarters, it just kind of really made us want to work even harder for it for our senior year.
"It was a team effort. Everybody put in the time and effort, and it paid off."
"And he was a heck of a wrestler, too!"
Meyer finished runner-up in the Class C 182-pound class with a 37-5 record.
"It went pretty well. The goal was to make finals for the first time, and I accomplished that. I lost to a couple really good opponents," said Meyer, who enjoys wrestling since his father helps coach.
"And a heck of a golfer, too!"
The spring golf season might have provided the one disappointment of Meyer's senior year. He finished the two-day Class C state tournament with a 168, one stroke out of becoming a medalist.
"I came up short at state," he said. "I didn't play as well on the back nine, but it was fun."
"And then he went on to college and..."
The future is still to be written about Meyer, but the outlook is bright.
He is the rare Nebraska walk-on to receive mentions in the media about possibly contributing right away. The Huskers have struggled to put the ball into the end zone on kickoffs in recent seasons, and that's an area where Meyer nearly automatically forced Ord's opponents to start on their 20-yard line time and time again.
"Hopefully I can win the kickoff job and maybe the field goal job," he said. "I want to have some playing time and get on the field."
Meyer is already in Lincoln and working out with his new teammates.
"It's been really good so far," he said. "I've met a lot of really good people, and they've been really welcoming and helping me out, so I'm looking forward to it."
Meyer knows that there will be plenty of adjustments to be made to become a successful collegiate kicker.
"Definitely just the atmosphere and it's on Saturdays now — that will be different," he said. "Football is the main thing I'm here for, so it's not like we're done and I'm onto the next thing. It's just football year-round. That'll be nice.
"There will be (some adjustments) because 90,000 is a lot of people. But I've looked forward to it since I was just a little kid, so I'm going to enjoy it. This means the world. It's been a dream of mine forever. Now that I've finally gotten the chance to do it, it's really special."
Wells expects the transition to go fairly smoothly for Meyer thanks to his mental approach to kicking.
"He just has this mindset that he's just going to go in there and be successful," he said. "He just knows that he is. And he had a great mind for a kicker, too. He's easily able to flush things away and not stew about them or ride that emotional roller coaster up and down.
"After he hit that 58-yarder against Central City, he just trotted off the field like he had done it a million times. He didn't even get excited."
"That kid has to be too good to be true!"
Wells said it was a difficult choice for Ord's athlete of the year considering the talent in this year's senior class, but Meyer's three-sport abilities made him the choice amongst the Chants.
"When you sit back and look at all the things he accomplished in his high school career and even this year, he's just a stud athlete in all phases," Wells said. "In every sport, he had tremendous amount of success. We're really going to miss him.
"We're definitely going to miss him on the football field, the wrestling team is going to miss him and he was the best golfer in our school. He's just a special athlete that doesn't come around very often."
But he's not just special when he's competing in sports.
"Above all with the fact that he's a great athlete, he's an ever better kid," Wells said. "He's a super respectful, hard-working kid that has really high character, and I'm really proud of him for that. Nebraska's going to love him not just because he can kick the ball into the end zone every time and kick field goals and extra points.
"I think he has the chance to be the punter there. He had an incredible leg. But he's just a better person with an incredible family."