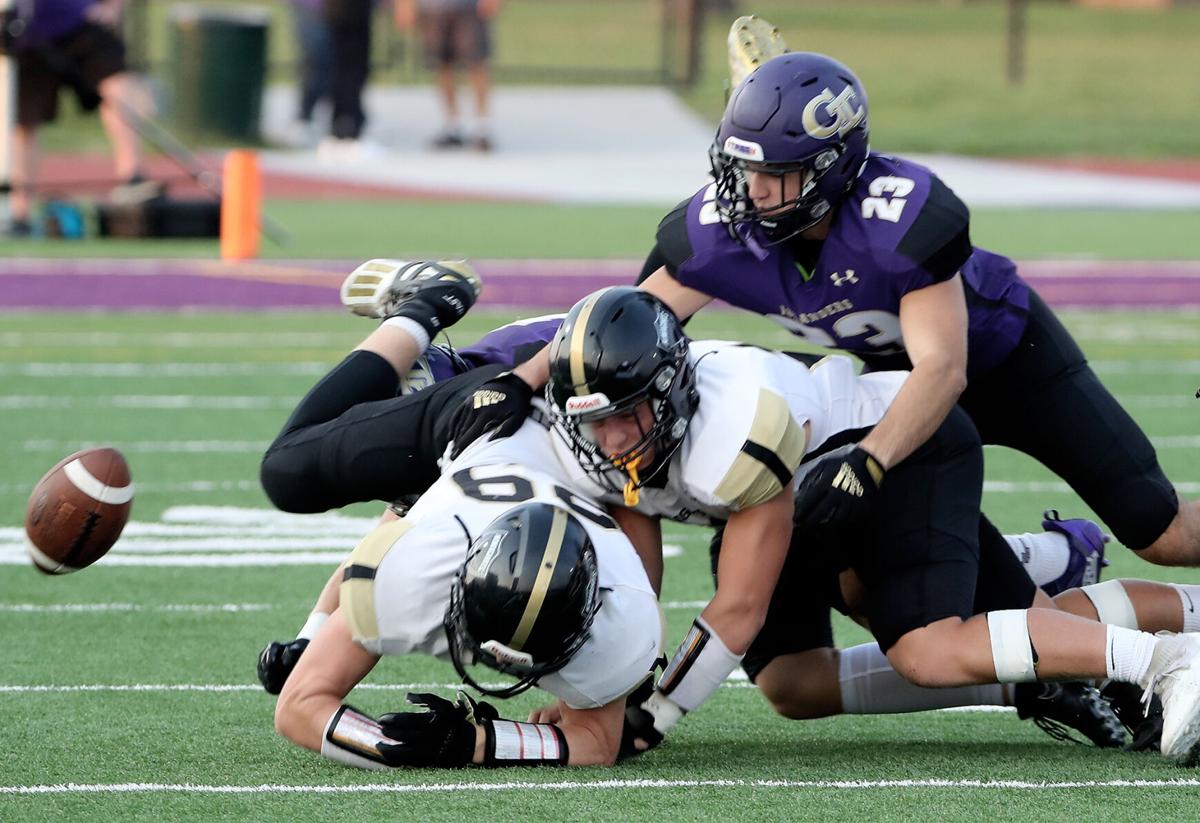 The Islander Football Hall of Fame weekend returns.
After taking a year off due to the COVID-19 pandemic, the festivities resume this week with the class of 2021.
The newest inductees are former players Oscar Bredthauer, Robert and Royal Kahler, Gary Pedersen, Scott Siegel, Troy Tesmer and Bill Wheeler; former coach Tex Harvey; members of the state runner-up 1987 team; and contributor Barry Sandstrom.
The honorees will be recognized at halftime of Friday's 7 p.m. game against Fremont and at an induction ceremony at Balz Reception Hall Saturday at 11:30 a.m.
"We always look forward to that game, and it's always nice to honor those Islander greats from the past and acknowledge them in front of our crowd," Grand Island head coach Jeff Tomlin said. "To welcome them home is always a special deal, and I hope it's a great incentive for our players to play their very best."
This is the sixth class to be inducted, so the Islander Football Hall of Fame weekend is establishing itself as a tradition.
"I think our kids know about these men and know about their contributions," Tomlin said. "They know their impact, and they're well-schooled on them. So to actually see them in person — the ones that can make it still — is a big deal for our kids and I think they want to show out."
The Class A No. 10-rated Islanders (1-2) are coming off a 17-7 home loss to No. 4 Lincoln Southeast. They are looking to build off of the positives from that game and improve in some other areas against the Tigers (2-1).
"I felt like we left it all on the field Friday night," Tomlin said. "Obviously we want maximum effort, but this week we are focused on the execution of the details. We know we have to string together possessions, snaps, first downs and points.
"Then obviously defensively we have a really good offensive football team coming in in Fremont which returns almost its whole offense intact from last year. They are very big play and explosive, so we have to do a good job of limiting and eliminating explosive plays and just playing great, sound team defense."
Fremont handed Lincoln Northeast (35-0) and Omaha Benson (48-22) their only losses of the season but fell to another 2-1 team in North Platte (34-0).
Running back Micah Moore collected 175 yards and two touchdowns in last week's win over Benson. He tied the school's career touchdown record with 28 while his 26 career rushing TDs broke the school mark set by former Husker Ritch Bahe — the brother of Northwest boys basketball coach Chip Bahe.
"Micah Moore is a great running back," Tomlin said. "(Drew) Sellon is a really good receiver. They have a good receiving corps, and I would say their biggest asset is their speed. They have big, play-making speed and a good offensive line. They have a nice scheme and they play it well. They play it hard. They're going to be a big challenge to defend, and that's exactly what our defense likes — a big challenge."
Fremont is averaging 153 yards rushing and 139.3 yards passing. Sellon has eight catches for 145 yards (18.1 yards per catch) with a TD.
Offensively, the Islanders look to find a way to sustain drive. They only managed three first downs against Southeast in between their opening and closing possessions.
"We just need to execute," Tomlin said. "The plan's there. The players have more than enough ability to get it done. We just got to be spot-on execution wise and have no unforced errors, penalties or turnovers. Then we'll be fine."
The coach feels his team is in a good spot at this point in the season as long as it continues to take some big steps forward.
"We're in a great place as far as continuing to see improvement," he said. "Now, it's getting more critical. Now we're a month in. Now we're in week four. Now the execution pieces get more critical, so we have to see a big improvement in that area."
Northwest (2-1) at Waverly (1-2)
Class B No. 8-rated Northwest faces its second top 10 road clash of the season when it faces No. 5 Waverly Friday at 7 p.m. in a battle of Vikings.
Waverly looks to snap a two-game losing streak after falling to No. 1 Omaha Skutt 27-24 in double overtime and No. 2 Elkhorn 14-13.
Northwest rolled to wins over Gering and Alliance the past two weeks by a combined 96-10. Quarterback Sam Hartman has passed for 594 yards and five touchdowns and rushed for 234 yards with six TDs.
NP St. Pat's (2-1) at GICC (0-3)
Grand Island Central Catholic plays on its home turf for the first time this season looking for some Crusader magic to break into the win column. Friday's kickoff is set for 7 p.m.
GICC's first three games were losses to teams that are a combined 7-2. In fact, eight of the nine teams on the schedule are currently 2-1 or undefeated.
Quarterback Brayton Johnson has passed for 365 yards and two TDs. Receivers Marcus Lowry (12 catches, 223 yards, 2 TDs) and Isaac Herbek (13 catches, 114 yards) have been responsible for nearly all of that yardage.
North Platte St. Patrick's rebounded from a 26-22 loss to Hastings St. Cecilia with a 35-0 shutout of Centura last week.
Lewiston (1-1) at Heartland Lutheran (0-2)
After a rough start to the season, Heartland Lutheran hopes that a bye week is the answer and leads to a bounceback home win over Lewiston Friday at 7 p.m.
Lewiston lost to undefeated Red Cloud 67-12 but defeated winless Dorchester 63-24.