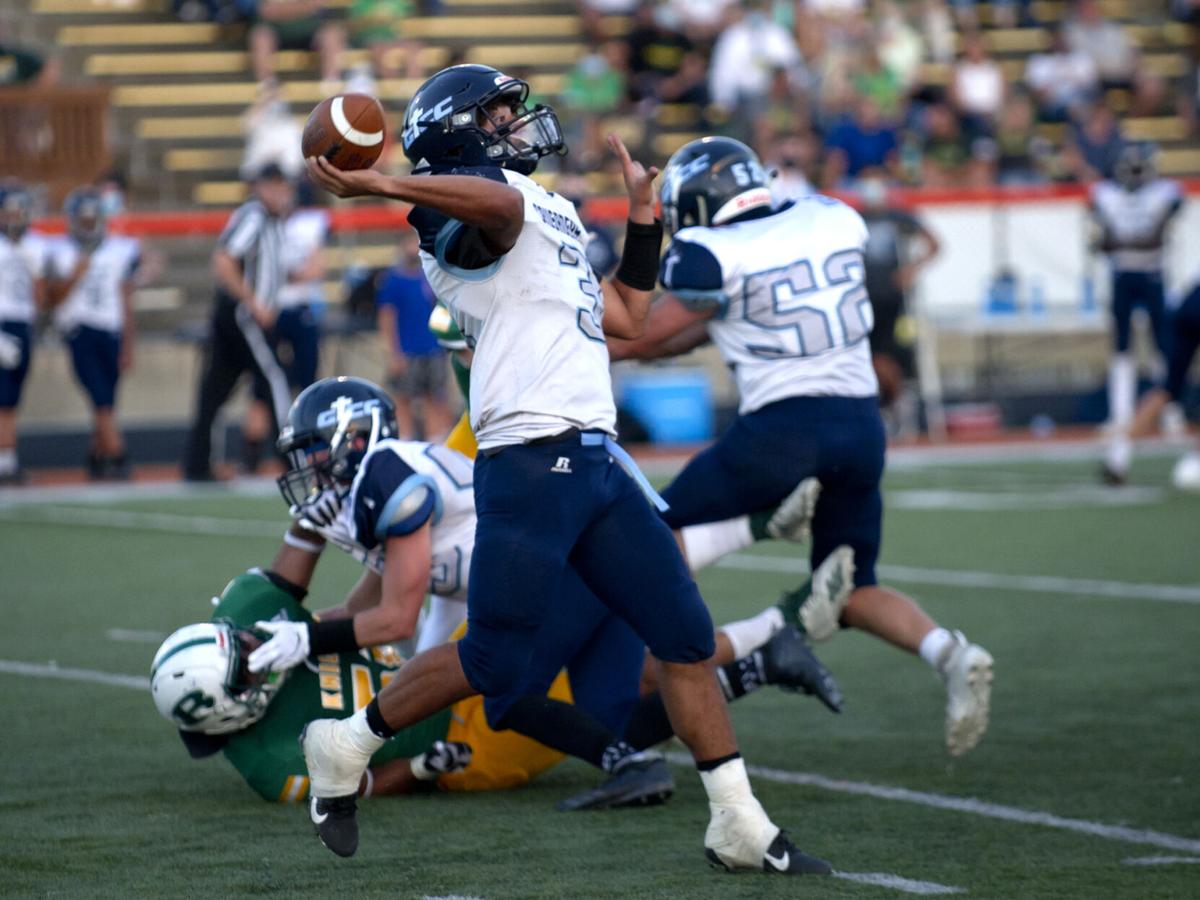 Grand Island Central Catholic is ready to make some school history when it steps onto the field for its first home game of the 2020 season.
When the Crusaders host Centennial Friday at 5 p.m., it is what school officials believe will be the first true home varsity game ever held on the Central Catholic campus.
Head coach Tim Dvorak never got to experience that as a player at GICC. But he knows it should be a memorable game for this year's team.
"I think I can speak for a lot of alumni, that we've all wondered what it would be like to play a home game on this field," he said. "It's exciting, it really is. There's really no other way to put it.
"It's a unique experience for these young men, and I've heard from a lot of alumni how excited they are for the opportunity. It's going to be special to be home in our house on the field that we know and practice on every day."
The players realize that they will be involved in a memorable event.
"It's pretty exciting," said senior offensive tackle/middle linebacker Will Goering. "I don't think we've played here for over 30 years, so it should be fun to play on our home field. Hopefully we have a lot of fans.
"We'll be much more comfortable here. We practice here. We'll be able to be in our own locker room for the first time. That'll be nice. We'll have our own training room and everything."
There will be no short ride over to Grand Island Senior High's Memorial Stadium for home games this season for the Crusaders.
"It's something special because this is the first game that we've actually played on our own field because normally we go over to GISH," said senior tight end/outside linebacker Brayden Wenzl. "I feel like we might have a pretty good atmosphere here with all the fans that will come and not be limited.
"They want us to play here because they want our fans to be here, so I think it'll be a good opportunity for us to play on our own field and show that the field doesn't really matter, it's just us."
GICC activities director Dick Ross said there is a buzz surrounding a true home game.
"Everybody is really excited here," he said. "People that I've talked to are happy to see us hosting games here."
The decision to move all of this season's home games to GICC came after Grand Island Public Schools established a policy that doesn't allow visiting fans at its facilities for the fall sports season.
"We wanted visiting fans at our games, and there was no way that we were going to play nine games on the road," Ross said.
But with GIPS announcing its policy on Aug. 19, that left a pretty quick turnaround for GICC to prepare for the first home game. And there was some work to be done.
"We put new sod in some places," Ross said. "We're going to bring in portable lights and some scaffolding. Our press box isn't big enough to hold the assistant coaches from both teams. If we had known that we were going to host games we would have made it bigger when we built it.
"There will be limited room in our bleachers, so we're inviting fans to bring their lawn chairs to the game."
Parking could also be a concern, but Ross said maps have been sent to Centennial to help its fans navigate their way to the best spots.
The wearing of masks is recommended and should be used in the more congested areas around the field, such as the concession stand and restroom facilities.
After opening the season with road games at Sutton and Archbishop Bergan — and returning to the road to play North Platte St. Patrick's and Gibbon the next two weeks — the Crusaders really relish this home game.
"It'll feel great not to get back at midnight and then have to wake up early," Wenzl said. "It'll be good to be here and not have to jump on a bus for two hours."
Goering added: "We've had a couple of long trips to Sutton and Bergan in Fremont. It'll be nice to play here in a home environment."
The Crusaders will enter this home game with more of a sense of familiarity than when playing at Memorial Stadium, which Dvorak said is an amazing facility. But the coach wants to make sure that his team isn't too comfortable.
"As long as we can make sure that we're in a game day mindset and not a practice mindset — there's a big difference there," he said. "But I don't think there's any way that our kids aren't going to be ready to walk out on this field on Friday no matter if it's a 5 o'clock kickoff like we have. That's a little bit different.
"But they're excited for the opportunity to do something that no one else has ever done in the history of this school, at least to my knowledge."
Not to be lost in the excitement of the on-campus game is the fact that the Crusaders (0-2) will be facing their third Class C-2 top 10 team so far this season.
After losing to No. 4 Archbishop Bergan and No. 6 Sutton, GICC now takes on No. 9 Centennial (1-1), which is coming off a 27-0 loss to No. 2 Aquinas.
"Schematically, they're a clone of us, so that's nice," Dvorak said. "In terms of their offensive scheme and even their defensive scheme, they're a clone of what we do. That's a comfort level going against that in practice every day, knowing the ins and outs and knowing how the opposing team is going to attack you.
"The other part of that is they know us because of it, so I think it'll be a good game. They're tough, they've got some good size, they're very aggressive on both sides of the ball."
Despite being outscored a combined 69-7 in its two losses, the Crusaders think facing that caliber of opponents early on can only benefit the team.
"We noticed that we have to fix some things on ourselves," Wenzl said. "We're the people that are beating ourselves, so we need to fix ourselves. Then we should be good and able to compete with anybody."
Goering said: "We just learned that you have to keep competing even if the other team gets up on you. You've got to keep fighting and give your all out there."
Dvorak said the final scores weren't totally indicative of how Central Catholic played.
"We can learn a little bit of discipline and how costly mistakes can be in terms of both the Sutton game and the Bergan game," he said. "Those were two very, very good teams that — outside of mistakes — we played toe-to-toe with for the entire first half and a good chunk of the third quarter in terms of Sutton.
"The other thing that we learned is how to respond to adversity. First half, other than three big plays — one great play by their quarterback and two mistakes on our part — we played toe-to-toe with them. We had more yards. It was a matter of good teams taking advantage of mistakes, and we can't allow those to happen versus good opponents."
That is especially true on Friday for the home opener against the Broncos.
"We've got to be more aggressive than them at the point of attack, and we've got to play a cleaner game than them," Dvorak said. "They have athletes that can take advantage of mistakes. We just can't allow that to happen."
Grand Island (1-0) at Lincoln SE (1-0)
After a successful season opener, it's a quick turnaround for Grand Island Senior High to play in a Class A top 10 battle.
The No. 7 Islanders go on the road for the first time to Seacrest Field to take on No. 6 Lincoln Southeast (2-0, officially 1-0). This edition of Thursday night football is set to kick off at 7 p.m.
Lincoln Southeast defeated Lincoln Southwest 35-5 last week. The Knights opened with a 14-10 win over Kearney. That game won't count in the Nebraska School Activities Association's point standings because it was added when the original Kearney-Grand Island opener was moved to the end of the season due to COVID-19 cases among the Islander coaching staff.  Southeast was schedule to face Omaha North, which isn't playing fall sports due to a decision by Omaha Public Schools.
The Knights are averaging 155 yards passing and 125 yards rushing per game. Senior quarterback McGinness Schneider is 19-for-34 for 310 yards with three touchdowns and one interception.
The Islanders used a stingy defense that recorded three interceptions to top Lincoln Pius X 24-7. Senior Landon Jensen had nine assisted tackles while junior Kytan Fyfe had four solo and an assisted stop.
Alliance (0-2) at Northwest (1-1)
Class B No. 7-rated Northwest aims for its first home victory of the season when it hosts Alliance Friday at 7 p.m. at Viking Field.
Alliance lost to Mitchell and York by a combined 60-14.
Northwest is coming off a 40-9 road win at Gering. Sam Hartman was 8-for-13 passing for 129 yards with two touchdowns and no interceptions. The Vikings also got big touchdown plays on special teams — a 94-yard kickoff return by Travin Harring and an 83-yard punt return by Cameron Petzoldt.
Get in the game with our Prep Sports Newsletter
Sent weekly directly to your inbox!