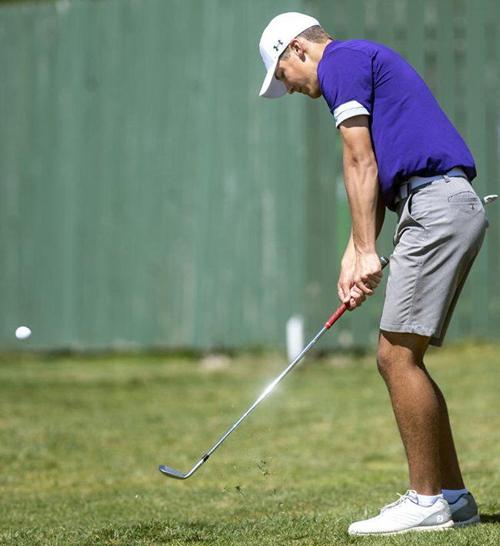 LINCOLN — After contending in most of his meets this spring, Marcus Holling finally got a win.
The Grand Island Senior High junior broke par on both nines Thursday to post a 2-under 69 at Pioneers Park. He earned a one-stroke victory over Jason Kolbas of team champion Lincoln Pius X and Charlie Larson of Lincoln East at the power-laden Capitol City Invitational.
"It's my personal best (score) in a tournament so it's definitely great," Holling said. "I'd had two second-places and three ties for thirds. It definitely helps with confidence going into districts and state."
Besides hitting most of the greens in regulation, he said, he almost chipped in twice. One ended up leaving Holling with a tap-in birdie on the course's No. 1 hole.
He beat a field that included 14 of the top 15 teams in Class A in season scoring. Only No. 1 Gretna was not at the tournament.
The Islanders finished seventh with a 315.
— Stu Pospisil, Omaha World-Herald
Capital City Invitational
Lincoln Pius X 297, Creighton Prep 300, Lincoln East 300, Omaha Westside 303, Elkhorn South 305, Millard West 306, Grand Island 315, Papillion-La Vista South 321, Lincoln Southwest 323, Norfolk 325, Kearney 326, Millard North 327, Papillion-La Vista 329, Lincoln Southeast 329.
Holling, Grand Island 69; Larson, Lincoln East, 70; Kolbas, Pius X, 70; Heimes, Norfolk 71; Skoumal, Millard West 71; Gatlin, Lincoln East, 73; Peterson, Creighton Prep, 74; Strako, Creighton Prep, 74; Sander, Pius X, 74; Dickmeyer, 75; Burger, Papio South, 75; Hahn, Millard West, 75; Webert, Lincoln Southwest, 75; Whittaker, Elkhorn South, 75; Brown, Omaha Westside, 75; Dickmeyer, Elkhorn South, 75.
HASTINGS — Grand Island Central Catholic placed three golfers inside the top seven to win Thursday's Hastings St. Cecilia Invitational at Southern Hills Golf Course.
Will Goering led the Crusaders with an 82 to finish third. He was closely followed by Jackson Henry (fifth, 85) and Bowdie Fox (seventh, 87).
GICC recorded a team total of 348 to down runner-up Doniphan-Trumbull by 14 strokes.
"I thought today we had some good things happen which haven't gone our way the last couple of weeks," Central Catholic coach Craig Rupp said. "We still have a long way to go but this does give the boys something to build on.
"We Just need to grind and get better in the areas that we are throwing strokes away. We really have been working on the short game and I think we saved a few today, but we still lost a lot more then we should have."
Doniphan-Trumbull's Ethan Smith earned individual medalist honors by six strokes with a 75.
At Southern Hills Golf Course
GICC 348, Doniphan-Trumbull 362, Sandy Creek 368, Adams Central 381, Fillmore Central 381, St. Cecilia 384, Franklin 396, Thayer Central 413, Fullerton 415, Wood River 417, Lawrence-Nelson 432, Hastings 465, Sutton 466, Hastings St. Cecilia JV 476, Superior 490.
1, Ethan Smith, Doniphan-Trumbull, 75; 2, Koby Head, Fillmore Central, 81; 3, Will Goering, GICC, 82; 4, Nathan Sughroue, Adams Central 83, 5, Jackson Henry, GICC, 85; 6, Rod McDonald, Sandy Creek, 86; 7, Bowdie Fox, GICC, 87; 8, Tobey Turman, Sandy Creek, 89; 9, Tristan Weston, Adams Central, 90; 10, Kirby Smith, Fullerton, 90; 11, Matt Boyd, Hastings St. Cecilia, 91; 12, Camdyn Beirow, Doniphan-Trumbull, 91; 13, Luke Landgren, Hastings St. Cecilia, 92; 14, Alex Schademann, Fillmore Central, 92; 15, Andrew Stock, Doniphan-Trumbull, 92.
Will Goering 82, Jackson Henry 85, Bowdie Fox 87, Joey Koralewski 94, Jonathan Schardt 96.
BOYS SOCCER
SEWARD — Class B No. 6-rated Northwest assaulted Seward with 54 shots while rolling to a 6-0 victory in Thursday's regular-season finale.
Trevyn Keene scored the first two goals and Parker Janky added the final four.
Northwest coach Dan Purdy said it wasn't a quick start for the team, which led 3-0 at the half.
"We got off to kind of a slow start," he said. "We had a late night Tuesday in Crete against a tough team, and at the start we didn't answer the call. Once we got going, everything was fine."
The Vikings host the Aurora-Hastings winner Monday at 4 p.m. in Class B, Subdistrict 7 play.
GIRLS SOCCER
SEWARD — Northwest improved to 9-7 with a 3-1 win over Seward to record the program's best regular-season since 2003.
Lucy Ghaifan put the Vikings up 1-0 early in the game, but the Bluejays tied it up with 15 minutes left.
Rylee Eschliman came through with two late goals to secure the win.
Northwest faces Hastings Monday in Aurora in the Class B, Subdistrict 7 semifinals.
GIRLS TENNIS
GICC claims Hastings title
HASTINGS — Grand Island Central Catholic won two divisions and was second in the other two to win Thursday's Hastings Invitational.
The Crusaders had 57 points to edge York by two.
Ashlyn Kucera defeated York's Ellie Peterson 8-6 in the championship match to go 5-0 in No. 1 singles and improve to 23-1.
The No. 2 doubles team of Haley Asche and Carolyn Maser went 5-0 and defeated York's Addison Legg and Meaghan Rowe 8-6 to improve to 20-2.
At No. 2 singles, Norris' Maddie Starr handed Ayonya Birthi (24-1) her first loss of the season 8-4.
The No. 1 doubles team of Mia Golka and Brooklyn Kolbet went 4-1 and lost to York's Erin Case and Natalie Rockenbach 8-6 in the finals. The Crusader duo is now 19-7.
BASEBALL
LINCOLN — Lincoln Southwest held off a late rally to hand Grand Island Senior High another close loss Thursday.
Southwest used a five-run fifth to go up 8-4. The Islanders used three runs in the top of the seventh to get within one run before the comeback bid fell short.
"We left 13 runners on base throughout the game," G.I. coach Kirby Wells said. "We failed to get a big hit when we needed it."
Jaden Jurgensmier recorded two of Grand Island's five hits. Braden Robinson and Mike Buhrman each drove in two runs for the Islanders, who host Seward Friday at 7 p.m.
Grand Island (6-12) 002 111 3—8 5 2
Lincoln SW (15-9) 001 350 x—9 11 4
WP—Delancey. LP—Williams. Sv.—Lockert. 2B—LSW, Newell. HR—LSW, Dunsmore.