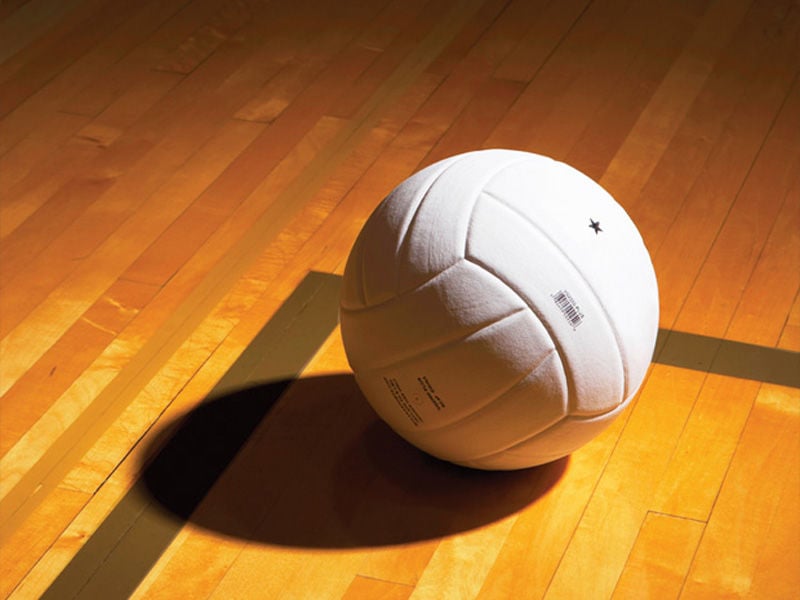 It was far from a perfect performance for Class C-1 No. 4 Grand Island Central Catholic Tuesday night against Wood River.
But it was good enough for the Crusaders to come away with a 25-13, 25-14, 25-16 victory over the Eagles at GICC High School.
"We need to serve better," Central Catholic coach Sharon Zavala said. "I thought our serving was real spotty. I told the kids I bet we only served about an 83%, which is way below our average so we need to work on that but I thought as the night went on we played better and better.
"We had a lot of aces, but we also had a lot of misses. That kind of makes you play more defense when you do that."
It was hard going for the Crusaders (8-0) early. Wood River was serving tough in the first set and Central Catholic wasn't handling it very well.
The Eagles (5-5) had an 8-4 lead, but a timeout by Zavala helped get her team on track.
"Wood River did a nice job, especially at the beginning of the first set," Zavala said. "They got us out of system a lot."
Zavala said she talked to her players about using their hands on serve receive. That was something they weren't doing early in the match.
"We needed to step back and take it with our hands," Zavala said. "We don't want to take the ball with our hands sometimes, so there were some young mistakes.
"I don't know why we don't use our hands more. And we practice that but I don't know. We just need to move our feet better and learn from it."
Evan Glade led Central Catholic with 11 kills while Chloe Cloud added 10 kills and four ace blocks. Lucy Ghaifan also had four ace blocks.
Once the Crusaders got rolling, they cruised in the first set. A kill by Glade gave Central Catholic an 11-10 lead. Kylee Hasselman then served five straight — the first two coming on kills by Cloud — for a 16-11 lead.
GICC continued to build the lead and senior libero Haily Asche served the final three points to end the opening set.
Wood River hung tough early in the second set as well. The Eagles were within 10-9 at one point, but the Crusaders kept grinding away. Riley Rice served five straight points, including two aces, to up the lead to 15-8.
Later a kill by Rice made it 21-14 and Maddie Urbanski served the final four points of the set with Rice putting away a kill to end it.
"I thought blocking was OK," Zavala said. "I thought Riley Rice had a really nice night, and Chloe. I thought those were our two that really stepped up."
Sage Gideon had five kills for Wood River. Macie Peters, Hannah Paulk and Baylie Codner added four each.
"They gave us some problems at times," Zavala said of Wood River. "I just didn't think we were as consistent as we've been."
Now Zavala and her team will turn its attention to the Ord Tournament on Saturday. The field includes O'Neill, Amherst and Pleasanton.
O'Neill was unbeaten at 6-0 and rated 10th in Class C-1 going into Tuesday's match at unbeaten Lutheran High Northeast. Pleasanton is 10-0 and rated No. 1 in Class D-1.
"It's going to be a tough test," Zavala said. "We're going to have to play a lot better than this."
Zavala said she might look at moving the lineup around a bit to get Cloud into the best spot in the rotation to help the Crusaders.
"There's a few things we might have to do differently just to match up better," Zavala said. "Chloe definitely is really looking strong. We look a lot better when Chloe's in there."
Wood River (5-5) 13 14 16
Grand Island CC (8-0) 25 25 25
WOOD RIVER (Kills-aces-blocks) — Sage Gideon 5-1-0, Jenna Rauert 1-0-0, Keely Wiese 0-1-0, Macie Peters 4-0-1, Hannah Paulk 4-2-0, Baylie Codner 4-0-0, Sage Brabec 0-0-0, Ellie Gideon 0-1-0.
GICC (Kills-aces-blocks) — Riley Rice 6-3-0, Evan Glade 11-3-1, Carolyn Maser 3-0-0, Chloe Cloud 10-0-4, Maddie Urbanski 0-0-0, Gracie Woods 6-0-0, Lucy Ghaifan 3-0-4, Kylee Hasselman 0-1-0, Haily Asche 0-0-0.
Set assists — WR: 15. GICC: Maser 31.
Digs — GICC: Asche 11, Rice 10, Woods 9.
Get in the game with our Prep Sports Newsletter
Sent weekly directly to your inbox!