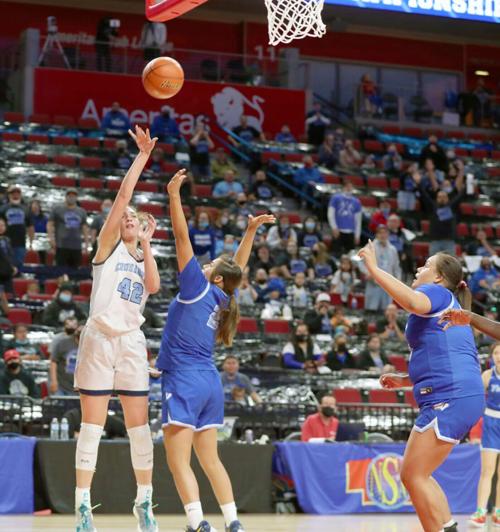 Grand Island Central Catholic faces the type of learning curve that teams with a returning head coach normally don't go through.
But after Kevin Mayfield took over the team 14 games into last season, this offseason was his first chance to implement his style of play with the Crusaders.
"A lot of things are new to them, but the girls for the most part have adapted really well," Mayfield said. "The girls are on a learning curve, but things are going well."
Last year, GICC went 21-3 but was upset as the top seed in the Class C-1 state tournament by Winnebago in the opening round.
With four starters back, the Crusaders look to earn a return trip to Lincoln and a more extended stay.
Junior 6-foot-1 forward Lucy Ghaifan averaged 10.1 points and 7.4 rebounds last year while senior 6-2 forward Chloe Cloud added 9.5 points and 6.5 boards.
Gracie Woods (6-2 junior forward) returns after missing last season due to an injury.
"One of our strengths is our height," Mayfield said. "We have four girls who are 6-foot-plus, and all of them are very good players and have good skills.
"We have good athleticism. They are all multi-sport athletes in other sports whether it is track, soccer or volleyball, and they've had success in that also. We're going to try to use our athleticism if we can. I've been trying to get them to play at an uncomfortable pace and push themselves a little more to see if we can speed people up and down the floor."
Senior 5-5 point guard Jenna Heidelk (6.2 ppg) returns to run the offense while Alyssa Wilson (5-9 senior guard) averaged 6.1 points and provides the team with an outside threat.
"They've got really good skills and have played a lot of basketball in the past," Mayfield said of his returning starters. "We need to improve what I would call our basketball IQ a little bit. We need to learn how to play together a little bit better, but obviously they have good skills, a lot of experience and have had past success.
"I've been really happy with our young kids also. They've been working hard and are coming along."
With that much talent and experience back, expectations are high for the Crusaders. But don't expect them to be looking too far down the road.
"Obviously everybody wants to win and wants to win state," Mayfield said. "That is obviously a goal of ours, and it's very reachable. With our schedule – and this is all new to me – I don't want to look ahead at all. I just want to continually improve.
"We even beefed up our schedule more from previous years."
After a one-year absence due to COVID regulations, Lincoln Lutheran returns as the annual host of GICC for the season opener. The Warriors won the C-1 volleyball title earlier this month and fell to Hastings St. Cecilia in last year's state basketball semifinals.
Also joining the schedule is Class B semifinalist York, C-1 state champion North Bend Central, perennial Class B power Seward and Omaha Duchesne.
"Those five additions to our schedule made our tough schedule even tougher," Mayfield said. "I'm hoping it teaches our players that they can be successful and compete in big games. They have played in big games in the past whether it has been volleyball or basketball, but we just want to every day continue to grow and realize how good we can be and what our potential is."
Junior Kylie Gangwish and sophomore Maddie Schneider are out with injuries, so the Crusaders aren't quite as deep as they could be. But Mayfield said two wins during Saturday's abbreviated jamboree games during which a lot of girls played were encouraging.
"If we can continue to grow and get good leadership from our seniors since we have six freshmen and five sophomores out of our 17 (players), we should do fine," he said.