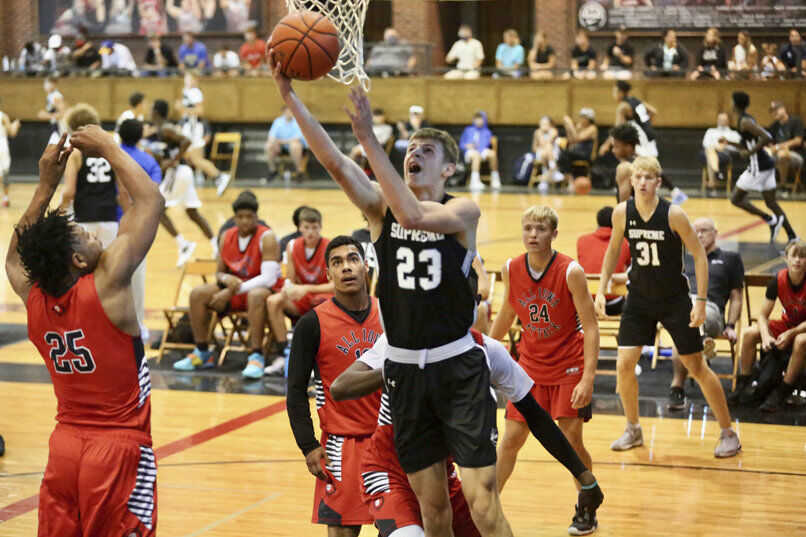 Grand Island Senior High junior Isaac Traudt has plenty of scholarship offers with 18 of his 24 coming from college basketball's power conferences — Big Ten, Big East, Big 12, SEC, ACC and Pac-12.
The next step in the 6-foot-9 forward's recruitment is collecting offers from the elite blue-blood programs.
Although they haven't offered yet, Duke and Kansas have begun recruiting Traudt.
Traudt has had a couple phone calls with Duke associate head coach Jon Scheyer, and he's started to hear from Virginia, Kansas, Michigan State and Gonzaga.
With the NCAA's suspension of in-person recruiting until at least Jan. 1, 2021, schools have needed to be more creative. Sunday night, Michigan State's coaching staff was on a virtual visit with Traudt and his parents. The Spartans currently have the top-rated recruiting class in the 2022 cycle.
"They are interested and really want to build a relationship with everyone in my family," he said. "That was the first Zoom I've had with them. I talked to coach (Tom) Izzo and (recruiting coordinator Doug) Wojcik on the phone last Monday."
Kansas State was the first power conference school to offer Traudt on April 30. On June 15, the first day Division I coaches could contact 2022 prospects, Nebraska and Creighton offered. Missouri was next on July 2. In a six-day span in late July, he added six more power offers. This month he has added three more: Ole Miss, Georgetown and Iowa.
Love v. anger: How Facebook followers respond to candidates on guns, racism and more
Offers from childhood favorite Oklahoma and Oregon have stood out for Traudt.
"Oregon a little bit because they are one of the top teams in the Pac-12, and coach (Dana) Altman is from Nebraska and a well-known name," Traudt said. "It was unexpected. That is what made me so excited."
Traudt's versatility and potential are what make him intriguing to college recruiters.
"It all has felt like a dream but at the same time I am really lucky to talk to all of these schools," he said. "At the same time it hasn't sunk in completely."
His phone has been busy during the past month as well.
"Creighton, Missouri, Virginia, Michigan State quite a bit recently. (Those are who) I've been in contact with the most," Traudt said. "Kansas State, Stanford and Oregon are a few others."
Traudt has also been on Creighton's radar for months. CU assistant Paul Lusk saw him play in a district final against Omaha Creighton Prep in early March.
"I think it is a great school and would fit my playing style," Traudt told The World-Herald in June after the Jays offered.
His next scheduled virtual visit is with Purdue on Wednesday. The Boilermakers offered Aug. 31.
Earlier this month, Traudt moved up 57 positions to No. 61 overall in the 2022 recruiting rankings nationally according to Rivals. In July he was ranked as the No. 88 overall prospect according to 247Sports. He is also now considered a four-star prospect by both national recruiting sites.
"It is really cool to be recognized as one of the top-100 players in the country," he said. "I do think I am a lot better than those rankings but at the end of the day it is just rankings."
If Traudt retains his ranking, it would make three straight years Nebraska has produced a Top 100 recruit, according to 247Sports. It would be the sixth time overall Nebraska has produced a Top 100 player since the site began basketball rankings with the 2011 class.
Previous Top 100 recruits from the state include: Millard North's Hunter Sallis (currently No. 6 in 2021), Millard North's Max Murrell (No. 87 in 2020), Omaha North's Justin Patton (No. 71 in 2015), Omaha Central's Akoy Agau (No. 94 in 2013) and South Sioux City's Mike Gesell (No. 92 in 2012).