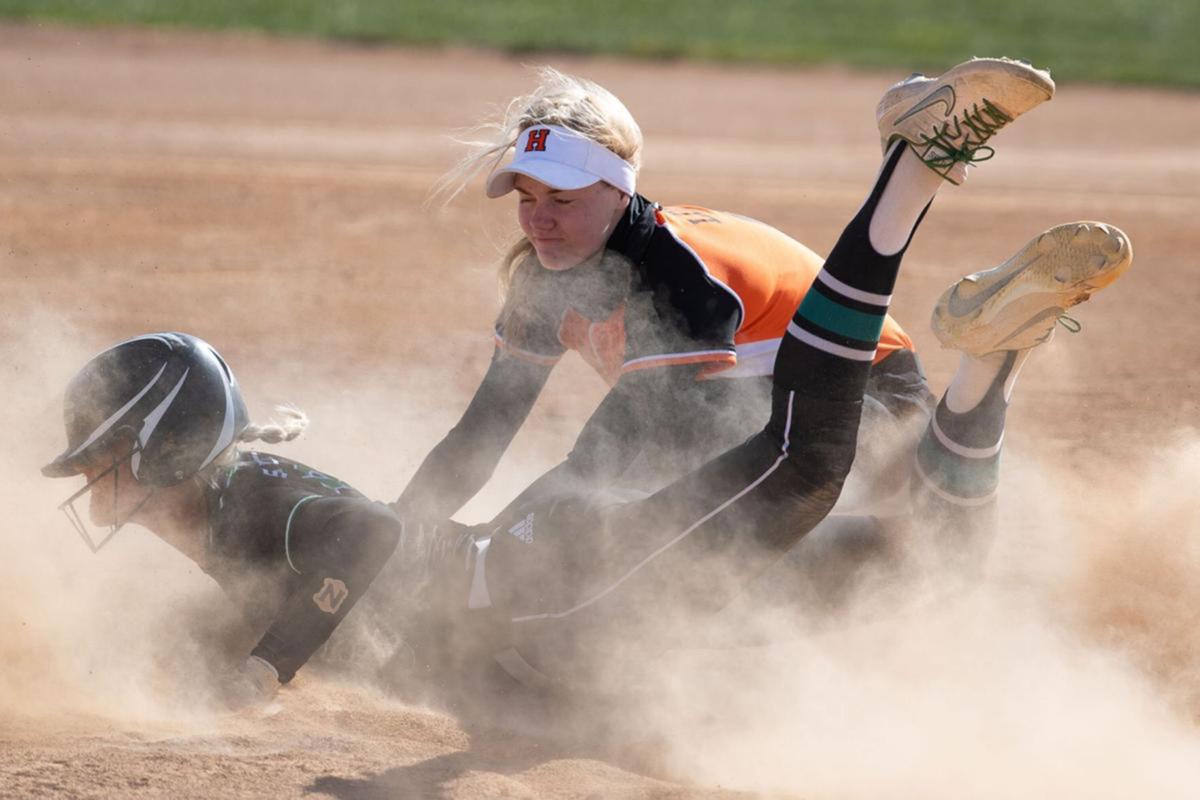 HASTINGS — After twice falling short of their own high expectations, Omaha Skutt's three Division I prospects had the kind of state tournament run they'd imagined since becoming SkyHawks.
Ruby Meylan and twin sisters Hannah and Lauren Camenzind demonstrated Friday why they're among the top recruits for the Class of 2022 while leading Skutt to an 8-4 victory over Hastings in the championship game of the Class B softball tournament.
Hastings qualified for the championship game with a 3-2 victory earlier Friday over Norris. The Tigers made it to the title game for the first time in school history.
"We feel really good about where we got," Hastings coach Ashley Speak said. "We just wanted to make it to this game, and losing one early hurt us. We're super proud of the kids, they never gave up, even just putting baserunners on in that last inning against one of the top pitchers in the state."
Skutt finished third in 2018 and didn't make it to the final day of the 2019 tournament after earning the No. 1 seed. This year Skutt again was the top seed, but it had a different focus.
we wanted this so bad because we got so close the last two years," Meylan said. "To finally get it I was like, 'We just have to do this as a team.' It's not about stats, you just at the end of the day wanted to win."
Win is all the 32-3 SkyHawks did at the Smith Softball Complex. It looked early Friday like Skutt may end the game early when the Camenzinds and Meylan needed just six pitches between them to hit three solo home runs.
The SkyHawks added a fourth run when left fielder Riece Kahler drove in second baseman Alexa Rose with a two-out single. Skutt sent 10 players to the plate, but Hastings had a response.
The 33-5 Tigers answered with 10 at-bats and four runs of their own in the top of the second, a rally that eventually chased Hannah Camenzind from the circle to be replaced by Meylan.
For the final 5.1 innings Meylan gave up just three hits. During her postgame Q&A Meylan noticed Skutt pitching coach Dick Jablonski coming onto the field to take pictures of Meylan being interviewed. That got the always-jovial Meylan laughing.
"He called a great game," Meylan said of Jablonski. "He knows what I need to throw at certain times. I didn't shake him off today. I just listened to what he called, and everything was working."
Skutt regained the lead in the bottom of the second when Hannah Camenzind led off with her second home run of the game. She had to adjust her approach a bit because of the strong winds blowing in from center field.
"I was working on trying to stay toward the top of the middle of the ball where you get under it, the more it will stay in the wind," Camenzind said. "I was just focusing on getting on top of it and see what would happen."
That her pitching didn't work out as well as her hitting didn't frustrate Camenzind. She knew she had a teammate in Meylan who could, and has, helped out at a moment's notice.
"I was getting behind in the count a little bit," Camenzind said. "I didn't think they were bad pitches; they were just getting them in here and there. It just wasn't my best day, but Ruby was out there to come in and finish it up."
SkyHawks catcher Sophia Hoffmann got in on the home run action with a one-out solo shot to left-center field that put Skutt ahead 6-4. Rose followed with her second single of the day, this one through the left side of the Hastings infield, before racing home on an error two batters later.
Lauren Camenzind scored Skutt's final run after lacing a triple to right field and scoring on a double by her sister.
This was the third state softball championship for Skutt. SkyHawks coach Keith Engelkamp said he wasn't surprised Hastings responded with a big inning after his team took that early lead. Hastings was the only other team besides Class A champion Papillion-La Vista to beat Skutt this season.
"We didn't get cocky, they're just a battling team," Engelkamp said. "They just came back on us and we knew that they would. They're a rally team, they use their energy. We sure left a lot of runners on base because that's a lot of hits and not as many runs as we wanted."
Speak said the players took care of motivating themselves to get the game tied after falling behind by four runs.
"They self-police that and they're always on each other just to never give up and keep fighting," Speak said. "Meylan, you tip your cap to her. She threw well when she came in. She just kind of shut us down and we kind of ran out of gas a little bit." Returning to Omaha this time from Hastings will be a much better memory for Meylan than the one from 2019.
"Last year it did not feel good leaving Hastings," Meylan said. "We were at breakfast, and I saw all of these teams walking out to go play in the championship and it did not feel good to go watch them play.
"This whole year we were working so hard every single day. Not only as a team, but after practice we'd hit and pitch and do extra ground balls. The past two years we've been so close, and to finally get it feels so good."
During Hastings win over Norris earlier in the day, Delaney Mullen blasted a three-run home run in the first inning to provide all the scoring for the Tigers.
Get in the game with our Prep Sports Newsletter
Sent weekly directly to your inbox!