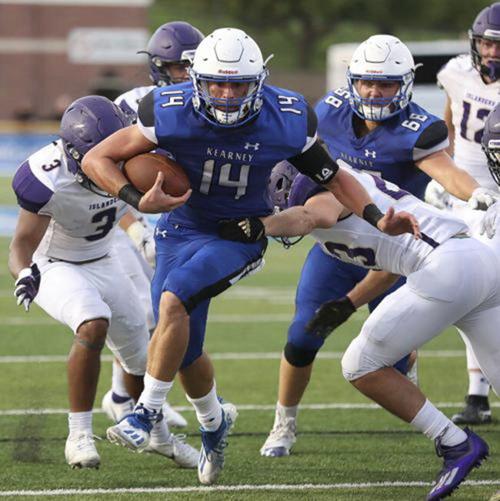 KEARNEY — It was Miller time at Foster Field.
The Kearney High School football team depended on both Riley and Kaden Miller to edge their rival Grand Island Senior High, 38-35, and to start the season 1-0.
Riley Miller made his first start at quarterback and he did not disappoint. The senior completed 13 of 20 passes and recorded four total touchdowns. Two of those touchdowns were through the air to his cousin Kaden Miller, including 40-yard bomb to end the half at 28-14.
"It's nice because we grew up together, playing football since we were little," Riley Miller said. "It's just the connection."
It was a battle of momentum by each team. However, it came down to turnovers, and Kearney won that battle. There were eight turnovers total by both teams with Grand Island committing six. Four were interceptions from Grand Island, including three by starting quarterback Kytan Fyfe. Chris Dutenhoffer led the Bearcats with two interceptions for the Bearcats. D'Andre Ndugwa and Tanner Johnson also had picks late in the fourth quarter.
"Coach (Brandon) Cool says doing all the little things in the game, like being at the right spot at the right time," Dutenhoffer said. "I think that really helped us because last year we were getting burned all the time. Coach (Brad) Archer helped us get focused and telling us to be in your positon and everything will fall in place."
Despite the costly turnovers the Islanders were still alive.
GISH dominated in the third quarter and depended heavily on their running game led by their power back Jace Chrisman. Fyfe rushed for two touchdowns and also connected with his receivers Chris Knuth, Cohen Nelson and Cole Bauer.
"I was proud of the way the kids competed, but we didn't quite execute the way we needed to in that caliber of a game," GISH's coach Jeff Tomlin said. "We had a lot of fight in us and I think that's going to pay dividends down the road in our season."
After going scoreless in the third, Kearney started to regain momentum.
Following an interception by the Bearcats, Dutenhoffer punched in a 3-yard touchdown to give Kearney a 35-28 lead. Kearney added a 14-yard field goal made by Chris Danke to make it a 10-point game. On fourth & 11, Fyfe aired it out to Will Knuth. Grand Island still trailed 38-35 with one more shot on offense. Kaden Miller made the game-winning interception to sealed the deal for the Bearcats.
"We were running our normal trips defense and to be honest with you, I wasn't even the guy who I suppose to be guarding," Kaden Miller said. "I just got up on him"
Kearney will be on the road to take Omaha Burke next Friday. Grand Island is back on the road to face Lincoln Pius High School.