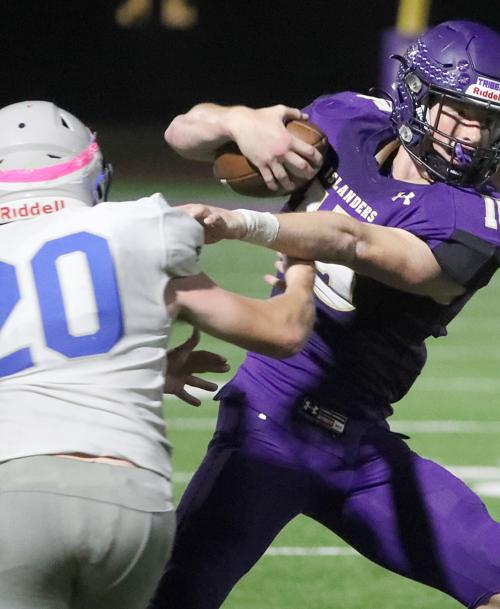 A road trip for the playoffs elicits a "ho-hum" response from Grand Island Senior High, and for good reason.
While Friday's 7 p.m. Class A quarterfinal against No. 1-rated Bellevue West provides numerous challenges on the field for the Islanders, the road to get there is old business for the team.
This marks the fourth consecutive Friday Grand Island loads a bus and hits the road for two-plus hours to play and third week in a row to head down Interstate 80 to Omaha.
"I guess we don't even think about it now," coach Jeff Tomlin said. "We just post the travel list — here's our itinerary and here's when we're getting on the bus. The kids are like, OK, here we go.
"They're acclimated to it now, and they know that's the reality of playoff time at this juncture. I haven't heard a word out of them about getting on a bus. They're just grateful for the opportunity."
And it's an unexpected opportunity for those outside the program who didn't foresee the now No. 10-rated Islanders' 30-28 opening round upset win over now No. 8 Omaha Creighton Prep.
"Our guys played incredible team football," Tomlin said. "That's really the essence of it. We took care of the football, which is a huge team goal. We found ways to get it done offensively. The running game was maybe not what we would love it to be, but we pass protected really well and our receivers were incredible catching the ball. (Quarterback) Kytan (Fyfe) was extremely accurate.
"We found ways, and then we created takeaways. Those four takeaways were huge and were ultimately the ballgame. I thought we played really good team defense. Yup, they are good and they got us on a couple (plays), but everybody is good at this juncture. You just have to get one more stop and score one more point to survive and advance."
That was only the second-biggest upset in Class A in the opening round. Omaha North stunning undefeated Millard South for the first win by a 16-seed over a No. 1 seed ever in the class showed how unpredictable this postseason could be.
"There's almost no margin for error," Tomlin said. "There's a bigger margin for those that have more talent, and those that maybe don't have as much the margin for error is nearly nonexistent."
With Millard South's early exit, Bellevue West (9-1) moved into the No. 1 ranking. The Thunderbirds' only loss was to Millard South 42-28 on Sept. 16.
"Obviously, they're very strong offensively," Tomlin said. "They have a lot of weapons. They are very balanced — basically 50/50 run/pass. They've got a great running back who is rushing for a lot of yards and scores, but they've got four or five very capable receivers and a good quarterback and O-line. Offensively, they're really strong.
"They'll take chances. They are very aggressive. They'll go for it a lot. They don't punt very often. We're in a four-down mentality all over the field with our defense."
Bellevue West puts up 281.4 yards passing and 245.5 yards rushing per game.
LJ Richardson has rushed for 1,815 yards on 174 carries (10.4 ypc) with 29 touchdowns. Luke Johannsen is 131-for-195 for 2,098 yards with 25 touchdowns and four interceptions.
"We need to hold our own at the line of scrimmage — and I know we will — to try to slow down that rushing attack," Tomlin said. "Like last week, team defense is creating takeaways, is forcing fumbles, is getting that tipped ball pick, is diving and hustling and giving the extra effort. I know our kids are going to play with that intensity and that effort.
"I hope that we can cash in on some turnovers. But football is always stopping the run first. The pass is dangerous, but we always take care of the run if we can."
Grand Island's offense failed to get its run game going against Prep but used a season-best effort from the passing attack to advance. Fyfe had season highs in completions (23), attempts (37) and passing yards (310) while tying his mark for passing touchdowns (3).
Things won't get any easier against the Bellevue West defense.
"Defensively, they're stout up front and bring some edge pressure," Tomlin said. "They're physical with their DBs. It's a typical Bell West team that we've seen in the past. They're very, very good and are well-coached."
Grand Island (7-3) enters this road contest an even bigger underdog than last week. But the Islanders carry the momentum from a five-game winning streak after starting the season 2-3.
"From the start of the season until now or the start of the winning streak until now, we just kept getting better and better and better," Tomlin said. "We progressed a little bit each week and now you feel the chemistry is there, the leadership is there, the communication is there, the sharpness and crispness and execution are there, the confidence is there.
"I really have been super, super pleased and overwhelmed with how much these guys have improved from point A to the point we are now and really proud of that improvement."