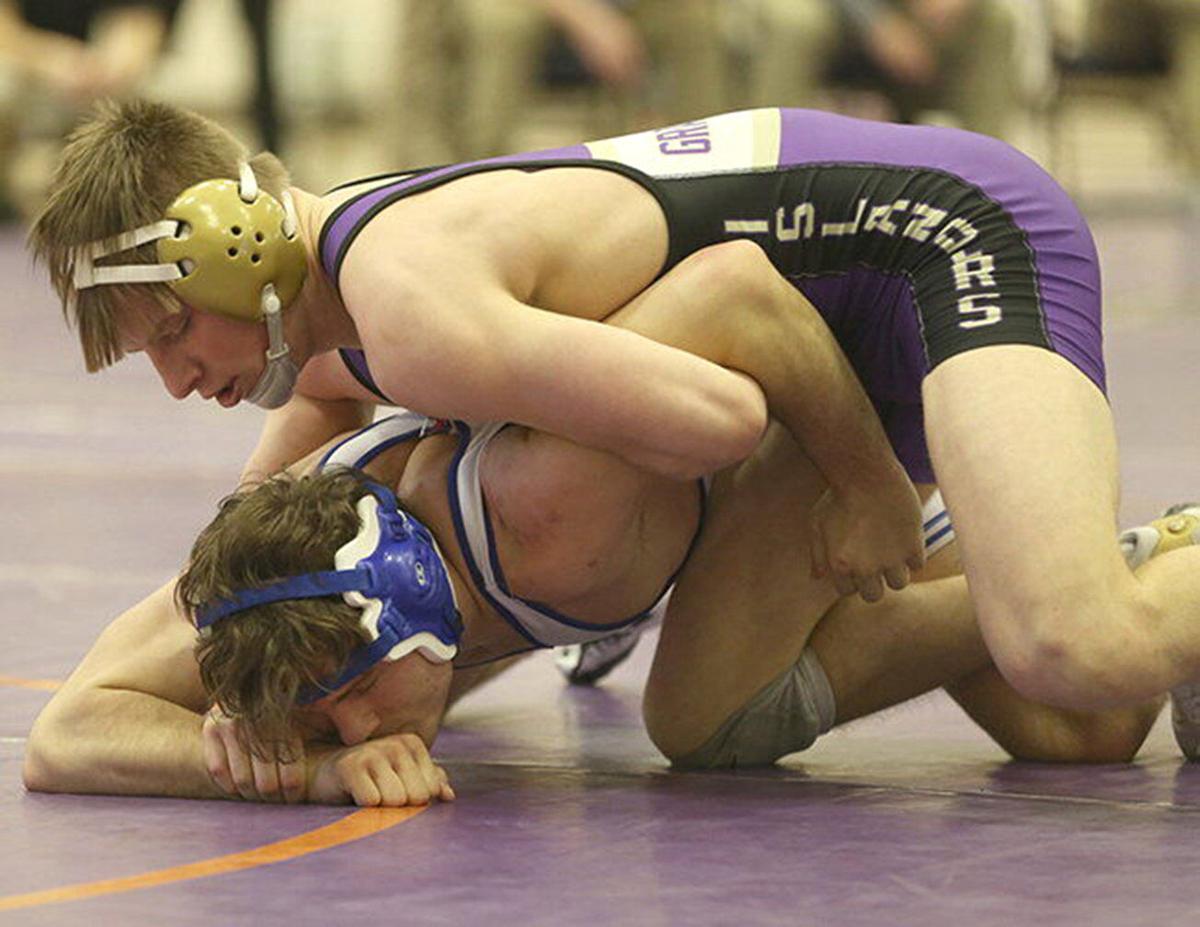 The Grand Island Senior High wrestling team has good momentum entering the state wrestling tournament.
The Class A No. 5-rated Islanders (NSWCA) captured the A-2 district championship with seven individual champions and 13 total state qualifiers.
Grand Island hopes to keep that momentum going as the state tournament gets underway at 9 a.m. Wednesday at the CHI Health Center in Omaha.
Madden Kontos (106 pounds), Juan Pedro, Jr. (No. 2 at 113), Ein Obermiller (120), Blake Cushing (No. 2 at 126), Rogelio Ruiz (No. 6 at 132), Dane Arrants (138), Brody Arrants (No. 2 at 145), Tyler Salpas (152), Kolby Lukasiewicz (No. 6 at 160), Casey Reis (170), Brock De Andre (182), Daylon Keolavone (220) and Michael Isele, Sr. (No. 4 at 285) are the state qualifiers for the Islanders.
"That's just awesome that we are able to get that many guys qualified," coach Joey Morrison said. "Hopefully that sets us up to do very well."
The Islanders had to deal with injuries and some illness during the course of the season and didn't have a full lineup in a majority of the tournaments they competed in.
But Cushing said he feels the Islanders are finally healthy and also feels they are peaking at the right time.
"We've had a lot of people out during the season so it's just nice to finally have everybody out there on the mat. I think everyone is wrestling very well and has a good mindset," Cushing said. "We are just focused on doing well and competing to the best of our abilities."
The Islanders bring plenty of experience into the state tournament. Cushing and Pedro are two-time medalists with Cushing capturing the Class A 126-pound title last year. Obermiller, Brody Arrants, Salpas and Michael Isele are also returning medalists while Ruiz and Lukasiewicz were one match away from getting a medal and Keolavone was a two-time qualifier before missing the later part of last year because of an injury.
Morrison said that experience is valuable, especially when it comes to the state tournament and wrestling in the CHI Health Center Omaha.
"We have a lot of guys who are familiar with the arena," Morrison said. "We have a lot of guys who competed not only at state but around the country in big tournaments. They know what's it's like to compete in big matches."
The state tournament format is different this year. Instead of being a three-day tournament, it will be a two-day tournament with Class A being on Wednesday and Thursday.
First round, quarterfinals and the first two consolation rounds will be Wednesday, while the semifinals and the final rounds of consolations will be Thursday morning with the finals scheduled for 7 p.m. that night.
Morrison said everyone is likely going to be chasing top-ranked and two-time champion Millard South for the team title, but feels there are teams like Papillion-LaVista, Lincoln East, North Platte and Columbus as well as the Islanders that have a chance to make some noise. Morrison said he feels it could come down to whoever handles the new schedule well.
"At state, you got to have guys that can go deep and there are some teams that have some firepower," Morrison said. "It's going to come down to whoever can harness this new different schedule and who can get their guys mentally focused.
"For us to be successful, we just need to focus on our own wrestling, preparation and staying positive. It's so intense and physical and very emotional at times but it's supposed to be fun too. Keeping things light, keeping things fun and being disciplined is key."
Cushing added the Islanders just need to do what they've been doing all season long if they want to have a good state tournament.
"We'll just need to wrestle like we have been all year, don't over-analyze and don't over-hype the matches, and just take it one match at a time," Cushing said. "It's just another tournament and we'll need to treat it that way."
Northwest takes five qualifiers
The Northwest wrestling team will take five wrestlers to the state wrestling tournament.
The Vikings will take Caleb Alcora (113), Grady Arends (No. 3 at 120), Colton Ruff (138), Austin Cooley (160) and Victor Isele (No. 6 at 195) when the Class B tournament gets underway at 9 a.m. Friday morning.
"Obviously, I would have liked to take more down but I'm happy with those guys," Northwest coach Brian Sybrandts said. "They've worked hard all season and they deserve to be down there."
Arends, ranked No. 3 at 120 pounds, has the most experience and the most success for the Vikings. The senior is a two-time medalist, including a state runner-up finish in 2019 when Northwest captured the Class B state title. He has three losses at the state wrestling tournament, two of them to Gering's Quinton Chavez. Arends could face him in the quarterfinals.
Sybrandts said he hopes Arends can pull through and get a state championship and has enjoyed coaching him over the years.
"It's been a privilege coaching Grady over his career. I've had him ever since he was a little guy all the way up through high school," Sybrandts said. "It goes by fast and I can't believe it's coming to an end. He's been a face of our program for a while. He just needs to take one match at a time and be focused because he's got some dudes in his bracket."
Alcorta, Cooley and Isele are returning qualifiers for the Vikings, while Ruff is a first time qualifier. Cooley is a two-time qualifier who was a match away from getting a medal and Isele was 2-2 in last year's tournament and also missed on getting a medal.
"I think Austin and Victor have a chance to have big tournaments for us," Sybrandts said. "All of our guys just need to take it one match at a time because anything can happen down at the state tournament. I want them to compete down there and not just be happy to be down there.