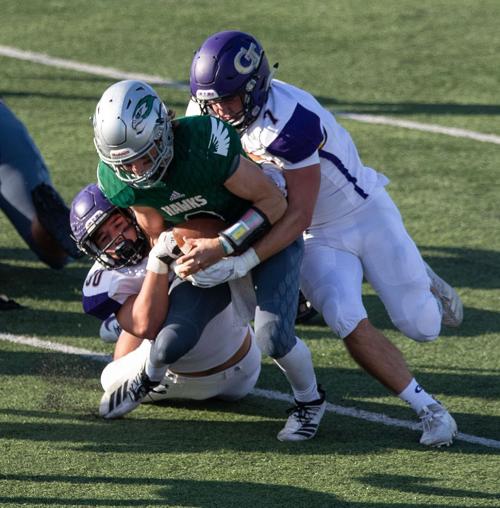 Grand Island Senior High is zooming through practices trying to play catch-up with the rest of Class A after missing nearly two weeks due to a coronavirus-related quarantine.
But thanks to some literal "Zooming" during that layoff, the Islanders hope to not miss a beat when their delayed season opener takes place at refurbished Memorial Stadium on Sept. 4 against Lincoln Pius X.
Grand Island already has faced adversity this season. When a pair of coaches tested positive for COVID-19, practices were called off less than 48 hours before they were set to begin due to the need for a two-week quarantine.
"Immediately when I found out I thought, OK, what's next? What are we doing?" said senior offensive lineman Luke Norvell. "I didn't want to pause, but we had to take a break and get a lot of mental reps in. It wasn't all physical, but we did the best that we could."
With the team under quarantine, activities shifted online via Zoom meetings.
"It actually went well being able to go online to be together and still practice," said senior offensive tackle/defensive end Klayten Palu. "We were able to watch film and go through the playbook quite a bit."
Head coach Jeff Tomlin said position group meetings proved to work well.
"We selected all the special teams groups, so we'd have Zoom punt team, Zoom punt return, Zoom kickoff, PAT, you name it," he said. "Then they'd have a segment at their own position — offense and defense — on Zoom with their individual coaches. Then I zoomed with the entire bunch both offensively and defensively.
"We did a lot through Hudl, and then we gave them at home workouts that they could do to stay in as good of shape as they could given the quarantine. Our kids responded really well."
Senior quarterback Jaden Jurgensmier said the players handled the situation the best that they could.
"It wasn't terrible," he said of the quarantine practices. "We got on Zoom, went over the playbook together and got that situated. That was very important since we had to come back knowing what we were doing since we missed out on a week. Now we just have to get reps."
The team finally could take the field for its first practice last Thursday and has been trying to catch up ever since, including using two shorter practices on Saturday, Wednesday and this Thursday in an effort to get everything installed. Wednesday was the first day that the team was allowed to practice in full pads.
"We kind of came back in a weird moment," Norvell said. "We had camps all summer and were doing really good in the weight room, then right after conditioning week we had a couple coaches go down. That hurt us a lot, but we came back here stronger than ever hopefully."
But while most teams around the state are kicking off their seasons this Friday, the Islanders will be scrimmaging instead. The scheduled season opener against Kearney was pushed back to become the regular-season finale after the quarantine was announced.
"It will be odd, but we're going to go ahead and scrimmage," Tomlin said. "It'll seem odd because we'll be wondering about scores and whatnot, but we're at that stage where we need a scrimmage."
Grand Island needs to replace a majority of the starters from last year's 9-2 squad. Only two return on offense in senior offensive tackles Carter Schrunk and Michael Maxon (who started the last six games).
"I think our offensive line experience is paying off so far," Tomlin said. "We have some pretty good depth there and nice senior leadership."
Norvell said practices are going well for the offensive line.
"We're young," he said. "But we like people underestimating us. We want to surprise people. Communication is going to be really big for us — the whole team, not just the O-line."
Who will be calling signals behind that line has yet to be decided.
"We have two very good quarterbacks battling it out right now in Jaden Jurgensmier and Kytan Fyfe, so that's always good when you have two guys that you know can pull the trigger and do a great job," Tomlin said.
Even with so many new starters, Jurgensmier feels that the offense already has some built-in chemistry.
"I think we're getting pretty good because most of us played together in JV and back as freshmen," he said. "So we've got good chemistry already."
Three starters return on defense – senior nose guard Daylon Keolavone, senior cornerback Alex Hinken and junior middle linebacker Ben Francl.
"On the defensive side we're pretty basic right now, but we're building our defense around Daylon and around Ben, our returning starters up the middle," Tomlin said. "We've got a little bit of experience in the secondary and see some good promise in the secondary. Outside linebacker spots are still wide open right now."
Keolavone proved to be a unique nose guard who was able to finish second on the Islanders in tackles last season.
"He's a dynamic athlete, relentless, his mobility is so good and his hand-to-hand combat skills are stellar, which enable him to get off a lot of blocks," Tomlin said.
For now, the focus is on making sure that every practice counts.
"It's just less time working, but we'll catch up," Palu said. "We always do. We can't miss a beat now. We're a week behind, so we have to stay caught up."
Norvell said stepped onto the field for the delayed season opener next week will be special.
"We worked hard whether it was last winter, last spring, last fall even," he said. "We worked hard and we're really excited to get out there. I think it's going to be a good, emotional game."
Tomlin said: "We're grateful for every day that we get to come out here and put the helmet on. It's a different perspective when it's been a couple of weeks since you've been able to do it."
Even though it has already been a strange season for the Islanders, the usually lofty goals won't change.
"Our kids set their goals clear back in the winter and we'll stick with them," Tomlin said. "The expectations are still where they're always at. We might just have to take a different course to get there, but we still expect to get there."
Get in the game with our Prep Sports Newsletter
Sent weekly directly to your inbox!