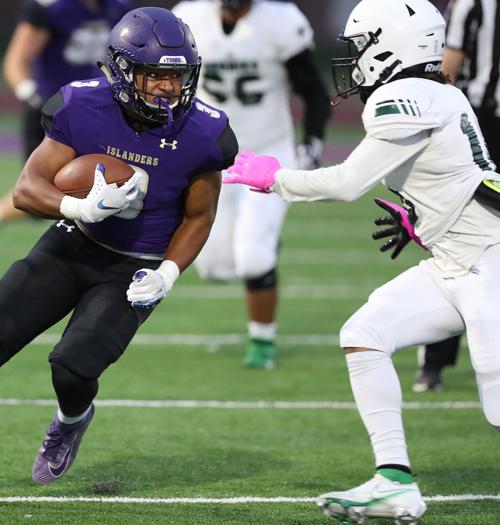 Ignore Millard North's record entering Friday's game at Grand Island Senior High.
The Islanders certainly will.
Although the Mustangs come into the 7 p.m. contest at Memorial Stadium an uncharacteristic 1-5, they are still a dangerous opponent in a key district game.
"Obviously the schedule that they've played has been brutal and they're a typical Millard North team," Grand Island coach Jeff Tomlin said. "They're physical, fast, hard-nosed and well-coached, so we're going to get a good outfit coming in for sure."
Millard North has lost to Class A No. 1 Millard South, No. 3 Omaha Westside, No. 7 Omaha Burke, No. 8 Lincoln East and No. 9 Millard West.
The Mustangs fell to Westside 36-25 last week, seven days after the Warriors defeated the Islanders 41-9.
Tomlin said Millard North's offense will provide its typical challenges for a defense.
"They'll run that flexbone and their quarterbacks are always athletic, hard-nosed, tough and run downhill," he said. "They always have a great fullback. It's no exception this year. And their offensive line gets off the ball exceptionally well. That's the same this year."
The Islanders feel they are prepared to face that type of offense.
"A lot of it is assignment football and discipline," Tomlin said. "We've done some stuff in the offseason preparing for flexbone. We've played North Platte a number of years in a row, so we do have experience playing it. Having played Millard North last year really helped."
Millard North has allowed at least 34 points in each of its losses, but it shut out winless Omaha Bryan 68-0 on Sept. 24.
"Defensively they'll get after you with a lot of stunt blitz and a lot of man-to-man coverage and try to overwhelm you," Tomlin said. "There's going to be a good football team coming here Friday."
The Islanders hope to build off of the momentum from last week's 56-0 victory over Omaha Benson and post back-to-back wins for the first time this season.
"I think we started exceptionally fast (against Benson)," Tomlin said. "I think we were hitting on all cylinders offensively. Although we didn't play our best football on defense, we were very, very solid.
"But I did like our start, and I feel like our special teams are starting to come around even given the fact that we've had to run a bunch of new guys into different spots because of injury. Those guys seem to be picking up the slack. Special teams might be a spot where we have to steal a possession here or there."
The Islanders have been battling through injuries. It should be the same situation this week with only outside linebacker/running back Alex Dzingle a slight possibility of returning.
For Grand Island's seniors, there is also the extra motivation of knowing they are likely playing in Memorial Stadium for the final time.
"This has been a great bunch to coach," Tomlin said. "I've loved every minute of them, and the fact is this is probably it for you on your home field because of our power-point situation.
"It's highly unlikely we'll return home for the postseason, so it should mean a lot to them. It will mean a lot to them to have their parents out there with them before the game."
Grand Island and Millard North are playoff regulars. The Islanders have qualified for 17 out of Tomlin's 18 seasons, while the Mustangs have only missed two postseasons out of the past 24.
But with both teams 1-1 in district play, a win is needed to take a big step towards continuing those postseason appearances.
"We both are kind of in must-win situations for every game from here on out in the season," Tomlin said. "They're in the same boat that we are, so there's going to be a high sense of urgency in the game, which will make it even more intense and more hard-nosed than normal."
Northwest (3-3) at York (4-2)
Coming off its biggest win of the season, Class B No. 8-rated Northwest looks to remain undefeated in district play against York Friday at 7 p.m.
The Vikings knocked off previously undefeated Seward 33-14. With starting quarterback Sam Hartman out, running back Gibson Kennedy took over and rushed for 240 yards on 26 carries with two touchdowns. He had 14 carries for 146 yards entering the game.
York is coming off a 14-10 win over Hastings. The Dukes have lost to Class B No. 5 Aurora 48-7 and McCook 17-14 this season.
GICC (1-5) at Hastings St. Cecilia (5-1)
Resurgent Hastings St. Cecilia is the latest ranked team on Grand Island Central Catholic's tough schedule.
The Class C-2 No. 6 Bluehawks host the Crusaders Friday at 7 p.m. at Duncan Field.
GICC fell to No. 8 Ord 49-18 last week. The Crusaders are averaging 182.6 yards per game and allowing 396.4.
St. Cecilia qualified for the playoffs every season from 1999-2015 but has only made one postseason appearance since.
The Bluehawks look to change that behind a rushing attack that averages 184 yards per game. Senior Garrett Parr has 491 yards with eight touchdowns while senior quarterback Carson Kudlacek is 44-for-86 passing for 595 yards with six touchdowns and one interception.
Heartland Lutheran (0-5) at Dorchester (0-5)
Someone will get a much-needed win when Heartland Lutheran travels to Dorchester Friday at 7 p.m.
The Red Hornets look to break into the win column after losing their first five games by at least 34 points.
Dorchester's closest game was a 46-28 loss to Meridian to open the season.