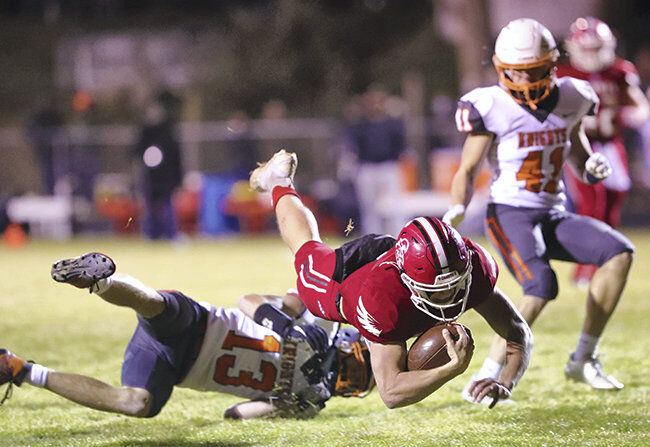 Those two words are uttered more than almost any others when talking to high school football coaches about the keys to making a deep playoff run.
But, like so many other things, those two words took on a whole different meaning in 2020.
Teams still needed to avoid injuries like torn ACLs, sprained ankles and concussions to starting players to continue advancing through the Nebraska high school playoffs.
But there was a different tone whenever I heard a coach say "stay healthy" this fall.
It was easy to translate that as meaning "avoiding COVID-19."
To do so, that puts a lot of responsibilities on a group of high schoolers.
For finalists like Ord, it was a task that the players were obviously up for.
The Chanticleers, who face Archbishop Bergan in the C-2 championship game, have a unity council. Coach Nate Wells credits that group for the team successfully navigating through its season without any COVID-19 issues.
"That leadership group and those seniors are the best leaders that we've ever had here," he said. "It's been so nice for me because they're an extension of me, and they can worry about those little day-to-day things. They can tell those guys, 'Hey, you guys got to watch where you're going this weekend or if you do go somewhere, stay with these people.'
"It's hard to tell kids, 'Hey, you've got a brother and sister coming back from college. You've just got to be really careful.' It's just a different time that we're living in. But I just can't emphasize enough how good of leaders those guys are for our team and for our program and for those younger guys."
With the way that positive COVID cases have spiked around the state over the past month, it is a credit to school administrators, coaches and players that only one playoff game was forfeited due to the coronavirus, and that came in the first round.
That doesn't mean that the pandemic didn't have a big impact on the postseason, especially at the end.
As last Friday's semifinals were taking place across the state, social media rumbles began.
New directed health measures had been issued for Lancaster County, including delaying the start of winter sports. While that didn't obviously impact the football finals at Memorial Stadium, the drastically limited attendance could.
And it soon came out that the Nebraska School Activities Association had informed school administrators late in the afternoon that the finals would be moved up to this upcoming Friday and be held at the home site of the higher seeded team.
Coaches like Wells knew this heading into the semifinals. But the players did not realize that a win wouldn't include a chance to play for a state title in the home of the Huskers.
"It was a really exciting win, and these kids have no idea about this," Wells said following Ord's victory over Oakland-Craig. "Then I have to go in and tell them we're going to be playing next Friday in Fremont. I don't know. To me, playing in the state championship game, you'd play out on the sandlot, you'd play on the moon. You're playing for a state championship. It's not going to bother our guys. They'll play anywhere, anytime, anybody. That's just kind of their mindset."
With everything going on, it's a victory for everybody when seven state champions will be crowned over the course of Friday evening around the state.
Then the eyes of the high school sports scene will focus on the winter season, where the future is blurry indeed and coaches have to hope they will continue to have the opportunity to utter the words "stay healthy."
Dale Miller is a sports writer for the Independent.
Get in the game with our Prep Sports Newsletter
Sent weekly directly to your inbox!