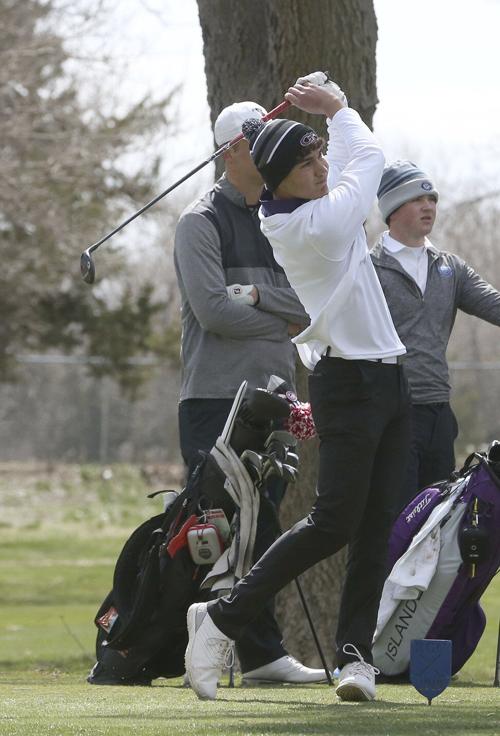 NORFOLK — The Grand Island Senior High boys golf team claimed a Heartland Athletic Conference championship by the slimmest of margins Monday at Norfolk Country Club.
The Islanders finished with a 331, one stroke better than runner-up Lincoln Pius X.
Grand Island had four medalists in its championship effort. Marcus Holling led the Islanders with an 80, which placed him fifth and three shots behind individual champion Isaac Heimes of Norfolk.
Jared Lahechka (eighth, 82), Henry Kosmicki (11th, 84) and Prestin Vilai (15th, 85) rounded out Grand Island's scoring.
"Knowing that we can compete and not having played our best yet is a real boost and something we're going to be able to build on moving into the rest of the season," Islanders coach Jamie Kuebler said.
He said the players battled winds that were steady and strong and yet at times would die down and switch directions when a player was standing over his ball.
"There's definitely things we can clean up," Kuebler said. "We still have to work on battling through wind and not trying to win against the wind, if that makes any sense. Allow it to put the ball in positions where it can benefit us. We still have a tendency to squeeze a little hard and try to fight through the wind."
Grand Island Senior High 331, Lincoln Pius X 332, Lincoln East 340, Kearney 343, Lincoln Southwest 351, Norfolk 353, Lincoln Southeast 354, Columbus 367, Fremont 370, Lincoln Northeast 394, Lincoln North Star 420, Lincoln High 466.
1, Isaac Heimes, Norfolk, 77; 2, Kody Sandler, Lincoln Pius X, 79; 3, Will Topolski, Lincoln East, 80; 4, Cole Feddersen, Kearney, 80; 5, Marcus Holling, Grand Island, 80; 6, Brock Kuhlman, Columbus, 81; 7, Jason Kolbas, Lincoln Pius X, 81; 8, Jared Lahechka, Grand Island, 82; 9, Aiden Koch, Lincoln Southeast, 82; 10, Caden Peppmuller, Lincoln Northeast, 83; 11, Henry Kosmicki, Grand Island, 84; 12, Tyler Show, Fremont, 84; 13, Carson Klein, Norfolk, 84; 14, Thomas Gatlin, Lincoln East, 84; 15, Prestin Vilai, Grand Island, 85.
BOYS SOCCER
Northwest blanks Scotus, 2-0
COLUMBUS — Class B No. 4-rated Northwest scored both of its goals in the first half to shut out No. 8 Columbus Scotus 2-0 Monday.
A free kick from Najib Ortiz set up the game-winner by Parker Janky six minutes into the match. Janky scored again in the 34th minute off an assist from Connor Blackburn.
"It was a great bounceback after Friday's game against Kearney Catholic (a 1-0 loss)," Northwest coach Dan Purdy said. "The boys really responded."
Northwest (6-2) hosts York Thursday at 5 p.m. in the first round of the Central Conference tournament. The Dukes handed the Vikings a 3-1 loss on April 1 and recorded all but one of the goals scored against Northwest over its eight matches this season.
"That game has been on our radar since we lost to them," Purdy said.
The winner advances to Saturday's final four action in Aurora.
LINCOLN — Lincoln High edged Grand Island Senior High 1-0 Monday to snap the Islanders' four-match winning streak.
The Islanders (4-4) had outscored their opponents 20-0 over that stretch but couldn't find the back of the net against the Links (7-3).
Grand Island hosts Lincoln Pius X Thursday and Lincoln East Friday.
GIRLS SOCCER
Islanders top Links in shootout
The Grand Island Senior High girls team is developing a knack for having success in shootouts.
The Islanders picked up their second win in three matches — both via shootout — by edging past Lincoln High 3-2 Monday at Memorial Stadium. Grand Island (2-7) beat the Links (4-6) in the shootout 4-3.
Junior Sage McCallum scored twice in the second half to help the Islanders erase a 2-0 deficit and force overtime and a shootout.
The Islanders return to action Thursday at Lincoln Piux X.
Scotus downs Vikings, 10-1
COLUMBUS — Class B No. 3-rated Columbus Scotus downed Northwest 10-1 Monday.
Rylee Eschliman scored the Vikings' lone goal off an assist from Madison Pirnie.
"The first half was 9-1, so even though the ending score was very lopsided, the girls showed a lot of heart and effort in the second half," Northwest coach Jessica Herrmann said. "This is a great learning experience for the girls to see how competitive we can be when we give max effort and work hard."
Northwest (5-3) hosts York Thursday at 5 p.m. in the first round of the Central Conference tournament. The winner advances to Saturday's final four action in Aurora.