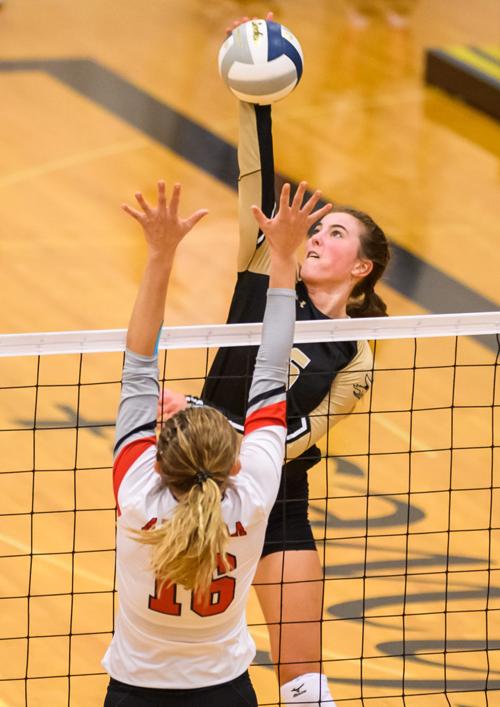 The Northwest volleyball team was supposed to get its season under way Aug. 29 in a home dual against Ogallala.
But due to the whole team being in quarantine for the past two weeks, the season opening plans changed to this weekend.
After being exposed to COVID-19, the team had to quarantine for 14 days, postponing its game with Ogallala. The coaches and players couldn't even practice or be at school during that time. The players can return to school Thursday as well as practice.
Viking junior Macey Bosard said the Vikings are anxious to get back to playing volleyball.
"It was devastating to us that we couldn't play our opener and also not being able to practice for two weeks, especially since it started the day before we were supposed to be playing," Bosard said. "But we are so excited to be practicing with everyone again and to just really be together."
Northwest coach Lindsey Harders conducted Zoom workouts with mostly ball control and had a few Zoom meetings during the quarantine. She said it was a little bit of a challenge doing it that way.
"But the girls bought into it. We did some stuff like that in March when club ball got cut short, just to keep them fresh. It was different this time because we had to do it every single day," she said. "They had lots of different things they had to do. They set up their phones and we basically coached them through the screen. They had to record themselves and we would watch them.
"Some had the luxury of having a net outside in their yard and had a parent or sibling help them with their workouts at the net but we had the players do mostly ball control workouts."
Northwest, ranked No. 10 in Class B by the Omaha World-Herald, will open its season at the Kearney Invite Saturday, then will travel to Ogallala to play in a triangular with North Platte Tuesday. The Vikings will have their home opener against No. 3 Waverly next Thursday. Their match with Kearney has been rescheduled to Sept. 21.
Bosard said she's ready for the season to get started and feels the Vikings have a chance to make the state tournament for the 20th consecutive year.
"I think we have really good team chemistry this year," she said. "I'm really excited for it. I just want to play."
St. Paul coach reaches 500 wins
Matt Koehn-Fairbanks reached a milestone during the Lexington Invite Saturday.
The St. Paul volleyball coach captured his 500th career victory in the Wildcats' win over Holdrege to open the tournament.
Koehn-Fairbanks said he feels blessed to get 500 career wins.
"It has been a lot of hard work and countless hours over the past 20 years," Koehn-Fairbanks said. "I have very fond memories of all the players I have had the chance to coach and can remember every girl that played for me as a senior. What I think I'm proudest of is that nearly all of those girls went on to graduate from college and are all terrific professionals, wives and/or mothers.
"And I have had the privilege of working with some of the best assistants a coach could ask for from current assistants Nancy Harrington and Steph Grabowski as well as my assistants in Karla Callan (current Ord assistant) and Mary Gregoski (now Palmer Junior High School)."
Koehn-Fairbanks started his coaching career in 2001 at Elba. He guided the Bluejays to four state tournament appearances that included one state runner-up finish. Koehn-Fairbanks became the volleyball coach at St. Paul in 2007 and has been there ever since. He's guided the Wildcats to the state tournament four times, including his first season, and finished as the 2019 Class C-1 state runner-up.
Koehn-Fairbanks said it's the players who deserve the credit for the 500 wins.
"It's the players that do the work. I haven't played a single point of my 500-plus wins, so without the players' hard work I wouldn't achieve anything as a coach," Koehn-Fairbanks said.
St. Paul, ranked No. 2 in Class C-1 by the Omaha-World Herald, is currently 7-0 on the season. The Wildcats host Centura on Tuesday.
Area coaches are asked to please check your e-mails in the next few days for all-area leader sheets.
The first list will be released in the Sept. 17 edition.
Marc Zavala covers volleyball for the Independent.
Get in the game with our Prep Sports Newsletter
Sent weekly directly to your inbox!