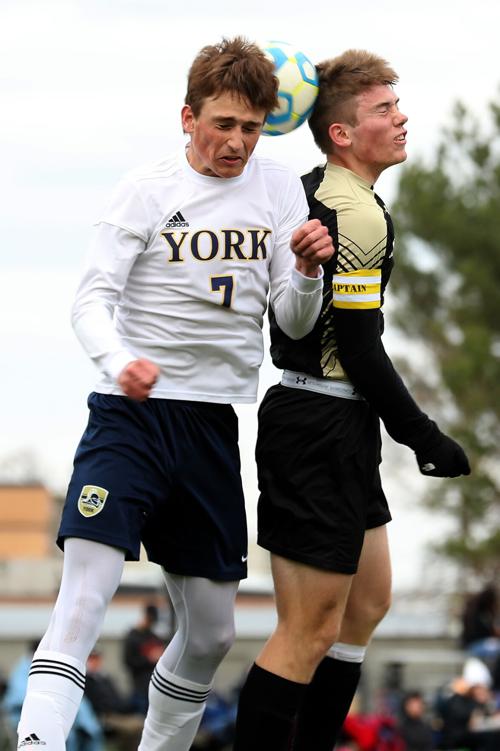 Class B No. 5-rated Northwest avenged two of its three losses in one fell swoop Tuesday.
And as satisfying as that was, the result was even more meaningful for the Vikings.
Thanks to a 1-0 win over York in the Subdistrict 7 championship, Northwest secured the right to host a district final Saturday with a chance to earn a trip to the state tournament on its home field.
"There was a time after our second loss where we didn't know if we would host (in the postseason) at all," co-head coach John Kenna said. "They've worked really hard to earn this spot. Now they've got this spot, and it's going to be exciting."
York (8-10) defeated the Vikings 3-1 on April 1 and 4-3 in a shootout on April 15. The Dukes were responsible for six of the 11 goals allowed by Northwest (12-3) this season, but they couldn't find the back of the net this time.
"We just figured some stuff out defensively a little bit, and we didn't have any mistakes or lapses," Kenna said. "We were disciplined defensively and we worked the ball well.
"Honestly, we did that the second game too and just came up a little short in that shootout. I'm super, super proud of these guys and their effort. They've had a really good couple of weeks."
Senior forward Parker Janky, who scored the lone goal in the 20th minute, said finally defeating York was a huge postseason boost.
"York had our number for most of the season," Janky said. "We played two of our worst games, but to win now and have the momentum going into a big game Saturday is huge for our team going forward.
"(In the other games) I think a couple of times we were lazy. We wanted this one a lot more. You could tell. Guys worked their butts off for the full 40 minutes (in each half), and that's something we stressed before the game. One slip-up could cost you the game."
Janky has 26 of the Vikings' 57 goals this season. He said his score was set up by a great pass, but he wasn't sure who it was from.
When informed it was Najib Ortiz — who has a team-high eight assists — Janky responded, "Najib....of course.
"He's been awesome for me and everything he's been able to do for me has helped our team and helped me immensely. Having him back there and other guys to get me the ball has allowed me to have the success I've had."
But to win the Vikings had to defend that one-goal lead for 60 minutes. They controlled possession for much of the first half, but after halftime the tide turned some and the Dukes created better chances. But they couldn't get one past keeper Zeke Koenig.
Kenna said holding onto the lead took "grit and hard work and guys not letting it go. Some of those extra effort runs, those extra effort passes, you've got to make those, especially this time of year because that's how we build up and keep our connection."
It was a stressful time, especially during the final minutes, but after the final whistle the Vikings quickly gathered to celebrate.
"It's definitely nerve-wracking, especially when you have a couple scares on your own goal line," Janky said. "You just have to stress that every tackle, every boot up the sideline is something that we need for our team.
"Also, we had to stay disciplined. That's a big thing, staying disciplined for the full 80 minutes."
This is the first season that Northwest added players from Grand Island Central Catholic and Wood River in a co-op. A win on Saturday would be cause for celebration at three schools.
"It's fun to watch these schools come together and believe in each other," Kenna said.
GIRLS
Kearney Catholic 1, Northwest 0
AURORA — Kearney Catholic edged Northwest 1-0 in the Class B, Subdistrict 7 championship Tuesday.
"Props to Kearney Catholic for coming out and being the aggressor from the beginning," Vikings coach Jessica Herrmann said. "It just wasn't our night tonight and they took advantage."
Northwest's season ends with a 10-8 record.
"The season as a whole was nothing but positive and a huge step forward for the program," Herrmann said. "Ten wins is the most w've had in school history. Rylee Eschliman stands alone at most goals in a season. She had 28 goals. The record of 26 has stood since Amy Svoboda set it in 2003.
"I want to thank all of the girls, especially the seniors for their efforts the last four years. In a year of unknowns, they were consistent and a great group to be around."