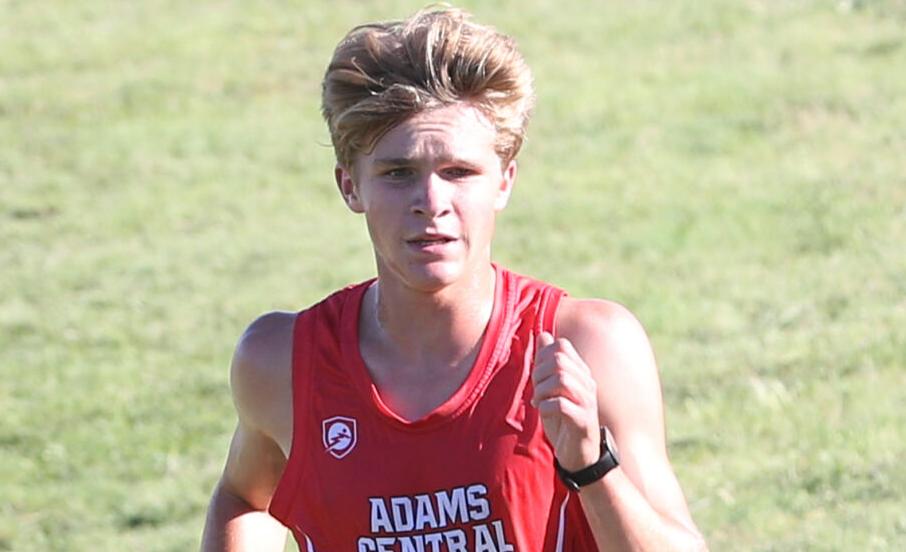 Luke Bonifas had a bad experience during the end of his cross country season last year.
The Adams Central senior got off to a strong start where he was in the top five in a majority of his races.
Then came the later part of the season where he did not have the best finishes, which included finishing 79th at the state meet last year.
This year, he has finished in the upper half in a majority of his races, which included capturing Central Conference Meet and the Class C, District 4 Meet at Aurora the past two weeks.
Bonifas said last year's finish has been motivation for this year as he hopes to finish with a medal from the state cross country meet on Friday at the Kearney Country Club. Bonifas will compete in the Class C boys race, which gets under way at around 1:30 p.m.
"Last year didn't end the way I expected it to but this year I stayed healthy and just kept my base up and working hard," Bonifas said. "I don't want to say I'm glad that it happened last year, but it did happen, so you gotta take what you can get from it. It was definitely a learning experience and hopefully I can redeem myself and get a medal."
A reason for the struggles at the end of the season was illness. He said he competed while not feeling the best.
"I didn't really allow myself to recover last year. This year, I feel fine and just gone on a few days where I've ran easy on my easy days and hard on my hard days," Bonifas said.
Adams Central coach Toni Fowler said Bonifas is doing the things he needs to do in having the season that he is having.
"He was just struggling to stay healthy last year. I think he wants to prove to people that last year was not the type of runner that he was," she said. "This season, he's listening to his body better. And he's been keeping his mileage up through the season and focused doing everything he can with his training to be at the best place possible at this time.
"I hope last year was a blessing in disguise for him."
With the success that he has had this season, he is currently No. 2 behind two-time champion Carson Noecker of Hartington/Newcastle, according to the preprunningnerd.com rankings.
Bonifas had the opportunity of competing against Noecker at the UNK Invite last September. Noecker won the race Class C race of the meet in 15:32.00, almost 55 seconds ahead of Bonifas, who came in second.
That left Bonifas impressed with the Wildcat junior.
"That kid is an amazing runner and ran just a great race at that meet," Bonifas said. "I'll try and keep up with him as much as I can but it's almost a race for second I think and I'm fine with that. If I get beat by him, I won't feel too bad."
Bonifas will have some company at the state meet with his teammates as the Patriots earned a spot after finishing third as a team at the district meet. Ryan Stritt, Tristin Klinger, Andrew Heckman, Henry Schreiner and Tayte Rogers are the other runners for Adams Central, while the Patriot girls qualified Lynsie Lancaster.
"That means more to me than anything," Bonifas said. "That was the goal and I'm glad they are getting this opportunity."
Fullerton, Nebraska Christian girls maybe in Class D title contention
A number of teams and individuals have a chance to bring home some hardware in the Class D races.
Especially on the girls side.
Fullerton captured the Class D girls race at the UNK Invite, but Nebraska Christian captured the Class D, District 4 Meet this past Thursday.
Both teams should be in contention with a number of other teams.
As far as individuals, Hastings St. Cecilia's Alayna Vargas captured the 2019 state title before finishing as the state runner-up in 2020.
Nebraska Christian's Hannah Swanson (fourth, 2020) and Fullerton's Julianna Maxfield (13th, 2020; fifth, 2019) are the returning medalists.
PREP VOLLEYBALL
Attention coaches
This week will be the last week the All-Area leaders will be running for the regular season. The last one will appear with the All-Heartland teams, which will run on Nov. 25.
You should be getting All-Heartland team information from me sometime late next week.
Marc Zavala is a sports writer for The Independent.