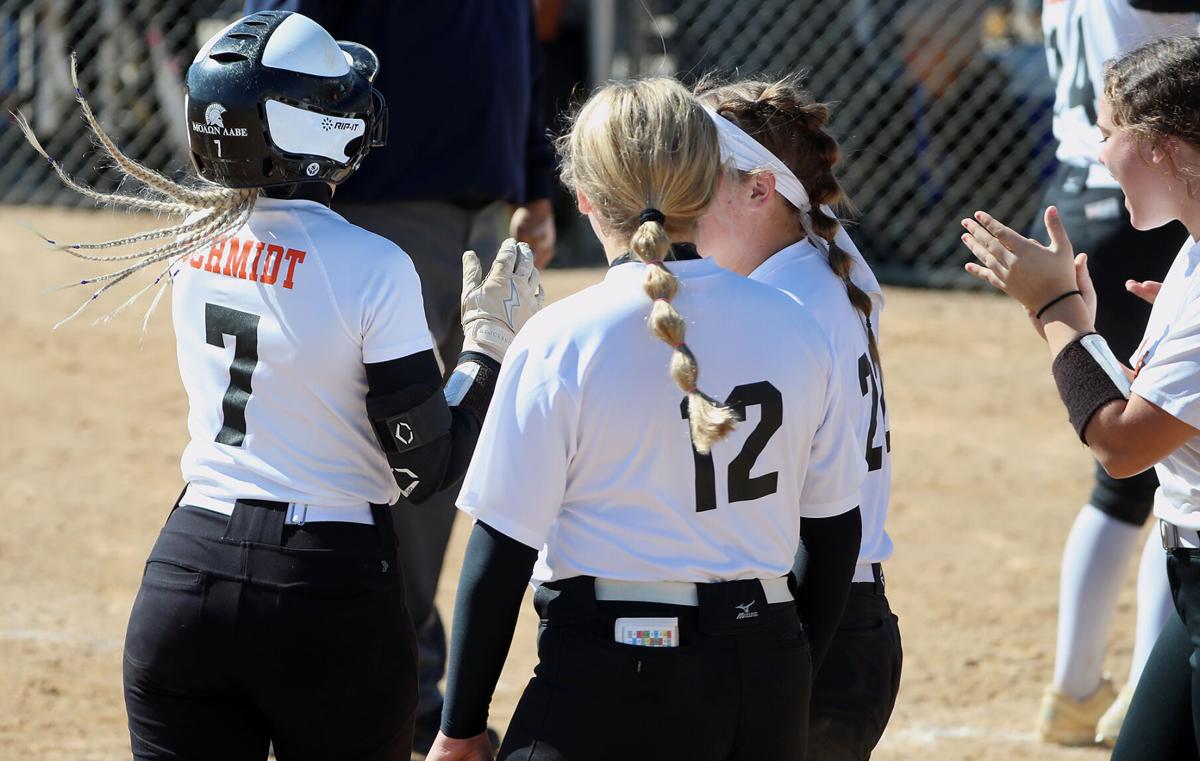 HASTINGS — Thoughts of completing a historic softball season in 2021 occurred to different people in the Omaha Skutt program at different times.
First there was assistant coach Dick Jablonski who confidently presented the idea to longtime Skutt head coach Keith Engelkamp.
"Coach Jablonski pointed that out in the middle of the summer, and I don't like wearing that target," Engelkamp said. "But he's like, 'Coach, we're going to do it. There isn't anybody who is going to beat us, not if we're playing well.'
"I believed him, but I didn't want to make it a big deal with the kids and make it relevant. But as we got through the season, the kids started going, 'Coach, there's nobody going to beat us until we go to state, and we (aren't) losing at state.'"
Turns out Jablonski might consider part-time work as a prognosticator when his coaching days are done.
The SkyHawks completed the first undefeated season in the 25-year history of Class B softball with a 14-2, three-inning rout of Hastings in the championship game.
As Skutt got through the first half of its season, which included seven Class A opponents in the first nine games, some players began to wonder if an undefeated season was possible.
"Our goal was to go back-to-back," Skutt pitcher Ruby Meylan said. "But once we got about halfway through the season, we're beating all of these Class A teams, we realized that it's possible, we can do this.
"I didn't even know we would be the first Class B team to do it until it was in the paper the last few weeks. It means so much to be in the history books."
Skutt scored 12 runs and sent 17 batters to the plate in the top of the first inning. The 33-0 SkyHawks had six hits, four walks, two hit by pitch to go with one Hastings error in the 28-minute half-inning.
Shortstop Lauren Camenzind, who kicked off the scoring explosion with a towering home run on the game's second pitch, said it was important for the SkyHawks to set an aggressive tone.
"It gave us huge confidence to be able to put balls in play because we didn't do that the first game," Camenzind said. "She owned us the first game. To be able to put balls in play, everybody was confident they had a shot at the plate."
Camenzind's twin sister Hannah — both are Arkansas commits — was the winning pitcher. Hannah said she didn't realize that the SkyHawks could be the first-ever undefeated Class B team until Thursday.
"To go out perfect it's unbelievable and it feels so good," she said.
Hannah Camenzind had a big hit of her own in the first inning, clubbing a grand slam to center that put Skutt ahead 11-0.
"That started it all," Meylan said. "That gave us the confidence. We realized that first time we beat them that, OK, we can do this. They are the best competition in Class B, and if we can beat them once, then we just keep building off that win."
Hastings coach Ashley Speak made three pitching changes in the first inning as the ball eventually ended up back with Molina.
"We kind of went into it with a wacky approach," Speak said. "We thought we could try to use all three. We just looked at some different stats. We thought we could get by them, it just kind of backfired, and that's a coaching decision I made, and it didn't work.
"You tip your hat to a great Skutt team. They deserve it, and they beat us. Those top three are phenomenal."
The Tigers scored twice in the bottom of the first inning.
Molina led off with a single to right field before Samantha Schmidt — who had three home runs in the Tigers' 17-5 victory over Grand Island Northwest in Friday's elimination game — singled.
South Dakota State commit Kaelan Schultz walked to load the bases before Camenzind hit Delaney Miller with a pitch that forced Molina home. Emma Landgren hit a one-out sacrifice fly to right that scored Schmidt to cut Skutt's lead to 12-2.
Skutt bounced back to get one run in both the second and third innings to get the lead back to 12 runs by the third inning, which is the earliest a team can run rule an opponent.
For Engelkamp, the second consecutive state title and fourth in school history was bittersweet. Yes, Skutt now has a 53-game winning streak heading into 2022, but he's going to miss the four seniors — Meylan, the Camenzind twins and catcher Paige Roessner.
"I am going to miss those four seniors so much," Engelkamp said. "They've been so much fun to coach. They work hard. It paid off, every night in the gym, hitting, it paid off. Love them like daughters."