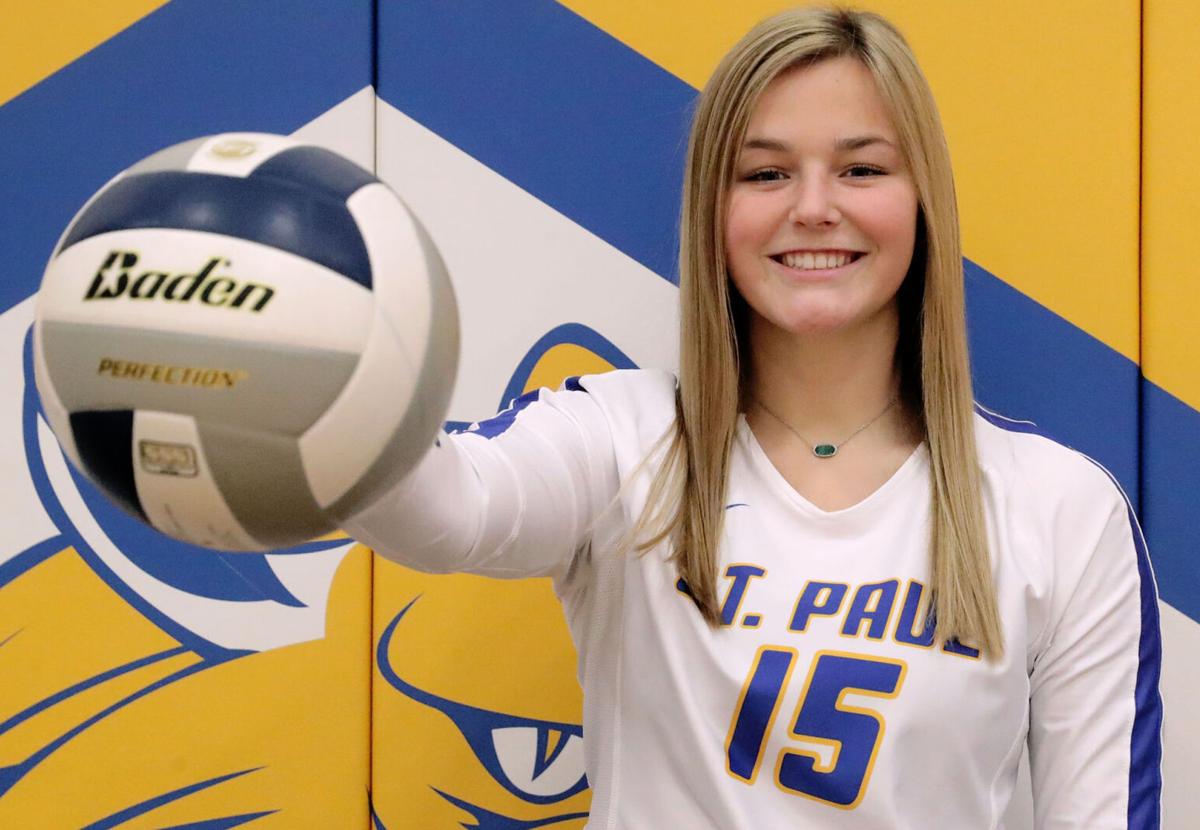 St. Paul has not had many four-year starters in the volleyball program.
Olivia Poppert was one of the players who accomplished that feat.
While being a four-year starter as the setter for the Wildcats, Poppert finished with 3,113 assists, while also contributing with 358 kills with a .383 hitting efficiency, 161 blocks, 118 aces and 558 digs, all while helping St. Paul to three state tournament appearances, including back-to-back state runner-up finishes.
Wildcat coach Matt Koehn-Fairbanks said he had a feeling Poppert was going to be special, especially during her elementary days and while being a student manager for St. Paul.
"She probably could have been a five- or six-year starter for us with as much time she has spent in our program as a student manager," he said. "She's a gym rat and been a sports kid her entire life. She's just a special athlete."
During her senior season, she finished with 758 assists as the Wildcat setter. She also had 94 kills with a .445 hitting efficiency, 42 blocks, 36 aces and 170 digs, helping them to a 28-6 record.
For her play during the 2021 season, Poppert has been selected as the 2021 All-Heartland Super Squad captain.
Joining Poppert on the All-Heartland Super Squad are Wildcat teammate Jenna Jakubowski, Grand Island Central Catholic's duo of Chloe Cloud and Carolyn Maser, Hastings St. Cecilia's Addie Kirkegaard, Broken Bow's Kya Scott and Northwest libero Sophia McKinney.
Koehn-Fairbanks said Poppert was not only a player who did a lot for the Wildcats this season, but also a player who needed to be on the floor, especially as a setter.
He said the Wildcats weren't a strong serve receive team this season, so Poppert had to run down a lot of balls. When she did, Koehn-Fairbanks said she still found a way to deliver a good ball to the attackers as St. Paul finished with a .248 hitting efficiency during the year.
"We were still able to win 28 games this year and that's because of our setting," Koehn-Fairbanks said. "We didn't pass the ball effectively but she was still able to run them down and we still had a good hitting efficiency. That's pretty good considering there were times when our serve receive struggled. That's good setting and she's a special kind of setter.
"She was also one of our leaders in hitting efficiency, and in aces. She was really the driving force and difference maker for us this season."
And St. Paul struggled when Poppert couldn't be on the floor. She suffered a concussion after hitting her head on the floor after going for a ball during a five-set win over Ord. She sat out the rest of that match, as well as the Lexington Invite, where St. Paul went 1-2.
Poppert said even though she was there, it was hard having to sit out during the Lexington Invite.
"I didn't like sitting there," Poppert said. "It was hard for me knowing that we had a setter (junior Samantha Obermiller) that never had any varsity experience step in and she did a good job."
When Poppert came back the following week, St. Paul went 24-2 to close out the regular season, including winning 17 consecutive matches. Three of those wins came in the state semifinals of their classes — Fremont Bergan, who finishes as the Class D-1 state runner-up, Columbus Lakeview is C-1 and Wisner-Pilger in C-2. Both Lakeview and Wisner-Pilger went on to finish third.
"We just had great momentum during that stretch and we really couldn't stop," Poppert said. "We beat some good teams during that stretch, including Lakeview, who had a great team. That match really helped us go."
St. Paul won its first postseason match against Doniphan-Trumbull, but fell to Grand Island Central Catholic and Gothenburg. Despite that, Poppert said it was still a good season, especially since the Wildcats had to replace eight seniors from a team that went 34-1 and finished as the state runner-up for the second-consecutive season. She added she felt she had a great volleyball career at St. Paul.
"No one really knew what we were going to be like," she said. "We had two transfers (Clara Kunze and Jessica Vetick) that started for us so that was a plus. Plus we have the best coaching staff so I knew they would figure something out. I'm just fortunate to have Mr. Koehn-Fairbanks as a coach as the other two seniors (Montanna Morgan and Madison Hirschman) stepped up for us in the back row. I'm very grateful for the year that we had. We lost six games this year and we were one game away from reaching state. I couldn't have asked for a better senior year.
"I'm blessed with how my career went with a third-place medal and two runner-up medals from state volleyball. I couldn't have asked for a better four years at St. Paul."
Koehn-Fairbanks said Poppert is going to be missed on the volleyball court.
"She's just a natural leader since I've known her. She knows how to motiviate, and is very competitive," he said. "She will compete at everything she does. She sets a good example and is just a good person on and off the court. She's the kind of person you want leading your team."
Poppert doesn't know what her future holds for college but has basketball and track and field left to do. She's a factor in those sports as well as she averaged 17.0 points per game in basketball and finished eighth in the Class B discus at the state track and field meet last year. And just like in volleyball, she'll be a big factor in those other sports for St. Paul and likely will be a factor in a college sport if she decides to participate in one.