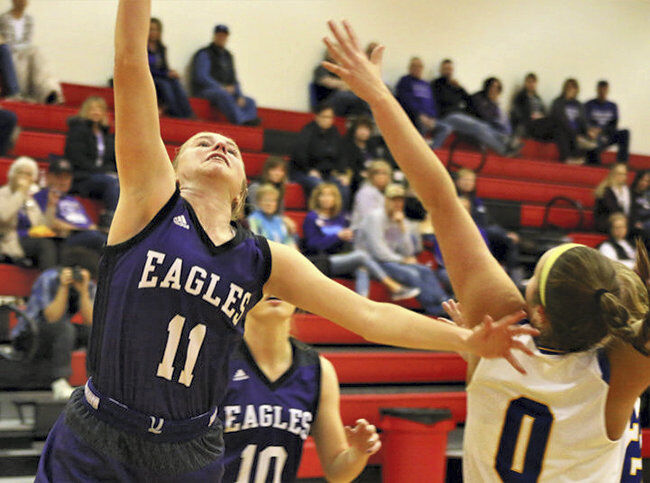 In one week, there is no doubt that Wood River will fully qualify as "battle tested."
Starting with Friday's 46-17 win over Ravenna, the Eagles are facing five opponents in a row with a combined record of 52-8.
The next four are all rated — Friday at home vs. Class C-2 No. 9 Sutton (9-3), Saturday at C-1 No. 2 Broken Bow (12-0), Tuesday at C-1 No. 1 Grand Island Central Catholic (12-0) and next Thursday vs. D-1 No. 5 Shelton (9-2).
Coach Phil Smith said the Eagles are looking forward to these challenges, and this stretch should pay off down the road.
"When you enter subdistricts or hopefully down the road state, you have to play tough teams back-to-back," he said. "We're playing great teams in what should be a great atmosphere with fans back, so I think playing these types of games will be a lot of fun."
Wood River has the type of team needed to navigate and have success against this type of brutal stretch.
An experienced group has helped the Eagles get off to an 11-1 start with the only loss coming in overtime on Dec. 8 at C-1 No. 9 Adams Central.
Wood River is currently rated No. 7 in C-2.
"We're playing as a team," Smith said. "We're also doing a really good job lately of rebounding. It's important in basketball to get stops to be successful, and that's tough to do if you aren't doing a good job rebounding."
Senior Boston Boucher leads the Eagles with 15.0 points per game.
A big boost has been a full season from a healthy Kiernan Paulk, who was limited to five games as a junior after recovering from a torn ACL.
Paulk is averaging 13.6 points, 5.9 rebounds, 5.8 assists and 4.5 steals.
"Kiernan is a stat machine," Smith said. "She gives us a calmness on offense. If we get pressured, she can go get the ball. She also sees the floor so well and leads us in assists."
Wood River is already nearing last year's win total from a 14-12 season that fell one victory short of a state tournament appearance.
But the Eagles are hardly complacent with their success.
"We're working on getting better every day and every game," Smith said. "We want to put ourselves in position to always be competitive in the fourth quarter and then go win it."
That's especially the focus during this upcoming stretch. Smith said the next three opponents all have skilled post players which will be an especially challenging aspect of these games.
But a strong team chemistry has Smith confident that Wood River will be able to face those challenges head on.
"The girls are so unselfish," he said. "They look out for each other and try to put each other in the best spot possible. Everyone on the team from varsity to JV is willing to do whatever job that is needed, whether it's rebounding and playing defense or shooting the ball when they're open."
Tourney time
The Goldenrod Conference tips off tournament time in the area as usual starting on Saturday.
After Saturday's first-round games, top-seeded Humphrey St. Francis and second-seeded Fullerton host quarterfinals on Tuesday.
The final two rounds take place in St. Paul.
Riverside at Elba, 7:30 p.m.
St. Edward at Heartland Lutheran, 7:30 p.m.
Spalding Academy at Palmer, 8:30 p.m.
Burwell vs. Central Valley, 6 p.m.
Elba/Riverside winner vs. Humphrey St. Francis, 7:30 p.m.
Heartland Lutheran/St. Edward winner vs. Nebraska Christian, 6 p.m.
Palmer/Spalding Academy winner vs. Fullerton, 7:30 p.m.
Semifinals, 6 and 7:30 p.m.
Stat leaders
Among the notables of the first edition of the area statistical leaders:
% Toping the scoring chart is a pair of players who have both hit nine 3-pointers in a game, Grand Island Central Catholic's Rylie Rice (19.9 ppg) and Central City's Taryn Wagner (19.1).
% Elba freshman Maycee Radke leads the rebounding category with 11.7 per outing. Adams Centra's Rachel Goodon (10.5) and Palmer's Clara Kunze (10.2) are also in double digits.
% Wood River has the top two passers in Paulk (5.8 assists) and Baylie Codner (4.7). They are followed by GICC duo Alexis Mudloff (4.3) and Jenna Heidelk (3.4).
% GICC posts Lucy Ghaifan (70.6%) and Chloe Cloud (63.6%) top the two-point field goal category while Hiedelk (41.7%) is the most accurate 3-point shooter.
% Seven players are shooting at least 80% on free throws with Hastings' Maddie Hilgendorf the only one to top 90% at 19-for-21 (90.5%).