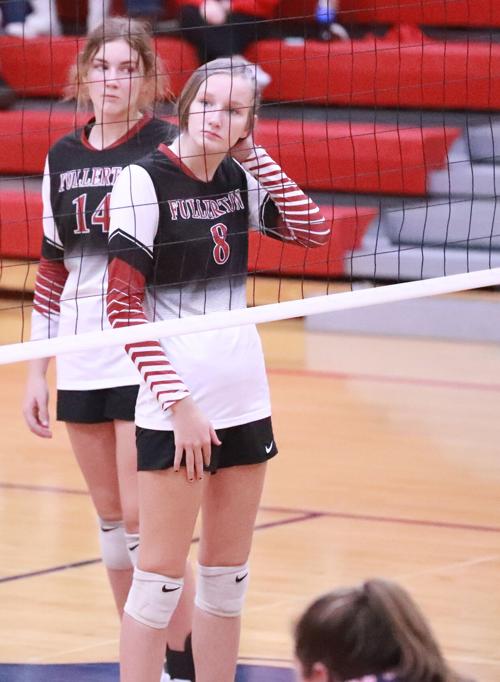 The 2020 season has been a special one for the Plumbtree family.
Fullerton coach Megan Plumbtree gets the opportunity to coach three of her daughters — Hanna, Jordan and McKenna — during the season.
The daughters have helped the Warriors to a 12-3 record and No. 10 ranking in Class C-2 in the Omaha World-Herald.
Hanna, the oldest daughter playing and a 6-4 senior, said it's been a fun season being on the floor with her two younger sisters.
"We've very successful so far this season," she said. "It's been fun having them by my side, including my mom. It may be difficult to get along with them on the court but we still love each other."
Megan said there has been some challenges with her coaching her daughters this year, but added they've always been around the sport. Their oldest sister Halle played for the Warriors up to the 2016 season.
"It has its ups and downs but it's a humbling experience to coach your kids," Megan said. "But at the same time, it has its challenges knowing to have that line drawn between parent and child and coach and child, then going home and doing all the stuff families do at night.
"The girls have always been around volleyball. They were there supporting Halle when she played for me. (Volleyball) has been a part of their lives for a long time."
Jordan, a 6-1 junior, leads the Warrior attack with 105 kills, while McKenna, 6-0 freshman, is second with 65 with a team-high .242 hitting efficiency. McKenna leads the blocking with 31, while Jordan is second with 30.
Coach Plumbtree said there is sometimes a sibling rivalry going on as they are always competitive in wanting to do better than the other.
"There can be that sometimes on the floor. They always want to be one stat ahead of the other, especially Jordan and McKenna," Megan said. "Jordan always asks me if she had more kills than McKenna."
But its more than just the Plumbtrees for the Warriors. Sophomore setter Teagan Gonsior has dished out 187 set assists and leads the team with 21 ace serves. Josie Sonderup leads the defense with 57 digs, while Gonsior is second with 45.
Coach Plumbtree said Gonsior and everyone else deserves credit as well for the Warriors success.
"Teagan has stepped up very well at the setter position and is doing an amazing job," Megan said. "She works really well with Jordan and McKenna. She is doing a great job in ace serves and on defense as well. Her quickness leads our team. And everyone else has been doing their jobs and performing well for us."
The season has also been challenging. The Warriors missed two weeks of competition with Fullerton being quarantined because of COVID-19. Their first match back was against Spalding Academy on Oct. 6. Since then, Fullerton has gone 7-1 with its only loss coming in the Goldenrod Conference tournament to D-2 No. 5 Humphrey St. Francis this past Saturday. Hanna also missed a few matches because of a sinus infection.
Hanna said Fullerton was eager to get back on the court.
"We knew it was going to be tough coming back but we were ready to get back into the swing of things," she said. "We knew that when we came back, we would have some big matches. It was really exciting but nerve racking because we knew we would be behind some of the teams since we had to sit out for two weeks. Then because of my sinus infection, I had to miss two games so it was hard because I was out an extra week. It's been a very challenging season so far but I think we've handled it well."
The Warriors will finish the regular season with a match with Riverside Thursday at Fullerton. Fullerton will be in the Class C-2, Subdistrict 9 tournament with Arcadia/Loup City, Burwell, Centura and Ravenna. As of Wednesday afternoon, the Warriors would be the top seed in the district, which means they would host the subdistrict.
Aurora coach grabs 500th career victory
Aurora went to Omaha Skutt and finished 1-1 Tuesday.
But the match the Huskies won was a special one for them. That's because Aurora gave coach Lois Hixson her 500th career win during a 25-17, 25-13 win over Omaha Gross.
Hixson said the milestone is a tribute to the players she has coached as well as the support she has received over the years.
"Reaching this milestone is a credit to so many groups of dedicated and passionate players," she said. "I am also very grateful for the families, community support and tremendous assistant coaches that have been a part of the journey. I truly enjoy the excitement that builds every summer in anticipation of the fall season.
"We don't always have the tallest players, or the largest numbers of players, but I have been fortunate to have players willing to build team chemistry and find success together. I am grateful for every player that chooses to be the best they can be while making our teams the best that they can be."
Hixson, who is currently 500-244, has been coaching for 31 years while being the head coach for 26 years, including the past 15 years for the Huskies. She has helped Aurora reach the state tournament seven times, which included two trips to the state semifinals and a fourth-place finish in 2008. Her current record at Aurora is 332-177.
After the match, assistant coaches Becky Farris, Tabitha West and Jenifer Dillon along with senior parents, planned a quick celebration. Balloons and a poster were presented to her along with the crowd holding signs that said 500. Her husband, Willie, gave her flowers after the match.
Aurora, who won the Central Conference tournament this past Saturday and is 20-11 on the season, will be in the B-6 tournament at a site to be determined. Pairings will be released Thursday.
This will be the last week we will be running the all-area volleyball leaders for the regular season.
The final one will run with the all-area teams in late November. You should be getting e-mails on that information sometime next week.
State cross country meet information
Fans planning on attending to the state cross country meet at the Kearney Country Club on Friday need to purchase their tickets online at https://gofan.co/app/school/NSAA.
Online tickets must be on your phone, either through the app or your email for redemption. There will be no printed tickets allowed.
Fans are also reminded that spectators are required to wear face coverings at all times while attending outdoor events when physical distancing (6 feet) is not possible.
The first race starts with the Class D girls at noon.
Marc Zavala is a sports writer for The Independent.
Get in the game with our Prep Sports Newsletter
Sent weekly directly to your inbox!