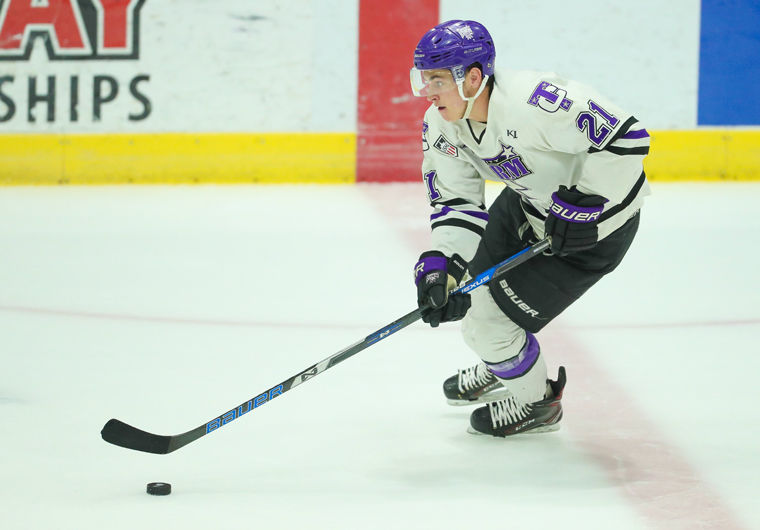 KEARNEY – Just five games into the season, it was already time for a repeat for the Tri-City Storm.
For the second straight Saturday the Storm followed up a not-so-close Friday loss by greatly outshooting an opponent but needing a falling-down overtime winner to claim two points.
This time around, the opponent was Fargo and it was center Hunter Strand whose off-balance backhand of a rebound that gave Tri-City a 3-2 victory 41 seconds into the extra period.
"I thought it was good for us to have to go through a hard day like that," Storm coach Anthony Noreen said. "Obviously that's as good of a team as you're going to play in this league this year, and I thought our response was excellent.
"We came out and had a really good push from the start. We scored a goal. When they tied it up, we responded right away again. They scored to tie it late, no panic whatsoever. We finished it in overtime. It was something I thought our group deserved without a doubt."
After Fargo (3-0-1-0) got the initial possession in OT, Tri-City (3-2-0-0) made a push up the ice. Defenseman Cole McWard's initial shot was stopped, but Strand was there just to the left of the crease.
With his back to the net, he was able to corral the puck and backhand it in while falling down.
In some ways, it mirrored the end of last Saturday's win over Lincoln when Victor Czerneckianair scored while falling down 37 seconds into OT.
"Cole McWard made a big-time play to set it up and it was a really good finish for Hunter," Noreen said. "I know he wasn't feeling great today, but he fought through it. He took a beating in (Friday's) game, so this was something I thought he deserved for sure."
Tri-City had to regroup after Fargo tied it up late in regulation.
With goaltender Brennan Boynton pulled for an extra attacker, Fargo tied it 2-2 with 17 seconds left.
Mason Salquist put away a rebound just before Storm goaltender Todd Scott was able to glove the puck in front of the crease.
Tri-City never trailed and outshot the Force 28-12 but never could pull away from the undefeated opponent.
Caden Villegas, a late addition to the night's lineup in place of Matthew Knies, teamed with Czerneckianair to give the Storm a quick spark 70 seconds into the game.
Czerneckianair sent a pass from the top of the left circle toward Villegas, who was streaking open toward the net. Villegas was able to reach out his stick and deflect the puck past Fargo goaltender Brennan Boynton, who had a 1.00 goals against average and .958 save percentage over his first two games.
"It builds confidence," Noreen said of the early goal. "One of our messages for the game tonight was that we have to demand more from ourselves. We felt like we were capable of way more. Throw the score aside (Friday) night. I don't think the 5-2 score was in any way indicative of the game. I thought it was as even as today's game was. But we had to demand more."
With neither team generating many shots, the score remained 1-0 until Fargo tied it up on its fourth shot at 3:42 of the second period. Tristan Broz got behind the Storm defense and saw his breakaway shot partially blocked by Scott but still end up in the net.
Tri-City didn't take too long before it regained the lead. After repeatedly generating chances on a power play, the Storm finally converted with eight seconds remaining when Parker Lindauer scored his first career goal at 6:20.
Tri-City faced a two-man disadvantage for 1:23 early in the third period, but Carter Mazur created a breakaway chance to force a penalty 17 seconds into Fargo's big opportunity.
"Carter's been invaluable to us this year," Noreen said. "He leads by example every single day. He embodies every single thing we want our guys to embody here. It's why we drafted him second overall a couple years ago. He's taken a huge step from last year to this year.
"You have an extended 5-on-3 like that against a team with some deadly players on the power play and he gets in, leans in and draws the penalty to make it a 4-on-3? Huge difference between a 4-on-3 and a 5-on-3."
The Storm has 10 goal scorers over the first five games with Strand leading the team with three. Tri-City has 18 players with points with Strand also leading the way with six. …Tri-City killed off all five Fargo power plays. The Storm's PK unit entered the game second in the USHL with a 92.9% success rate. …With next Saturday's game at Lincoln already postponed, the Storm will be idle until a Dec. 4 home contest against Omaha. That stretch of 12 days off is the longest of the season with no extended Christmas break this year. "It would have been really hard to go into this break and have 13 days before a game playing the way that we did and to not get the two points," Noreen said.
Be the first to know
Get local news delivered to your inbox!