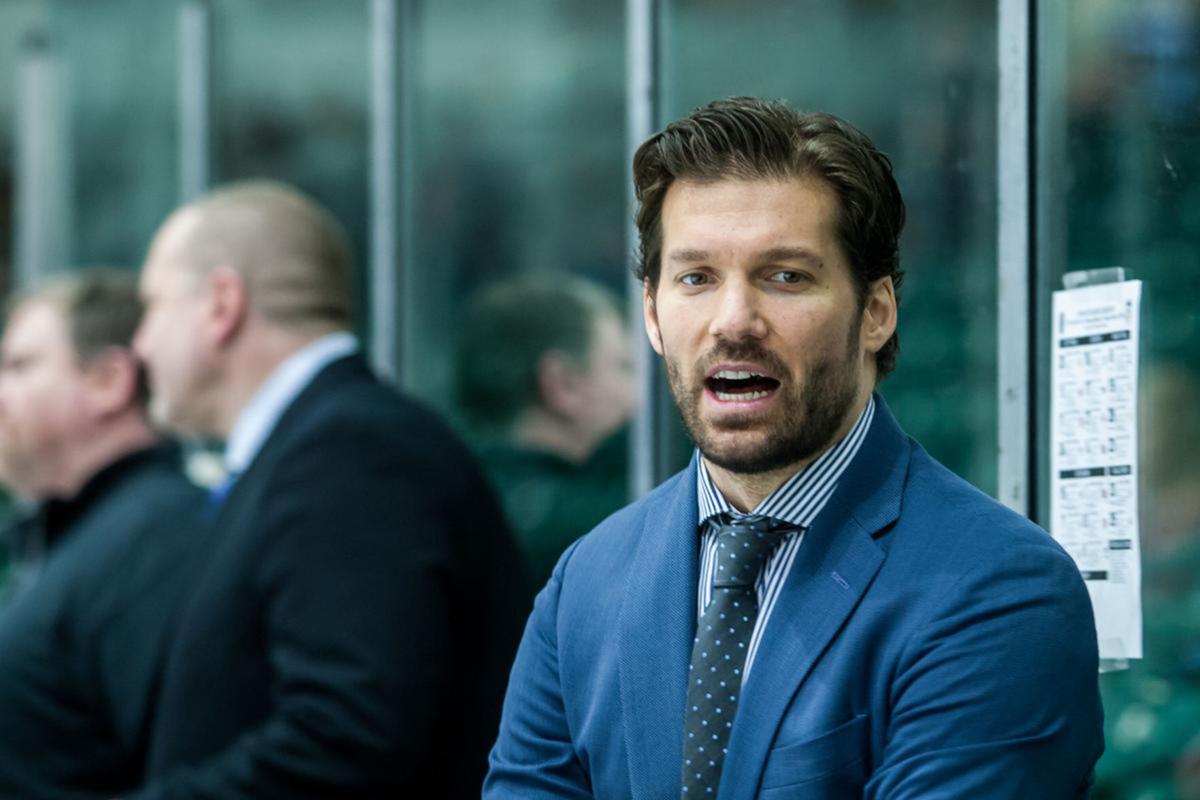 KEARNEY — Tri-City suffered its first bump in the road of the season.
Coming off a 13-day layoff – following a team record tying 5-0-0-0 start – the Storm exits the weekend on its first losing streak.
On Saturday, Sioux Falls used a late goal from Daniel Russell to edge Tri-City 3-2 and send the Storm to its second loss in a row.
Russell's game winner came from right in front of the crease at 13:35 of the third period. It was set up by a pass from defenseman Gustavs Ozolins, who perfectly placed the puck so Russel just had to tip it in past goaltender Arsenni Sergeev.
Tri-City survived having to kill off back-to-back penalties earlier in the third but couldn't find a way to pull out the win one night after falling at Sioux City 6-4.
"I knew it was going to be the most challenging weekend for us," Storm head coach Anthony Noreen said. "Sioux City is a good team and we found ourselves in a little different situation (Friday) night down early. There were a couple goals we'd probably like to have back. …
"My big thing was how were we going to respond today. I thought it was good. It wasn't great."
Sioux Falls (2-5-0-0) struck first on a shot from defenseman Max Rud from the left circle at 5:16 of the first period.
That lead didn't even last two minutes before Parker Lindauer put away a rebound of Aiden Dubinsky's shot that had been left in front of the crease by Stampede goalie Isak Posch at 7:01.
But a spinning pass from Garrett Pinoniemi in the slot found Ray Fust, who scored to give Sioux Falls a 2-1 advantage at 15:54.
"I thought their jump in the first was better than ours," Noreen said. "Having said that, they were here in town sleeping last night and we were getting back at 4 a.m. That's hockey. That's going to happen.
"Once we got our legs underneath us, I thought we were good in the second and third."
Tri-City (5-2-0-0) pulled back even at 14:28 of the second, three seconds after a Storm power play expired. Ilya Nikolaev slid a pass from the slot to Jeremy Wilmer in the left circle, and the Boston University recruit fired a wrister that beat Posch short side.
But the Storm's scoring chances in the third were limiting by having to kill off three penalties.
"Unfortunately, it's a tied game in the third and they get three power plays and we get none," Noreen said. "I felt like maybe if we could have got one….we were just chasing the game, spending a lot of energy killing. We would have liked to have put ourselves in a better position there."
The effort of the PK unit was a bright spot in the loss.
"I thought the PK was excellent tonight," Noreen said. "I thought that was the best we've been on the PK. Having said that, having to kill three in the third – especially one with four minutes left – you're going to the well too many times."
Now the coach wants to see how the Storm responds from the disappointing weekend.
"I think it's going to be telling for all of us," he said. "We always talk about whether we win or whether we lose, our job come Monday is to get better at the things we need to get better at. There are some things we clearly need to sharpen up on, so let's not look at this weekend. Let's look ahead on Monday and Tuesday, and let's be ready come Friday night."
Tri-City won last season's series with the Stampede 5-2-1. … Wilmer's four goals is second on the team behind Gavin Brindley's five. … Tri-City entered the game 2-0-0-0 at home while Sioux Falls was 0-3-0-0 in away games. …The teams were a combined 0-for-9 on the power play. …The Storm plays a home-and-home series against Omaha next weekend. Friday's game is at Ralston Arena while Viaero Center hosts Saturday's contest.