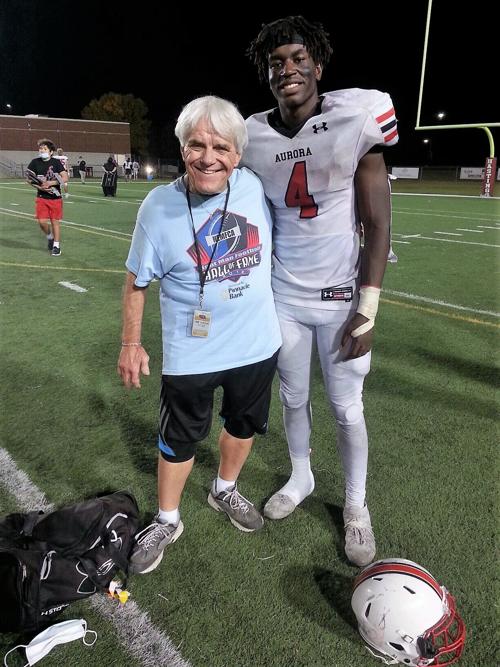 (1000 Yard Guy's take on the Aurora win over #1 Hastings)
Maybe it was the look on Kyle Peterson's face a couple of minutes before the opening kickoff. The Aurora head coach looked as if he had a clever game plan up his sleeve as he paced back and forth in front of the Huskies sideline.
I've seen that look before and it usually means the Huskies head football man just might have some tricks and treats for Aurora's current opponent. Frankly, a few moments after the opening kickoff, I forgot about the entire situation. Apparently, Coach Peterson did not.
Aurora struck first, then trailed only one time all night, that happening after Hastings answered the Huskies opening score, then went in front 7-6 on Breyer Menke's PAT boot.
Otherwise, the Tigers were playing catch up ball all evening, even after knotting the game at 34 heading into the final stanza.
It was a resounding 55-34 win for the well-prepared Aurora Huskies, but did anyone see this coming? Were there tell-tale signs prior to this game?
The way the 4-2 Huskies traded touchdowns with the #1 (Class B) Tigers from the get-go, you knew Aurora was never going to go away. There were also early danger signs for Hastings during the first half.
Aurora receivers were getting open to easily across the middle, especially when potential Huskies wide-outs were coming across that middle area on crossing patterns. Both Ethan Shaw and Mack Owens were also gaining big yards right through the heart of the Hastings defensive middle, churning up many yards after contact after passing through the openings at the line of scrimmage.
Despite all those facts, Hastings was still very much in this baby when the Tigers came out after trailing 34-21 at halftime. In fact, things looked pretty promising for Charlie Shoemaker's #1 Hastings squad when they slapped a goose egg on the Aurora offense while scoring twice themselves, to tie it up 34 all after three.
AND, had it not been for a rare Breyer Menke PAT miss, the Tigers would have been in front 35-34 heading into the money quarter.
So, back to the "was there any tell-tale" signs" this Aurora win was coming?
Was it the fact Hastings hadn't beaten an Aurora team since 2007, losing to the Huskies 7 times during that period by a combined score of 360-66? In fact, if you go all the way back to 2003, Aurora has won this matchup 10 out of 11 times.
Could it have been that the combined record of Aurora's opponents is 20-14, while the teams Hastings faced are now a combined 13-26?
If you love Offense, you picked the right game here. The two teams combined for 835 yards of total offense on a picture perfect night for high school football. With no major injuries (to my knowledge) the stage was set for an even playing field.
The visiting Huskies set the tone immediately by taking the opening kickoff and marching 63 yards on just 4 plays to draw first blood. Aurora established it's running game on this drive with Ethan Shaw bolting for 13 yards on the game's opening play, followed by a 21 yard burst by outstanding junior RB back Mack Owens, a 200 pound specimen with all the tools.
The Huskies then sent senior wide receiver Jacob Settles for 19 more yards downfield on a precision jet sweep, which was called a reverse back in my day. Shaw then capped off the drive with a 9 yard touchdown run standing up. Too easy.
Unphased, Hastings answered right back, aslo covering 63 yards…..in 5 plays. The Tigers mimicked the Aurora jet sweep, sending speed merchant Zaide Weidner around his right side for a winding 31 yard touchdown journey. Breyer Menke's PAT boot was perfect and the Tigers were on top 7-6. Little did they know at the time, that it would be their only lead of the contest.
Aurora finally broke the back and forth battle by recovering a Hastings fumble caused by a high center snap that sailed over QB Jarrett Synek's head, finally landing on the Tiger 32.
The Huskies capitalized on the turnover 3 plays later when Ethan Shaw nailed Jacob Settles for a 28 yard scoring strike, stretching the Aurora lead to 26-14 with 8:30 left before halftime.
Hastings came right back with a Jarrett Synek 13 yard scoring run that was set up by eff Samuelson long kick return. The Tigers trailed just 26-21 at the time.
Hastings was on the march again, hoping to score the go ahead touchdown when a Garrett Synek pass was tipped by one of Synek's intended receivers, right into the hands of who else…...but Jacob Settles, who had lost a fumble after absorbing a vicious hit after catching an Ethan Shaw pass.
Mack Owens would then score his second rushing touchdown of the game on a 5 yard run at the 2:05 mark of the 2nd quarter, giving Aurora a 34-21 lead at the halftime break.
The third quarter was all Hastings. Jarrett Synek uncorked a highlight reel 37 yard scoring dash, coming on a 4th down gamble at the 7:20 mark. Three minutes, 38 seconds later, Synek hit Austin Nauert with a 3 yard scoring pass, knotting the game at 34 apiece entering the 4th quarter.
The final quarter ending up being a bad dream for the #1 Tigers. Another tipped pass resulted in an Aurora interception by Jameson Herzberg. Mack Owens would cap off the ensuing Aurora drive with his 3rd touchdown of the night, a 5 yard score.
Meanwhile, the Aurora defense was giving Jarrett Synek little time to execute his pass plays, flooding the Hastings backfield with blitzes, sometimes ending with a sack.
Aurora scored again when Peterson called the same trick play that had worked earlier on a double PAT conversion for the Huskies in the first quarter. By this time, I'm sure Hastings had forgotten about the double reverse pass play from WR Cayden Phillips back to QB Ethan Shaw.
Aurora sure didn't. The Huskies worked the play to perfection with Phillips floating a touchdown pass to Shaw, who scampered 22 yards to paydirt. That upped the Aurora lead to 48-34 with 4:40 left in the game and that very score may have broken the Tigers spirit.
Aurora then scored the final touchdown of the game when the Huskies went 63 yards in just three plays. Ethan Shaw blasted through the middle of a tired Hastings defense for 10 yards. Mack Owens, who appeared fatigued after playing a big defensive role for the Huskies in the 4th quarter (two sacks), uncorked a sensational 40 yard run, nearly falling to the ground once along the way.
Shaw, of course, gave Owens another shot to put the ball in the end zone and Mack obliged by sprinting 13 yards for the final Huskies score of the night.
Aurora exploded for 516 yards of total offense in this big 55-34 win over #1 Hastings, 326 coming on the ground, the remaining 190 through the air. Mack Owens led the rushing attack with 159 yards on 21 carries and four touchdowns. Ethan Shaw also cracked the century mark with his 117 yards on 21 totes and a pair of scores.
Shaw completed 10 of 17 passes for 168 yards and one touchdown while Cayden Phillips added the additional 22 yards on with his double reverse throw back to Ethan for the score.
Jarrett Synek ended the night completing 13 of 22 passes for 183 yards and two touchdowns for Hastings, but the senior gunslinger suffered a pair of interceptions as well.
The Tigers rushed for 154 yards on 26 team carries. Trevor Sullivan led all Tigers rushers with 63 yards on just 8 carries, 57 of those coming on the Tigers final drive of the game which ended at the Aurora 11 yard line when time ran out.
Next week, Hastings will have their BYE week before closing out the 2020 regular season at GI Northwest. Aurora, meanwhile, will face that same Northwest team, one of their bitter rivals, next Friday in Aurora, before closing out their regular season October 23rd at Seward.
…………………..........1……..2……..3……..4……….Final
Aurora (5-2)........14……20…….0…….21………..55
Hastings (6-1).....14…….7…….13…….0………...34
A - Ethan Shaw 9 run - PAT-Run failed (9:52) 0-6
H - Zaine Weidner 31 run - PAT-Breyer Menke kick (7:42) 7-6
A - Mack Owens 6 run - PAT-Ethan Shaw pass from Cayden Phillips (3:25) 7-14
H - Gareth Jones 2 pass from Jarrett Synek - PAT-Menke kick (1:02) 14-14
A - Ethan Shaw 14 run - PAT-pass failed (10:07) 20-14
A - Jacob Settles 28 pass from Ethan Shaw - PAT-pass failed (8:30) 26-14
H - Jarrett Synek 13 run - PAT-Menke kick (7:46) 26-21
A - Mack Owens 5 run - PAT-Britton Kemling run (2:05) 34-21
H - Jarrett Synek 37 run - PAT-Menke kick (7:20) 34-28
H - Austin Nauert 3 pass from Jarrett Synek - PAT kick failed (3:38) 34-34
A - Mack Owens 2 run - PAT-Alex Peters kick (9:49) 41-34
A - Ethan Shaw 22 pass from Cayden Phillips - PAT-Alex Peters kick (4:50) 48-34
A - Mack Owens 13 run - PAT-Alex Peters kick (1:48) 55-34
Be the first to know
Get local news delivered to your inbox!