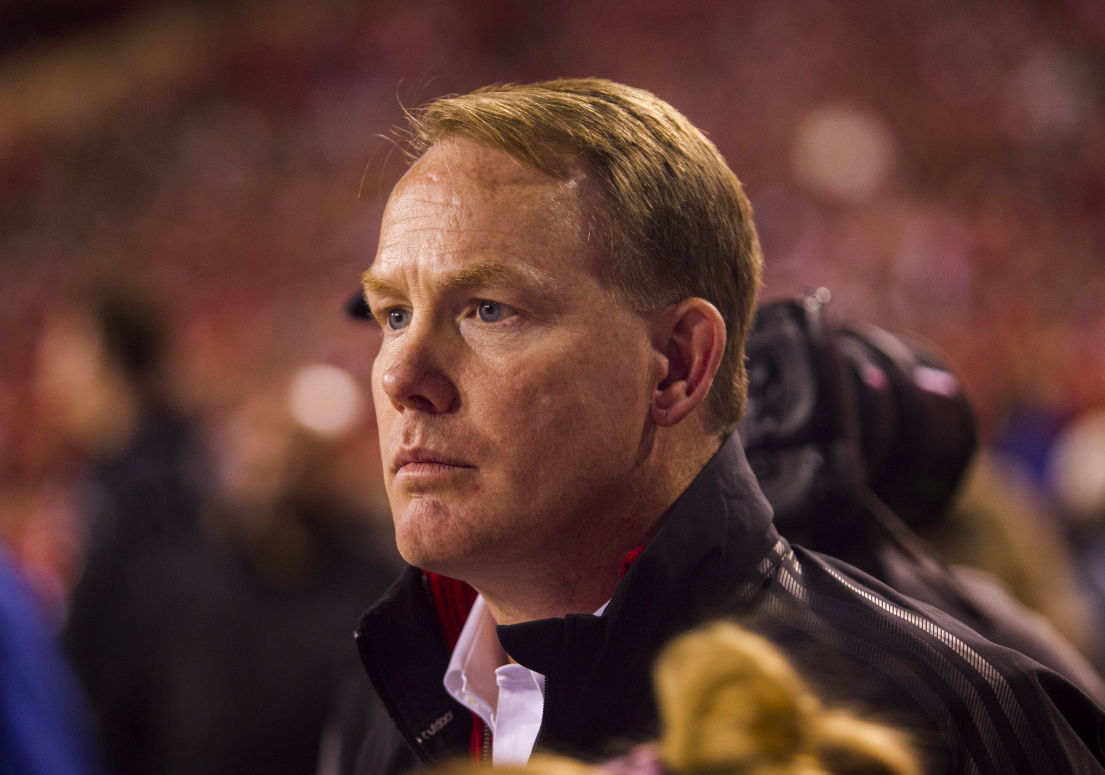 Nebraska athletic director Shawn Eichorst said he's respectfully asked Chancellor Harvey Perlman to cease discussing the contract of the athletic director or any possible extensions.
Eichorst met with three reporters in a North Stadium conference room before Saturday night's game against Michigan State, in part to further defend embattled first-year Nebraska football coach Mike Riley.
He also wanted to squelch a report in Thursday's Omaha World-Herald, in which Perlman said he was working on an extension for Nebraska's third-year athletic director, who's under contract through June 30, 2019.
Such extension talk is premature and irrelevant, said Eichorst, noting he's also asked Perlman to remove perks in his contract, such as a country club membership and car.
"It's not the time or place," Eichorst said. "The focus needs to be on our kids, on our coaches, on our staff and on our fan base, and I'm 100 percent committed to that. I'm good with where I'm at from an employment perspective, because I know we're doing great things in the organization.
"This isn't about me. I don't want any distractions relative to that."
Eichorst has said repeatedly, and again Saturday, how it's an honor to be at Nebraska and part of an incredible community and incredible state.
"I understand how important, and I respect and appreciate how important football is to everybody," Eichorst said. "And I've said from Day One, this isn't going to be about me. I've admitted to that every single day.
"For me, when I see possible distractions out there, I want to try to eliminate them as much as possible."
Eichorst also echoed a statement he made to fans via Huskers.com last week in support of Riley, whose team was 3-6, with five losses by a combined 13 points, before rallying for a stirring 39-38 victory against No. 7 Michigan State on Saturday night.
"For all of us it's been disappointing and frustrating relative to the close losses, but given the totality of the circumstances, I'm as encouraged and confident as ever relative to the future of our football program," Eichorst said.
Those circumstances are primarily a depleted roster that continued to dip below its 85-player scholarship allotment last week when two more players left the program. Injuries and suspensions have also been factor in depth; both the offense and defense have had 20 different players start this season, including a combined 34 starts from players who joined the program as walk-ons.
"No excuses. It's fact," Eichorst said. "But I am confident that if we all stay together and unite at this most important time in our history, we can forge a foundation for the future."
Eichorst credited Riley and his staff, saying they're great representatives and "working like crazy" in a difficult transition.
"We knew going into this it would be a challenging transition," Eichorst said. "I know some didn't think that way. But it's a challenging transition for anybody. I think they've handled it well, they've represented us well, and they've made no excuses about what's going on.
"They're just looking day by day, week by week, and trying to get our kids better. This is a group of people that teaches like crazy, they mentor like crazy, recruit like crazy, and that is encouraging."
Eichorst said he's with the football staff on a regular basis. He's been in meetings, including initial personnel meetings during the transition, and in weekly meetings with the staff since.
"Not because I'm a micromanager, because you guys know that, but because I understand that's what is important, is our football program laying a solid foundation, cutting no corners and getting it right for the future," Eichorst said. "That's been important to me."
Commenting on coaching performances midseason is something Eichorst said he doesn't want to make a regular habit. Yet, the written statement last week came after Nebraska suffered a 55-45 loss to a Purdue team that had won two games against FBS teams in two-plus seasons and had no Big Ten wins at home in that time.
"I still believe in my policy of letting people do their job, and holding them accountable and evaluating it with the totality of the work," Eichorst said. "I don't think it does us any good to be evaluating day to day and week to week and comparing and all that other sort of stuff. That doesn't help our kids on Saturday, at the end of the day."
He advised fans to take a deep breath and come together, and ended his 20-minute meeting by saying he felt Nebraska would defeat Michigan State.
"There have been times in our history when there have been gaps, and so hopefully we can all rally together, get behind these kids and coaches for a better day, because it will be there," Eichorst said. "I fully believe that."