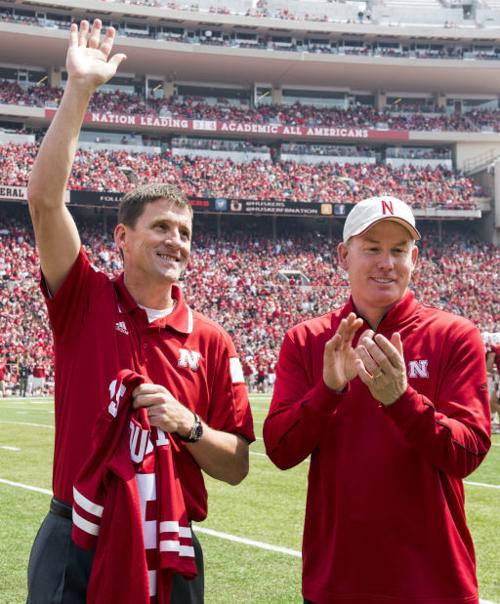 Halfway through the 2014 football season, Mississippi State was ranked No. 1 and Ole Miss No. 3.
Both Southeastern Conference institutions were under the purview of Hank Bounds, who was named president of the University of Nebraska in January.
Bounds said watching Husker games from the university's suite at Memorial Stadium as a fan and college administrator is a familiar role.
"We all have to understand athletic programs at major universities are often viewed as at least one of the front doors to the university," said Bounds, who grew up in rural southern Mississippi. "What other event draws 90,000 people on a routine basis?"
Unlike Mississippi, however, there is only one NCAA Division I football team commanding the attention of Nebraskans.
"That sort of raises the stakes even higher," Bounds said in a phone interview Monday.
Take, for instance, the Huskers' Oct. 31 loss at Purdue and the resulting backlash against Mike Riley and the Husker coaching staff, athletic director Shawn Eichorst and UNL Chancellor Harvey Perlman, whom angry fans targeted on social media and radio call-in shows.
But Bounds, who said he pays attention to what fans are saying -- for better or worse -- is not in the business of making sweeping changes without looking at the big picture, or in meddling in the goings-on of the athletic department.
"Am I involved on a day-to-day basis? No, I shouldn't be," Bounds said. "But at the end of the day, as president, when things aren't going well, people look to the president. It doesn't matter what the issue is.
"That said, I also believe in expecting people to do their job," he added.
After news broke last week that Perlman was working on a contract extension for Eichorst, Bounds said Monday he was not involved in any contract discussions.
"Ultimately, I would have to make a decision on it if it would have come before me," he said. "It wasn't brought before me."
Perlman, who will continue leading the University of Nebraska-Lincoln until his retirement in June, did not respond to an interview request.
Bounds acknowledged there has been much speculation about the president's role, as well as the role of regents, in oversight of the Husker athletic department as Perlman nears retirement. Ongoing policy discussions involving regents, as well as a long-scheduled slate of committee meetings last week, fueled rumors that university leaders were set to act.
Bounds said regents have been talking for several months about revising policies for approving contracts and the discussions have nothing to do with Perlman and his position as a lame-duck leader.
"It's not uncommon to have different rules of engagement as you have a transition, but this is not about the transition," Bounds said. "It's really just about good governance in general.
"We should be taking part of the recommended changes in policies -- who has what power to approve what contract -- to the Board hopefully in December."
Regents interviewed Monday also steered clear of wanting direct involvement in athletic department oversight, despite saying they first learned of Perlman's offer to extend Eichorst's contract in the media last week.
Eichorst, who is under contract through June 30, 2019, responded prior to Saturday's win over Michigan State, telling reporters he had asked Perlman to hold off on an extension. Bounds and regents reached Monday said they had no part in that decision.
"I certainly did not put out a mandate that Eichorst had to walk that back," Bounds said.
"With a new chancellor on the horizon and four years left on Shawn Eichorst's contract, it's bad timing," Regents Chairman Bob Phares said, referencing a contract extension for the athletic director. "I'm glad Eichorst recognized that."
The regents' academic affairs, business affairs and executive committees met Friday in Lincoln for meetings scheduled "over a year ago," according to Bounds. Phares said the committees meet to "process information, but not to take any action."
Football is often a topic of conversation when regents are together, said Bounds, who himself has attended several Husker practices.
"You can't go to any board meeting where the board isn't talking about football," he said. "But it was not on the agenda to discuss, and if there were a board mandate for me to get involved, I would tell them to change the policy."