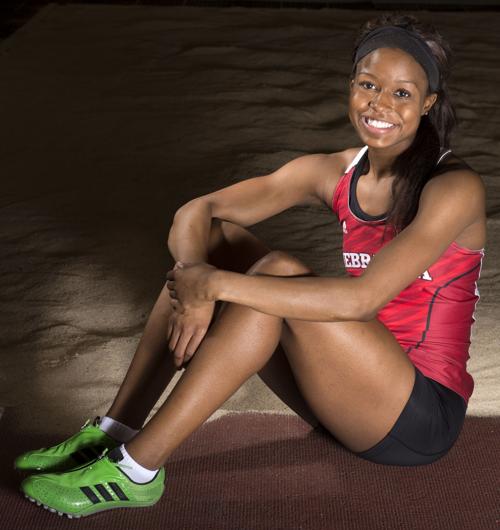 Tierra Williams leaned back in a desk chair and put her feet up on a bench near the long jump pit in the Devaney Sports Center.
Confident, poised. Williams' smile comes easily. Her accent is pure Midwest; in other words, there is no accent. She is Academic All-Big Ten and carries a hefty grade-point average.
She blitzed through her first track meet of her junior season at Nebraska last weekend, winning the long jump and triple jump, and was the fastest collegian in the 60-meter dash. This weekend, in the Mark Colligan Memorial meet Saturday at Devaney, she'll try to improve on her attempt at earning better marks this season.
Everything seems serene, secure, safe.
Her life and her future are mapped out in pursuit of a career in counseling or therapy with her major in family services and a minor in criminology.
"So many people helped me, I want to help others the same way," she said. "I was given all the resources to succeed and I try to do my best. I think my faith has a lot to do with that.
"I run track and I jump, but that's not me, that's what I do."
That sounds so different from 10 years ago, when Tierra and her family moved from New Orleans to Auburn after Hurricane Katrina ripped apart so many lives.
"But it seems like yesterday, when I was 11 and we moved to Auburn from Louisiana," she said. "I was angry, confused, quiet, and when I did talk, I was mean. No, I wasn't pleasant to be around."
The Williams' family — her dad, Troy; mom, Andrea; older brothers Troy and Tory; and younger siblings, Tyler, Taja and Tamia — landed in Auburn after a series of hops from one place to the next. The Washington Post's Eli Saslow wrote an in-depth, 10-years-after story that explained the struggles of her dad suffering from cancer and alcohol problems, and her mom battling to keep the family going. The story also explained how Tierra was one of the bright lights in the adjustment.
"I had never seen a white person except on TV," Tierra said. "People in my school (at Auburn), I don't think they had ever seen a black person. Plus, the schools back in Louisiana weren't very good, and here I was, I couldn't read or write. I was in fifth grade and my reading was at a second-grade level. It was embarrassing and I was getting bullied about my accent and my lack of reading skills.
"But I had Mrs. (Joellen) Hamman as my English teacher, and she had me read out loud and helped me so much because I had a lot of catching up to do."
A few years later, Tierra was excited to be a cheerleader and a member of the basketball and volleyball teams.
"I didn't have the grades to be a cheerleader, and that is when it hit me I had to be a better student and a better reader and learn how to speak without an accent," she said.
Track caught her attention, too.
"I hated it," she said. "They entered me in the 400 and I hated it. Every minute of it I said I'd quit, so they let me try long jump and triple jump and some sprints."
She won four state titles in high school her senior year on top of three previous state titles for Auburn.
Even though home life wasn't perfect, she was recruited, received an academic scholarship and a chance to keep running track.
"Tierra has come through so much and accomplished so much, it really is inspiring to know how far she has come," said Husker track coach Gary Pepin. "People want to be around her. She wants to be around the team."
For Williams, getting through the entire track season was a chore.
"I hated indoor track — everything, especially my shins and my right knee hurt more — but it's a chance to be with my teammates and a chance to get ready for the outdoor season. Running in the elements, the sunshine, the wind makes me feel pretty good. I've got nothing to complain about … well, there is this clunking in my knee.
"But everything is positive. I am going to be confident and positive.
"Confidence, attitude. It's a miracle. I have to be happy. No more negative thoughts. Just positive. There were points where I thought, 'I don't know if I could do this,' but my faith is my rock and I started to depend on that."