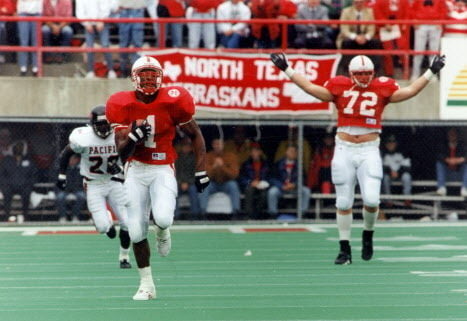 Lawrence Phillips, the former Husker running back whose off-field demons got in the way of transcendent on-field talent, died in the wee hours of Wednesday morning.
California prison officials deemed the matter a suspected suicide. Phillips was facing charges of first-degree murder for the death of a fellow inmate. A press release stated staff found Phillips unresponsive in his cell at the Kern Valley State Prison at 12:05 a.m. He was transported to an outside hospital and pronounced dead at 1:27 a.m.
Phillips was 40 years old.
The life story of Phillips is one that emits the emotion of sadness more than anything. That's certainly what Tom Osborne, Nebraska's former coach who won two national championships while Phillips was in Lincoln, felt when he heard the news.
At a young age, people hurt Phillips. Then he hurt others. Along the way, greatness was teased but ultimately wasted.
"I saw the potential," Osborne told the Journal Star on Wednesday. "I knew this was a guy that could have lived a productive life with the right set of circumstances. For whatever reason it just didn't happen. Lawrence obviously had some demons that were never completely put to rest.
"And I think the general public will always perceive Lawrence as a troubled and a bad person. And there were some things he did that were bad. But there were other qualities that the public didn't see that were what we would generally call good qualities. He was very loyal to his friends and he had a code of honor a little bit different than most people. He was not a guy that would be easily led or influenced because of his code."
It is impossible now for most to separate the football from his flaws, but on the field his combination of power, speed and elusiveness made him the best running back Nebraska ever had, says former Husker secondary coach George Darlington, a lead recruiter of Phillips.
Darlington recalls 20 years ago when Nick Saban, who had seen Phillips run wild over his Michigan State team in a 50-10 Husker win, said he was one of the best two running backs he'd ever seen. The other was Eric Dickerson. "Some people would say Nick Saban knows something about football," Darlington said.
He ran for 1,722 yards as a sophomore during Nebraska's 1994 national championship season. He carried the ball 31 times in a 17-6 win over Kansas State with just one good arm.
Yet it's the off-field problems people will remember him for just as much.
"If you trace everything back to the problems he had were relationships with the opposite sex," Darlington said. "Some people would tie that back to how his mother responded to him in junior high or whatever. But the point is he never handled that well."
Phillips' father was not in his life. And when Lawrence was somewhere between 10 to 12 years of age, his mother had a boyfriend he didn't like. The boyfriend beat him, friends of Phillips have said. Phillips left the house at that point, on his own, missing school, until he became a ward of the state.
However that disconnect from his mother impacted him, his mistreatment of women later in life is something that can't simply be excused.
Most notable was an incident the second weekend of September, 1995. Phillips had just rushed for 206 yards against Saban's Spartans. Now in the early hours that Sunday, he scaled the wall to a third-floor apartment balcony, entering the residence and dragging his ex-girlfriend by her hair down three flights of stairs. Phillips was arrested for assault and pleaded no contest to a misdemeanor assault charge.
Phillips very well may have won the Heisman Trophy that year. Instead, he was suspended, sitting out six games before he was allowed to return to the team after he met certain guidelines.  While Phillips was not necessary for that team to win the national title (Ahman Green was his backup), Osborne was widely criticized outside the state for allowing his return, characterized by some as being a win-at-all-costs coach.
Twenty years later, Osborne says this, "I thought what offered Lawrence some cohesion and stability was football. When he had the incident in Lincoln, I felt that if we just cast him aside he'd probably end up in the streets in California. And the one thing that had constantly given him a chance would be to have him stay in counseling, which we said, 'If you stay in counseling, go to class and continue to work on your education, then we'll give you a chance to have you back.' That's why we did it that way because I felt like otherwise it was going to be a really bad situation. So he complied with everything and I thought when he when he left Lincoln he was in pretty good shape. The counseling had really been helpful to him. Didn't miss any classes. Stayed away from the athletic department. Wasn't even around the weight room or training table for six weeks. He responded well."
Phillips came back and put on a dazzling display in the Fiesta Bowl, catching a touchdown pass and running the ball 25 times for 165 yards, including a brilliant 42-yard touchdown that left multiple Florida Gators confused and grasping at air.
That was his last game as a Husker. Phillips was drafted sixth overall by the Rams in 1996.
Osborne told Phillips' agent "that one thing Lawrence really needs is to stay in counseling." The agent agreed. "But I'm pretty sure that didn't happen," Osborne said.
His career never really took off. He bounced from the Rams to the Dolphins to Barcelona, Spain, to the 49ers to Montreal to Calgary.
That's where football ended for him. In Calgary. In 2003. He got into trouble in 2005, arrested for assault after allegedly driving a car into three teenagers, following an argument with the teens during a pick-up football game in Los Angeles.
He was sentenced to time in California prison for that, then had years added on due to a conviction for seven counts of assault against an ex-girlfriend. He began a stay in prison in 2008 that was set for more than 31 years.
Old coaches and teammates tried to stay in contact with him as best they could. No one was perhaps more consistent in writing back and forth to Phillips than Darlington.
"I would get two letters a month," Darlington said. "He was more consistent in a way than me. I always kidded him: I could read his letters because he had excellent handwriting and my handwriting was horrible. But he was very diligent."
He was also in a very bad situation.
A situation that ultimately led to Phillips facing murder charges for the death of a fellow inmate, Damion Soward, a gang member serving an 82-year sentence. Phillips appeared to have a fair argument for himself, given that Soward was involved in 12 incidents involving weapons or violence while incarcerated dating back to 2004, according to records USA TODAY obtained.
According to custody records, Soward was accused of hiding razor blades in a Bible, soap and his pubic hair and also once attacked an inmate with a razor-edged weapon.
Osborne sensed Phillips' unease with some of the people around him. He did not communicate weekly with Phillips, but every two to three months when there was time, he'd write him a letter.  One message Phillips made clear in his return responses to Osborne was the idea that "people were trying to break him."
Osborne didn't know what that all entailed, but did know Phillips had a strong distaste for gangs, and how they worked within the prison system.
"He would never do that," Osborne said. "He would never submit to that kind of a standard. So he was a person that had some pride. He did have a certain set of standards that he lived by. They may have been somewhat distorted but at least he had some principles."
Osborne had even asked Phillips this past fall if there was anything he wanted him to pass on to his former teammates at the 20th anniversary celebration for the 1995 team. "He wrote back and said no," Osborne said. "He said that's got to be a happy time and a happy celebration and I don't want to have anything from me kind of cast a cloud over it."
The last time Osborne saw Phillips in person was five years ago. Osborne was Nebraska's athletic director. The Huskers were playing in the Holiday Bowl in San Diego. Osborne visited the prison to see his former player.
Phillips may have had some concerns about people around him, but he still remained mostly upbeat when communicating with Osborne.
Osborne sometimes communicated to Phillips about his spiritual life. He felt Phillips had one while in prison.
Darlington, who received a letter from Phillips within the last two weeks, also never got "any indication of woe is me" from Phillips. Darlington always told him people back in Nebraska were praying for him and cared about him. Phillips expressed thanks for that.
In the last letter Phillips wrote to Darlington, he mentioned his satisfaction about Nebraska's win over UCLA in the bowl game.
But, as reported by The Bakersfield Californian, there was a hearing on Tuesday in which a Kern County Judge found enough evidence to hold Phillips for trial on the charge of first-degree murder after prosecutors argued he strangled his roommate in April while he was sleeping.
One can do nothing but assume now, "but possibly the preliminary hearing had something to do with his mental state," Darlington said.
Life had always been complicated for Phillips growing up in California.
After leaving the family house, he was placed in a foster home at one point for just two weeks before being moved to a juvenile detention center.
Darlington saw the running back's situation up close while recruiting him.
"He wasn't in a youth home because he had misbehaved or anything. That in itself was a tragic thing," Darlington said. "If he had been in and out of trouble or had a problem at school, that's one thing. But that couldn't be further from the case."
His smarts were never the issue. Osborne said Phillips completed two years of work in his senior year of high school just to become eligible to play at Nebraska.
"There were a lot of people who didn't think he could get that done, but he did," Osborne said.
It's been repeated often that Phillips picked Nebraska to get as far away from California and his troubled past as he could.
But the mistakes of adulthood piled up. "Here's a guy who never wanted to think that he was better than anybody else or that he was going to ignore people in his past life,"Osborne said. Perhaps Phillips started surrounding himself with the wrong people after college.
Difficulties of Phillips' youth acknowledged, they were still his mistakes later in life. Mistakes that brought pain to others.
He was tremendous with a football in his hands and smarter than many knew. But that couldn't keep this story from being an unfortunate case. Potential is one of the worst words of all when not realized.
As Osborne sadly put it, "I think the background that he had, started at an early age, I think left some scars that he wasn't able to put to rest."