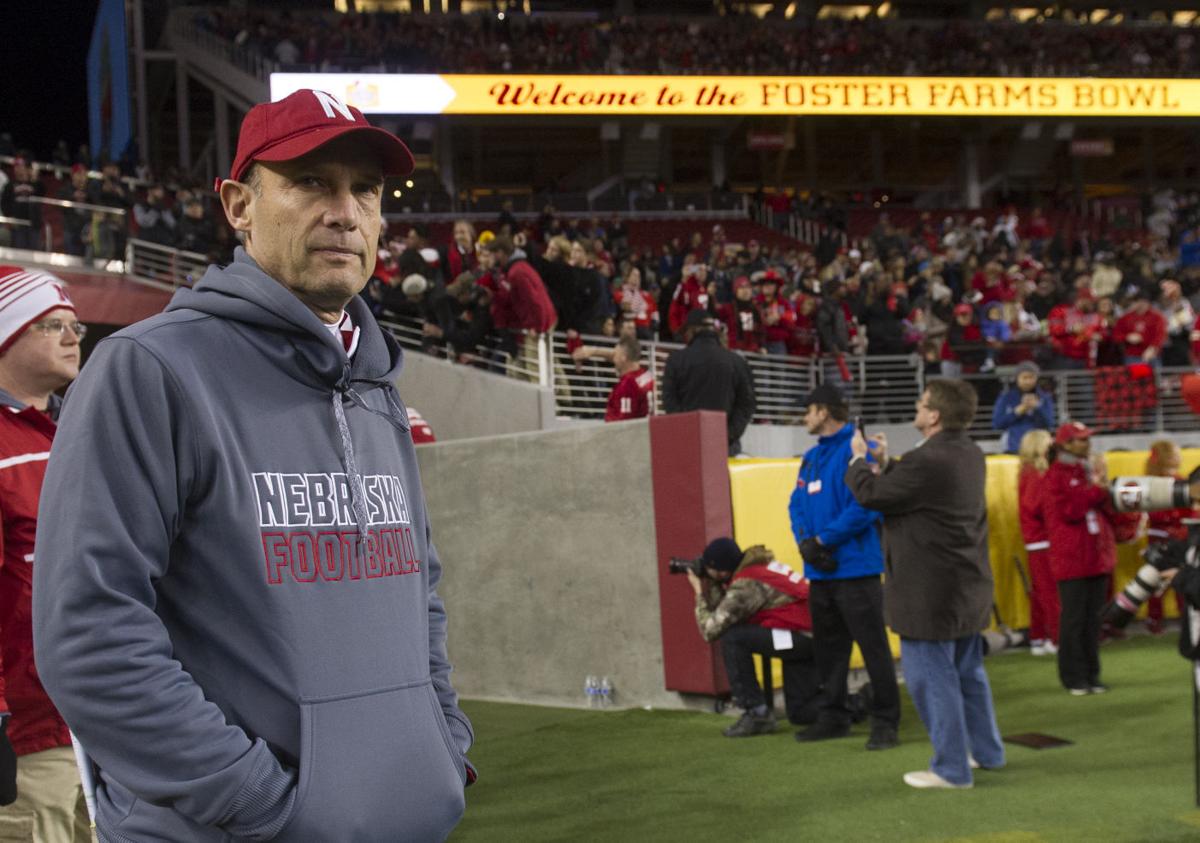 Things I know, and things I think I know:
If Patrick O'Brien feels pressure as the touted quarterback recruit who last week arrived on the Nebraska campus, please allow me to relieve some stress on the young man.
As comforting as O'Brien is for the Huskers, second-year NU head coach Mike Riley should have more pressing priorities than grooming a rookie quarterback and finding more for the future.
1. Continue to establish and foster the new staff's culture. The offseason is a crucial period in this regard.
2. Put words into action when it comes to improving the run game. The process can begin now. A tough-running mindset must permeate the program, if there is indeed firm commitment.
3. Ramp up recruitment of linemen on both sides of the ball.
Yes, Nos. 2 and 3 are intertwined. Riley stated last month Nebraska needs to be a top-three rushing team in the Big Ten. In league games only this season, NU was seventh in yards per game (154.38) and seventh in yards per carry (4.27).
With more consistency and better yards per carry, there is less pressure on the quarterback position. Problem is, Nebraska isn't exactly loaded with experienced offensive linemen. The Huskers are particularly thin at the tackle positions behind returning starter Nick Gates. And if there's an elite-level running back in the fold — a la Ameer Abdullah, Rex Burkhead or Roy Helu Jr. — he's yet to emerge.
Nebraska is pursuing four offensive tackles for its class of 2016 (probably hoping to land two or three) — Alaric Jackson of Detroit; Jauan Williams of Washington, D.C.; Matt Farniok of Sioux Falls, South Dakota; and Royce Newman of Nashville, Illinois. Watch that position closely. Williams is a four-star player, according to Rivals.com. Farniok looks like a good bet to choose NU.
The Husker roster already has good young players in the interior offensive line positions, and the '16 class also appears strong in that area, led by four-star John Raridon of West Des Moines, Iowa.
As for the defensive line, the losses of Maliek Collins and Vincent Valentine — who both chose to forgo their senior season in favor of the NFL Draft — took away oomph in the interior. And NU still lacks a proven athletic pass-rusher at the end spot.
Nebraska has athletic end Ben Stille of Ashland-Greenwood in its '16 class and is pursuing a couple others. As for interior linemen, they may have to scramble to land one, although good interior guys are hard enough to land without having to do so late in the process.
If you watched Alabama defeat Clemson in the national championship game, you saw difference-makers in the trenches. You saw pass-rushers. Linemen played a lead role in lifting the Tide above the fray, as usual. Nebraska has a few good ones, but needs more of them on both sides of the ball.
* By the way, Tide quarterback Jake Coker was only a three-star quarterback in the class of 2011. But check out his numbers in this season's two national playoff games: 41-for-55 passing for 621 yards, four TDs and no interceptions.
A strong downhill running game can indeed make everyone's life easier, as Riley likes to say.
* If Collins is looking for motivation as he trains for the Feb. 23-29 NFL scouting combine, he might find it from Mel Kiper Jr., ESPN's draft guru. 
"He had a disappointing year," Kiper told me last week. "I was expecting him to be a dominant player. I really thought he would wreak havoc."
Entering the 2015 season, Kiper projected Collins as a second-round pick, but now gives Collins a third-round grade based on his drop-off in production this season compared with 2014. The 6-foot-2, 300-pound Collins received a second-round grade from the NFL Draft Advisory Board.
Said Kiper: "My notes on him say, 'Could be excellent. Didn't play to the level of his talent this year. Seems to work hard in the trenches. Battles hard. …'"
Kiper likes Collins' low center of gravity and his background as an outstanding high school wrestler.
However, "He doesn't have great arm length, and I didn't think he played through the double-team as well this year," Kiper said.
Meanwhile, Valentine received a fourth-round grade from Kiper, although Kiper says he could see Valentine falling lower.
Collins and Valentine are intelligent and savvy both on and off the field. That will help them at the next level. I think they both are good enough to get to that all-important second contract.
* Lane Kiffin should get another chance to be a head coach in college — in a Power-5 program. His work with Alabama's offense has been exemplary. And you have to figure Kiffin, something of a knucklehead in previous head-coaching stops, has benefited from being in Nick Saban's structured program.
"I think coach Saban did a good job of incorporating Coach Kiffin — they're obviously so different — but I think it makes us better as an offense," said Tide center Ryan Kelly, who Saturday night was presented with the Rimington Trophy in Lincoln.
Kiffin has maintained the core principles of Alabama football — a downhill running attack behind a strong line. But Kiffin's play-calling versatility has been evident in the Tide's success the last two seasons. He's as formidable as almost anyone in a football chess match.
"Last year, we had (receiver) Amari Cooper and a versatile quarterback (Blake Sims), who had good speed and could get out of the pocket," Kelly said. "This year, we knew our wide receivers were going to be young guys. And even though they turned out to be one of the best groups of our team, we had Derrick Henry and teams had to stop him."
Bottom line, Alabama wouldn't have prevailed in the national championship game without the 40-year-old Kiffin pushing the right buttons.
"One of the main things you learn about Coach Kiffin is how well he can use personnel to your advantage," Kelly said.
Which is what it's all about.
* Jack Pierce, Nebraska's chief off-campus football recruiter from 1985 to 1992, has a zillion stories from the recruiting trail, including some dandies about the big names that got away from NU — including Emmitt Smith, Marshall Faulk and Barry Sanders. I'll share some Pierce stories later this week as recruiting season heats up.
* As for Nebraska's current recruiting situation, it looks like things are about to pick up. And, yes, it needs to pick up.