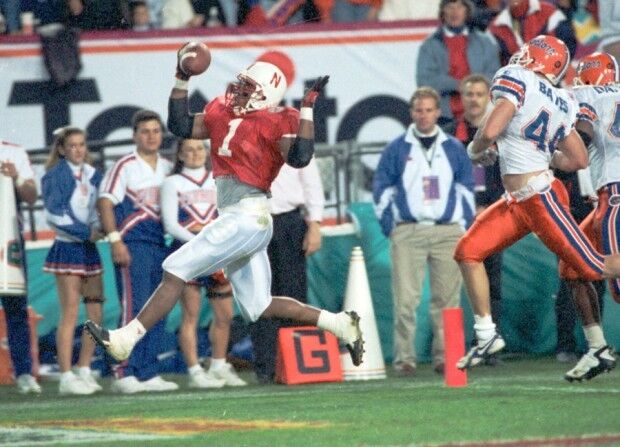 My dad says it often: Life is messy.
That's how I've long regarded the Lawrence Phillips story, right until the end.
Phillips himself was complicated. He was a thinker. A voracious reader. He didn't trust the media. That in itself indicates intelligence.
"The news is laughable," Phillips once wrote in a letter from prison to Paul Koch, a former Nebraska strength and conditioning coach. 
"There's no objectivity," Phillips continued, "so I tend to stay away from it."
Phillips enjoyed reading books on philosophy. He recently was immersed in Friedrich Nietzsche's "Beyond Good and Evil." Life interested Phillips. Those close to him hoped and prayed for a more polished ending to his life story, something not as jarring as what occurred Wednesday. Maybe, just maybe, the story could've become a moving tale of learning and redemption.
"I guess that's not the way this story's going to be told," Koch said from San Diego, soon after hearing Phillips, the former Husker I-back great, was found dead of a suspected suicide at Kern Valley State Prison in California.
Life's messy and complicated because people can be complicated. Extraordinarily complicated, in many cases. They can be capable of almost unthinkable evil. They can be incredibly flawed. Those same people often are capable of extraordinary acts of love and kindness. They're capable of being a loyal friend. Phillips had loyal friends. He was a loyal friend.
But don't dare celebrate this guy's life, some folks were saying Wednesday. They're right. Phillips deserved prison time. He too often couldn't control his anger. He drove his car into teenagers on a playground. He assaulted women —plural. But you also must recognize Phillips came from a dysfunctional background. He was troubled, but wasn't a hopeless case.
He had standards. A code of honor. In fact, he operated on a moral plane that would surprise many people because of its high level, said Koch, who received 40-some letters from Phillips and four times visited him in prison.
The last time Koch visited, in November 2012, "Lawrence looked like the picture of fitness," Koch said. "He looked like the same 19-year-old kid who walked in the weight-room doors at Nebraska. Clean-shaven. Big smile. There was a sparkle in his eyes."
Even so, Phillips had remorse for his sins. He had a conscience. Had regrets.
He had two main regrets, Koch said. He had to pause and compose himself as he recalled a letter from Phillips — "one of the most crushing I received from him" — in which Lawrence told of his brother being killed in a motorcycle accident. Because of his incarceration, Phillips was unable to be a pallbearer in the funeral.
"That just crushed him," Koch said.
Phillips' second main regret was tarnishing Tom Osborne's reputation, which is unfortunate, in part because not everyone feels Osborne's handling of Phillips in 1995 was altogether wrong. For those who understand the particulars, Osborne's effort to help rehabilitate the young man made sense. It always made sense to me.
Osborne, though, was criticized harshly.
"Lawrence was very regretful about that," Koch said.
Messy and complicated — that was Phillips' upbringing. He felt disrespected by his mom's boyfriend, said former Nebraska running back Damon Benning, who roomed with Phillips for road games and remained his friend to the end. The boyfriend was physically abusive toward both the mom and Phillips, Benning said.
Osborne said Phillips stood up to the boyfriend even though Lawrence was only 12 or 13 years old.
Said Benning: "Ultimately, the straw that broke the camel's back with Lawrence leaving home was he felt his mom chose the boyfriend, and Lawrence just didn't feel safe after that. All he ever wanted was his mom's love."
Messy and complicated. It remained that way for Phillips after he was drafted sixth overall by the NFL's St. Louis Rams.
"People say, 'Oh, he pissed away millions of dollars,'" Benning said. "He was driving down the interstate in St. Louis and he blows out a rim on his (Mercedes) Benz. He doesn't care, because he never had anything of value, so he didn't know how to value anything of value."
Both Koch and Benning emphasized how much Phillips despised feeling disrespected. Nobody likes that feeling. But for Phillips, the anger rose to another level, Benning said. Phillips felt disrespected by the teens that day on the playground in 2005 when he drove his car into them. Nobody excuses Phillips' behavior and poor choices, but we're trying to make sense of it all.
We're trying to make sense of the death of a complicated human being.
We're trying to make sense of it, because Phillips was such a stunning athlete. Phillips or Mike Rozier — take your pick for best Husker I-back in history (Phillips, by the way, considered Roger Craig a hero, Koch said).
We're also trying to make sense of it all, because we've come to understand Phillips' level of charisma and intelligence, and his vast potential that went largely unrealized.