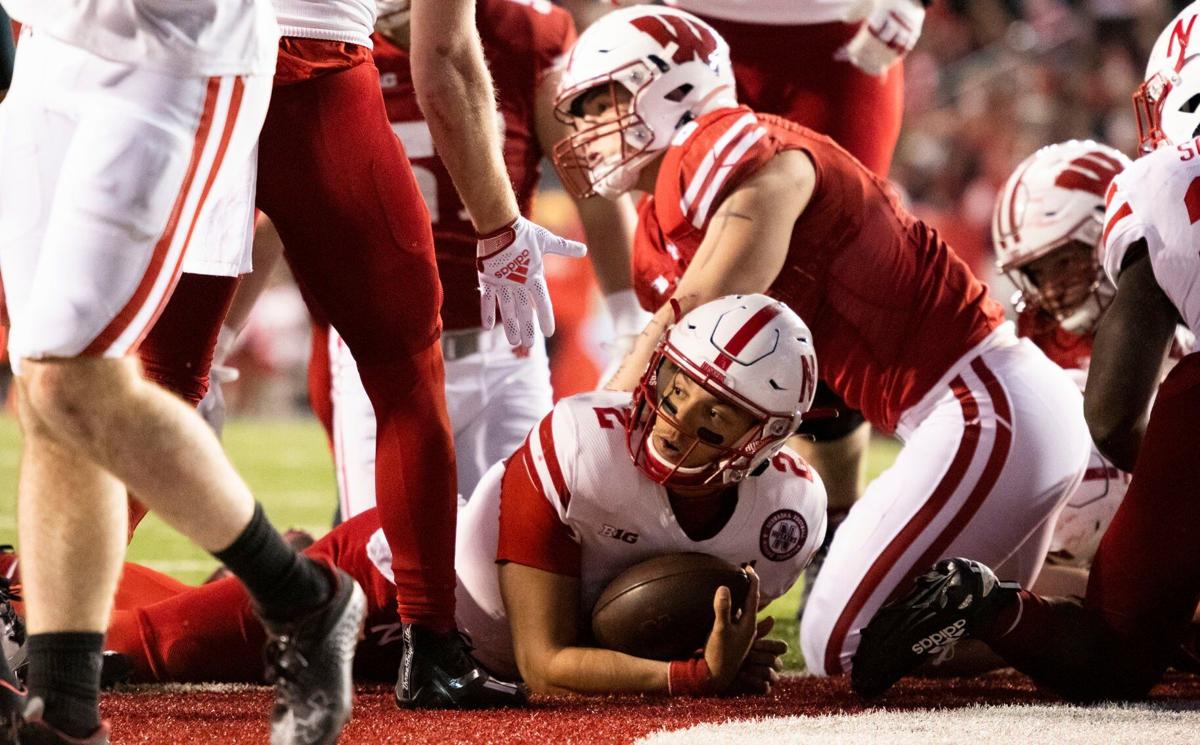 If you're not careful, you can become callous about football injuries. 
Along those lines, you perhaps heard the big news Monday out of Nebraska's camp.  
I can imagine the reaction of some fans. 
Oh, so, Adrian Martinez hurt his shoulder against Wisconsin and will miss Friday's game. Too bad. The kid's hurt a lot, isn't he? Let's see what Logan Smothers looks like. 
We all know football's a game of attrition and yada, yada, yada. But if you can tap into your sensitive side at all, you can easily size up the heartbreaking nature of Martinez's situation. Oh, I get it, there are complications his injury creates for Nebraska's program in general — both long term and short term — but we can mull those in a second.
For now, consider Martinez's week ahead. It can't be easy.  
Nebraska (3-8, 1-7 Big Ten) plays border rival Iowa (9-2, 6-2) at 12:30 p.m. Friday in the regular-season finale for both teams. After suffering a shoulder injury during the first half of Saturday's loss at Wisconsin, Martinez somehow nearly guided an upset. But he's facing surgery once the season ends, Husker coach Scott Frost told reporters Monday. 
Keep in mind, Martinez, a 6-foot-2, 212-pound junior, is not only the offense's leader, he's the team's leader. You hear that sentiment from Nebraska players constantly. He's a passionate, devoted, mindful team leader. His teammates will be profoundly impacted this week. By the same token, Martinez will be profoundly impacted. 
After all, his team has been on the cusp of a breakthrough win — a win that proves genuine progress in the program. One chance remains this season. And it's a good chance. Before we learned of Martinez's injury, Nebraska was a three-point favorite. After the injury news came out around lunchtime, the Huskers quickly became one-point underdogs.
Yeah, it's bizarre, Nebraska at 3-8 being a three-point favorite against 9-2 Iowa. But NU surely got Vegas' attention — and Iowa's attention — with the way it pushed Wisconsin to the brink. The Husker offense played exceptionally well against the Badgers, amassing 452 yards against the nation's No. 1 defense. Martinez also played well, completing 23 of 35 passes for 351 yards and a touchdown, with two interceptions.
Martinez and the offense surely gained confidence with the way it executed Frost's aggressive, pass-heavy game plan. The Huskers, even with all their losing, still have a good overall vibe, as strange as it may sound. Martinez is a colossal reason why.
He has talked often about his desire to help right the Big Red ship before he moves on with his life. He's given it all he can. A win against Iowa would have been awfully satisfying in that regard. 
Alas, he won't get the chance. Yeah, heartbreaking. And now, of course, you wonder whether Martinez has played his last down at Nebraska, period. He's a four-year starter (with a 14-24 record) who might want to play his final season elsewhere, be it in college or perhaps the NFL. Or maybe he would try to become a fifth-year starter at NU. That certainly would be unique.
Ah, but there are complications. For one, Frost is in the process of hiring an offensive coordinator. So, whether Martinez stays or leaves, he will have to learn a new offense with a new language and new techniques. From what I've been told, it's possible he could be facing a sixth-month recovery process. That could keep him sidelined until May. In other words, he might not be afforded a spring season to gain on-field comfort in a new system. 
If he can't practice in the spring, he would face an enormous challenge to try to win a starting job in virtually any program worth its salt. 
For that matter, if he were to stay at Nebraska, he would face similar issues with a new coordinator in place, although he would at least be acutely familiar with personnel.
Bottom line, it's a lot to ponder. No wonder he needs some time and space to think. 
Frost and Martinez have discussed the QB's future regularly in recent weeks.
"This has been a challenging year," Frost said. "We made a lot of progress. He's played really well most of the entire year. The team's played well most of the entire year. We haven't gotten the results we wanted. I think we can talk about all those things after Iowa. We need to focus on Iowa right now.
"You feel terrible for him, but appreciate him."
Let's keep this real. Not everyone appreciates Martinez. You know it. I know it. Martinez knows it. 
Following Frost's news conference, I immediately found emails responding to the big news. One stood out. Jim referred to my column written right after the Wisconsin game in which I suggested Martinez deserves a standing ovation Friday for all he's done for NU.
A standing O for Adrian? Have you become totally demented Sip? Or is it early-onset Alzheimer's? He is a good kid but you can't reward failure. And he has failed ... You just don't reward a loser." 
Nebraska football attracts a tough crowd. It gets interesting sometimes. 
Here's hoping Martinez understands that a large share of Husker fans appreciate all he's done. 
He's certainly not the type who would expect a standing ovation Friday.
But he damned sure has earned one.
Watch now: Husker players, coaches take the podium as Iowa week begins
Watch now: Scott Frost rules Martinez out for Iowa game, touches on QB's future
Watch now: Garrett Nelson says Iowa game brings 'a little bit extra spice'
Watch now: Austin Allen says he'll participate in senior day, hasn't decided if he will return
Watch now: Levi Falck 'really grateful' for time with Huskers
Watch now: Turner Corcoran discusses a 'pretty interesting' sophomore season
Watch now: Ben Stille says there is 'hatred' in annual Nebraska-Iowa game
Watch now: Erik Chinander talks Iowa rivalry, what Blackshirts expect from Hawkeyes