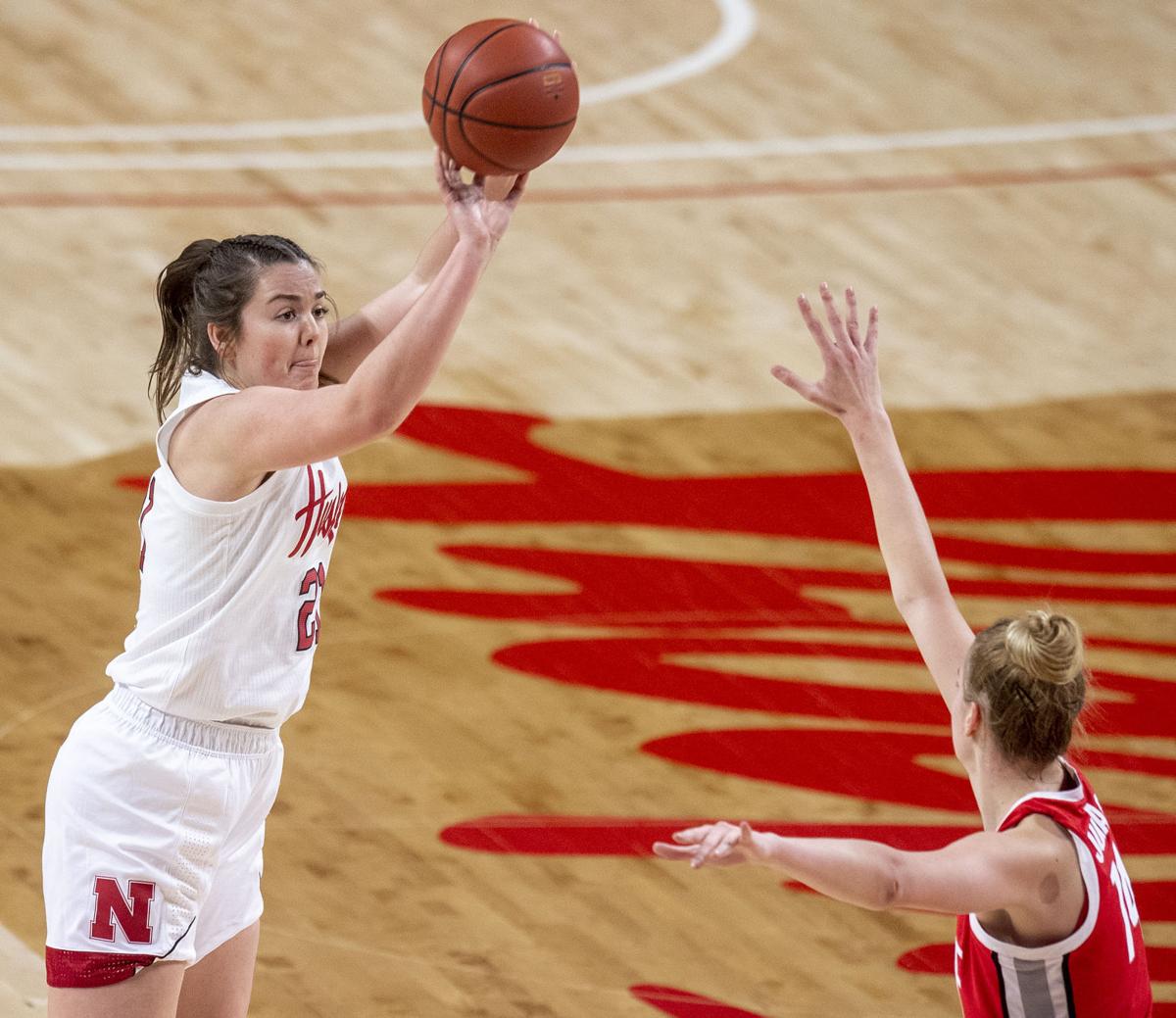 This wasn't some average baller shooting baskets outside the dorms on the University of Nebraska-Lincoln campus one day last summer.
That was somebody on the team.
When Nebraska women's basketball player Whitney Brown wanted to try some new techniques, she took her practice to the courts outside her dorm.
All the work has paid off for the Grand Island native and Husker freshman guard who has had several significant showings this season, especially in games Nebraska won.
And hard work has quickly become something each of Nebraska's three freshmen — Annika Stewart, Ruby Porter and Brown — are known for.
The group has helped the Huskers to an 11-9 record going into Wednesday's game at Minnesota.
Brown's time on the outdoor court came during the summer months, when players were limited to specific times they could be at the practice facility due to COVID-19.
So Brown went outside to hone some new skills the coaches had been working with her on.
"I honestly felt like a first-grader. I could not get down the footwork," Brown said. "When something like that happens, it makes me want to conquer it right away, so that day I went to the courts outside of where I live and I just practiced it until I could get it down. The next day I was excited and bragging to the coaches that I had gotten it down and could do it."
Brown is both the only walk-on and the only Nebraskan playing for the Huskers this season. That story about Brown hitting the outdoor courts didn't surprise Nebraska coach Amy Williams.
"That's just the type of work ethic she has, and that's been the best thing about her," Williams said.
Once the season began, the freshmen took their extra work inside the practice gym.
Sometimes that's just lots of shooting or getting a refresher on some plays from the older players.
But at least one time Williams saw the freshmen playing a game against some of the male UNL students who help the team at practice.
"We had a day off after one of our games and I heard the balls bouncing, and that's not uncommon on a day off that somebody would get in the gym and get shots," Williams said. "But then all of a sudden I heard a bunch of shoes squeaking and I look through my (office) window and I saw those three freshmen playing a little three-on-three against a few of our scout-team members. So it was kind of funny, and good to see."
The three freshmen come from Australia (Porter), Minnesota (Stewart) and Nebraska (Brown), but in Lincoln, they've formed a bond built on hard work and friendship.
"Those three girls just are workers, and it's awesome to see," Williams said. "They fuel each other for that and they're always in the gym together, or on their own. They all three have that characteristic, and that's something that we really want to be a part of the culture of our program, so it's good to see."
For a few games, the freshmen made up Nebraska's entire bench after the roster was whittled down by injuries to eight available players.
Porter has started eight games this season due to injuries to Isabelle Bourne and Bella Cravens. Against Maryland, Porter had her best game with 19 points on 3-of-7 shooting on three-pointers.
Stewart's been a three-point threat from the forward spot. She's made 19 threes, including several big ones in the second half of games. Stewart scored 10 points in just seven minutes during Nebraska's win against Penn State on Sunday.
Brown has played both point and shooting guard. She scored a career-high 14 points when Nebraska upset then-No. 15 Ohio State. Brown has Nebraska's best assist-to-turnover ratio (17-to-8) while ranking third on the team with 12 steals.