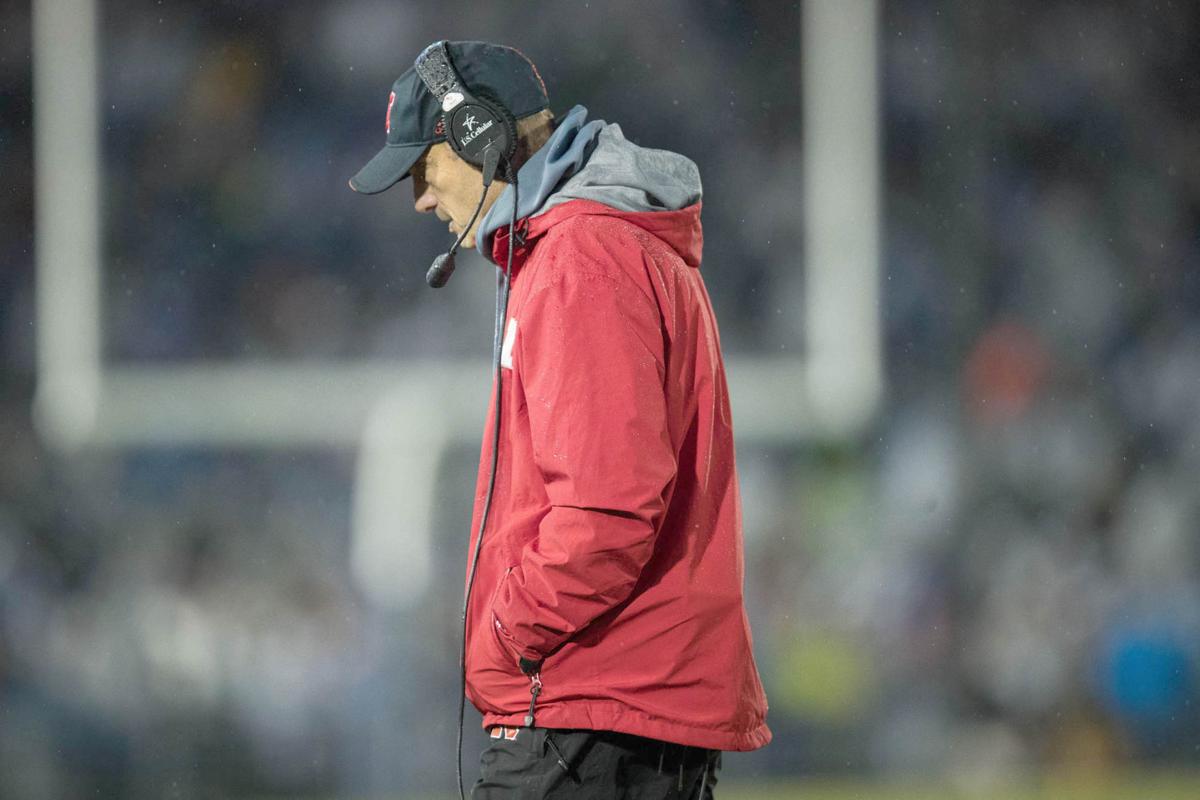 Nebraska's football team hasn't had anything good happen since, really, a one-point win at Purdue on Oct. 28.
And on the third play from scrimmage, Penn State's Saquon Barkley went 65 yards for a touchdown Saturday at Beaver Stadium.
A special team's turnover was just what the Huskers needed after that, and they got it.
Collin Miller recovered a punt that hit a Nittany Lion player on the knee to put the Huskers in scoring position at the Penn State 34. That resulted in a Drew Brown field goal.
On the next possession, an 18-yard punt by Penn State gave the Huskers the ball on the Penn State 37. That turned into a 1-yard TD run by Devine Ozigbo and a 10-7 Nebraska lead.
Could there be an upset in the making?
The way the season has gone, no one should have been surprised when Barkley and company broke the game open on the way to a 56-44 victory that wasn't nearly as close as the final score makes it look.
The game was decided in that opening half, and particularly in the second quarter. Penn State had 15 first downs in that quarter. Nebraska had none.
Penn State scored 28 points in the second quarter, Nebraska was shut out.
Penn State had 439 yards in the first half, Nebraska just 77.
"We just got off to a horrible start to the game," Mike Riley told reporters after the game. "And Penn State was really good. Of course the back made a big run early that set us off in a bad way. And then it got out of hand.
"The only thing I can say is I appreciated our team in the second half. We got a few more stops and we made some more drives and made some plays."
That second half was much better. The Huskers scored 28 points to just 14 for Penn State, and quarterback Tanner Lee showed what he could do.
Lee finished the game 26-for-41 passing for 399 yards and three touchdowns.
"I was proud of our team and coaches for kind of staying in it," Riley said. "The guys kept competing to get some stuff going in the second half."
But as for Riley, it's too little too late.
Just two weeks ago, Nebraska lost to Northwestern in overtime. That game could have gone either way.
Then the Huskers went to Minnesota last week and got blown out 54-21 in a game that should have gone to the wire.
On Saturday, as the Huskers were losing to the Nittany Lions, Northwestern was shutting out the Gophers 39-0.
One week after rushing for 409 yards against the Huskers, the Gophers had just 139 rushing yards and 182 total yards against Northwestern.
And so the Scott Frost watch continues. After Central Florida had improved to 10-0 on the season, Frost denied a Friday night report from that Nebraska was closing in on a deal with him to become the next Husker coach.
In any event, Mike Riley can't return next season. The bottom line is the university can't sell Riley to its fan base when season tickets next year.
And the only thing this program has left is that sellout streak.
It's too bad in a way. You couldn't ask for a better representative of your program than Riley. He was about as relaxed after the game as any coach you could ever see who is on the hot seat.
Some don't like that. They see it as a weakness. They see it as a sign that he doesn't care. Nothing could be further from the truth.
Riley loves the game, and he wants to keep doing what he loves.
"I like what I do," Riley said. "I've been more appreciative of it lately than ever. Continuing to do this, I want to be more engaged with something, offensively in particular. But I would say I like walking in the door, watching film and the routine of putting together a game plan. That's kind of like recess for me."
The final game of the season is just five days away. Riley is just going to do his best to get his team ready to play Iowa.
He absolutely looked like some one who wasn't worried what new Husker A.D. Bill Moos was going to do.
"We're just going to keep doing what we do and go forward," Riley said. "That decision is going to be made by somebody other than me."
Bob Hamar is sports editor for The Independent.