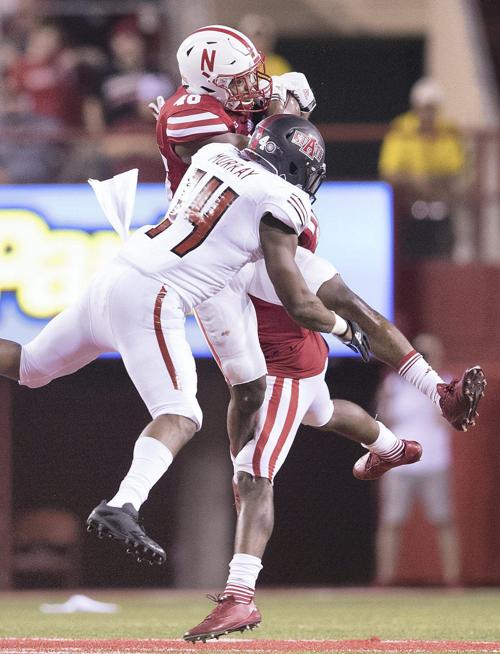 LINCOLN — Despite its many struggles, Nebraska's work-in-progress defense came up big when it mattered most.
After Arkansas State recovered an onside kick at the Cornhuskers' 44-yard line, trailing by seven points with 46 seconds to play, Nebraska's defense — under first-year coordinator Bob Diaco — managed to survive its first major test. The Blackshirts fended off two pass attempts from their own 11 in the final nine seconds to hold on for a 43-36 victory over the Red Wolves Saturday night at Memorial Stadium.
On first-and-goal from the NU 11, Arkansas State quarterback Justice Hansen's pass into the end zone to Justin McInnis was defended by Huskers' sophomore defensive back Lamar Jackson. Then, with two seconds left, Hansen's throw to Kendrick Edwards was too high and Nebraska's defenders could finally exhale.
"For us, it's do or die — we love that," Nebraska junior linebacker Luke Gifford said. "We preach that, so when we get that opportunity, it's like, 'Game on, let's get it.' Everybody responded pretty well."
Husker sophomore defensive back Eric Lee couldn't recall what coverage Nebraska was in for the final play — only the end result.
"It was all a little blurry," Lee said. "All I remember is that we just trying to prevent the guy from getting into the end zone, obviously.
"Coach Diaco talked about how there's nothing better than to have the defense come out there and win the game for us. We kind of kept that in our heads and came out with the W."
Coming away with the victory was the positive for Nebraska's defense, which was playing its first game after switching from a 4-3 defense to a 3-4 scheme. Hansen completed a single-game school-record 46 of 68 pass attempts for 415 yards and three touchdowns with two interceptions as Arkansas State finished with 497 yards of total offense.
As for Diaco's impression of his defense's performance, members of the media waiting for a post game interview were left in the dark. Diaco jogged past reporters without stopping to field questions.
Despite some shaky moments, Gifford said he wasn't too concerned about Nebraska's season-opening performance.
"We'll be fine," Gifford said. "We've been doing it for a long time and we're always going to play our butts off, so we're not worried. We'll be alright."
Gifford led Nebraska's defense with nine total tackles, including four solo stops. Dedrick Young had a sack, while Joshua Kalu and Tyrin Ferguson both had interceptions for the Huskers.
It wasn't all bad for NU's defense, Gifford said. The Huskers limited the Red Wolves to 82 yards rushing.
"There were parts of it we executed really well, especially in the run game, we did a pretty good job in the first half," Gifford said. "In the second half, we started shoring some things up. Really, there were a lot of positives that came out of it, but definitely a lot of stuff we've got to clean up, too."
Arkansas State outgained Nebraska 289-235 in total offense in the first half with 245 of the Red Wolves' yards coming through the air. Hansen was 28 of 36 passing with two TDs and one interception as his team trailed just 27-26 at the intermission.
However, after Nebraska made a few halftime adjustments, Arkansas state gained just 43 yards on 10 offensive plays in the third quarter.
"We came in, made some adjustments and really — for the most part — we carried everything out onto the field," Gifford said. "We started executing a lot better and we made some good changes."
Gifford said he anticipated there might be some first-game hiccups.
"When you're practicing against one team for all of fall camp, you don't get the same things you're going to get in a game, obviously," Gifford said. "You can game plan as much as you want, but they're obviously going to come out and run some new stuff.
"Once we started settling it, we kind of had it figured out."
Lee said he saw some positives regarding the Blackshirts' performance that won't show up on any stat sheet.
"I definitely liked our pursuit and I loved our energy," Lee said. "Good plays, bad plays, everyone picked each other up. It just was a positive atmosphere through and through."
More importantly, Gifford said, Nebraska's defense was ready when it faced a sudden-change situation and found itself clinging to a seven-point lead in the closing seconds.
"We were ready to roll," Gifford said. "Coach Diaco always preaches to be alert. We didn't let (our intensity) down and we knew we could have an opportunity to be called back up."
For Lee, the win was equal parts celebration and relief.
"It was definitively nerve-wracking," Lee said. "There were a lot of mistakes that we've got to clean up before next week, but it was fun to be able to finally get a part of that (game) atmosphere and get a feel for it."