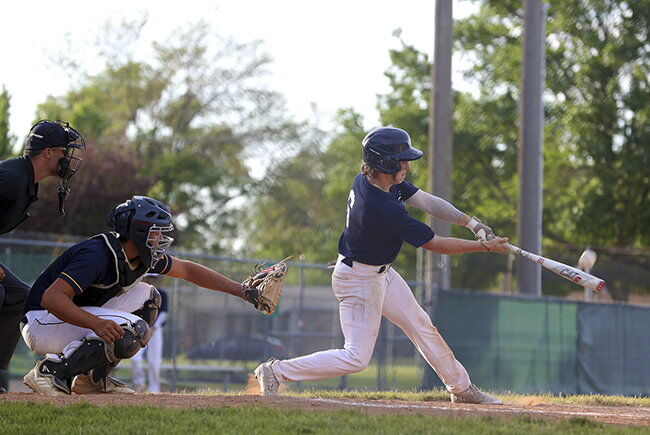 Central City was down but not out against U-Save Pharmacy.
In a game that featured two ejections and went about 2 1/2 hours, Central City rallied from an 8-0 deficit to defeat U-Save Pharmacy 17-10 Wednesday at Ryder Park.
"I have to give it to them, they had great hits and came through when it mattered," U-Save coach Ryan Anderson said. "They didn't let the deficit of eight runs get in their heads. It's unfortunate it didn't go in our favor but that's baseball."
After getting behind 8-0 after three, Central City got back into the game with a four-run fourth inning, powered by a three-run home run from Ashton Gragg that brought them back to within 8-4.
Central City got a run back in the fifth on an Ayden Nelson RBI single.
U-Save looked like it was going to get a run in the sixth inning on a Evan Gydesen hit, but Pryce Ostermeier was tagged out at home.
Then Central City went to work in the seventh inning. Jackson McGinnis reached base on an error to start the inning, then Tres Gonsior hit a two-run home run to cut the deficit to 8-7. After Nelson and Tanner Schneiderheinz both reached base, Jake Twiss brought them both home to give Central City the lead.
The inning was one U-Save would like to forget altogether. Central City went through the order and scored 12 runs on eight hits to take a 17-8 lead.
"We got outside of our way of playing baseball. They got a few runs on the board and we panicked in our defense and our pitching and it snowballed from there," Anderson said. "We need to do a better job of taking our time."
U-Save did get two runs in the bottom of the seventh inning for the final margin.
Grand Island got out to the early lead thanks to the third inning where it scored five runs on three hits. Gage Brockmeier hit a two-RBI single to score Greg Rodriguez and Carter Wald to give take a 8-0 lead.
"We got off to a great start as we were having good at-bats," Anderson said. "Unfortunately we couldn't sustain that momentum."
Gydesen led the offense by going 3 for 4 with a RBI, while Ostermeier was 2 for 4 with a triple and a RBI.
For Central City, Twiss was 3 for 5 with four RBIs and a double, while Nelson was 2 for 5 with a three RBIs.
U-Save will be back in action at Aurora on Friday.
Central City 000 410 (12)—17 13 4
U-Save Pharmacy 215 000 2—10 8 2
WP—Gonsior. LP—Gangwish. 2B—CC: Nelson, Twiss; USP: Rodriguez. 3B—USP: Ostermeier. HR—CC: Gragg, Gonsior.
Home Federal rallies past Columbus
COLUMBUS — Home Federal exploded for seven runs in the top of the seventh inning to rally past Columbus for a 10-4 win Wednesday.
That came after Columbus struck for three runs in the bottom of the sixth to take a 4-3 lead.
Caleb Coslor went 2 for 4 with three RBIs and two runs for Home Federal. He hit a two-run home run in the third inning and a key RBI double in the seventh.
Mike Buhrman was 2 for 3 with a run.
Tycen Nelson earned the win in relief, allowing two runs (one earned) on three hits with four strikeouts and two walks over 1 2/3 innings.
Home Federal starter Tyler Fay allowed three runs (one earned) on four hits with six strikeouts and two walks over 5 1/3 innings.
"Tyler Fay pitched a great game," Home Federal coach Kirby Wells said. "He had a bunch of strikeouts and was in command of all three pitches.
"We got down 4-3 going into the seventh, but seven runs was a great way to respond. It was a nice win."
Home Federal improved to 6-1 after having the previous seven days off.
Home Federal (6-1) 002 001 7—10 8 3
WP—Nelson. LP—Eickhoff. 2B—HF, Coslor, Douglass; C, Bock. HR—HF, Coslor.
Five Points tops Columbus 7-4
The Five Points Bank juniors scored five runs over the second and third innings to top Columbus 7-4 Wednesday.
Cohen Evans and Caiden Rath combined to limit Columbus to two earned runs on five hits with seven strikeouts.
Evans and Rath were also a combined 4 for 7 at the plate with two RBIs and a run. Zenon Sack and Kevin Ramos also had two hits apiece for Five Points (7-4).
Five Points (7-4) 032 000 2—7 12 2
WP—Evans. 2B—FP, Ramos; C, Swanson.
Central City edges Dinsdale Auto
Central City scored five runs in the second inning to take a six-run lead, then held off Tom Dinsdale Auto for a 9-8 win Wednesday at Ryder Park.
Blake Jensen went 3 for 4 with two RBIs and a run to lead Central City. Grant Pickrel was 2 for 3 with two runs and an RBI while Ashton Gragg was 2 for 4 with a run.
Tom Dinsdale Auto was led by Jack Steenson, who went 2 for 3 with two runs.